The captivating beauty of a fire feature is simply irresistible to both property owners and their guests. Planning to add one to your outdoor living space can get tough, especially with the dizzying options you have. Don't worry, we'll let you take one step at a time. When designing the perfect outdoor fire feature, start with choosing what type of fire feature you want, and then choose whether you want it to be wood or gas-burning. Then you can pick what material you would like your fire feature to be made of. No matter what you choose, let your decision be guided by your needs and your personal style! Learn more about these three easy steps to designing your perfect outdoor fire feature.
---
1. Pick the Type of Fire Feature You Want
Depending on how and why you want to add a fire feature to your landscape, you have several choices to choose from. It can be tough to pick what type of fire feature you want because each type serves a distinct purpose and adds a different style to your property. Here are more details about each fire feature:
Fire pit: Fire pits are great for adventurous people who want to experience a camp-like fire without going to the woods. Typically circular, a fire pit is perfect for sharing stories with your family and friends while roasting marshmallows. However, innovations in the market allow you to customize your fire pit and have it in another shape that works better for you.
Fire bowl: This fire feature is known for its alluring beauty that will draw the attention of your guests. Fire bowls are versatile, as you can place them on columns to create a series of flames around your yard or at the center of your patio as a standout focal point.
Outdoor fireplace: With outdoor fireplaces, you have no reason not to enjoy a movie with your loved ones while experiencing the magic of the show. This fire feature is perfect for small groups because it provides better privacy than other fire features, plus the smoke from the fire won't bombard your face.
Fire trough:If you have a small backyard or you're just not a fan of big statement pieces, a fire trough is your perfect match. This fire feature can be installed into your outdoor kitchen countertops, adding interest to what is a typical kitchen area.
Fire and water feature: Yes, you read that right! Fire and water features can go hand in hand especially when professionals design and install them. This type of water feature combines the soothing water sounds from water fountains and the dramatic dance of flames.
---
2. Choose between gas-burning and wood-burning fire features.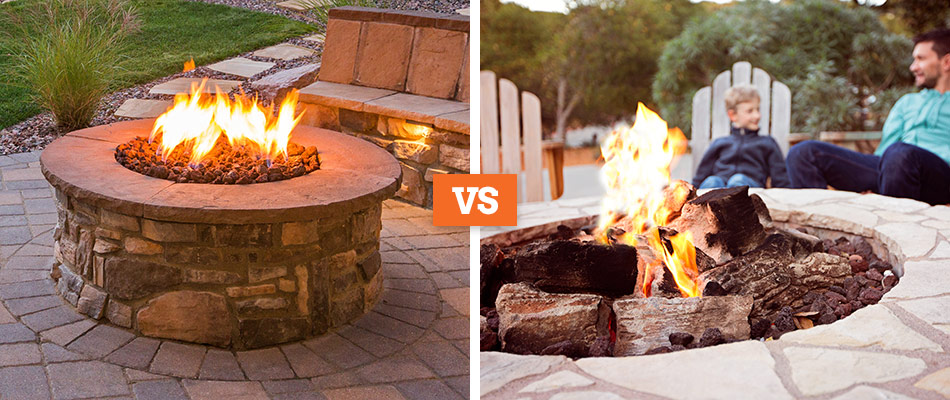 Once you've chosen a fire feature, the next thing you have to select is the method of creating the fire. Gas-burning fire features are more convenient since it only takes one push to kindle a fire. Sometimes, it's better to just head off inside after enjoying the warmth of your fire feature without cleaning up anything. Gas-burning fire features do precisely that because there are no ashes or wood you have to address after using them.
However, you'll also appreciate the classic beauty of fire from burning wood. Wood-burning fire features are perfect if you enjoy the sound of crackling wood and its aromatic smell. While wood-burning fire features require more maintenance, wood storage, and ash cleanup, it is easier to install than gas-burning ones.
Make sure your fire features are installed in safe locations so they don't ignite other parts of your property.
---
3. Materials You Can Use for Your Fire Feature
While it's given that the captivating fire from your fire feature is the center of attraction, the material you will use still plays a significant role. There are different material options available for you, and the perfect match for each homeowner is different. When choosing, trust your personal style and preference. Here are the different materials you can use for your fire feature:
Stacked stone
Natural stone
Stainless steel
Stone veneers
---
Call our pros today to get an estimate for our fire feature installation services!
Fire features are undoubtedly excellent additions for any property. If you're thinking of adding one to your outdoor living area, let our team help! With 19 years of experience in the landscaping industry, you can rely on our experts to install your fire features. We can make your fire feature stand out on your property or seamlessly blend it into your existing landscape design; it's up to you! Our services are available to properties in Omaha, Elkhorn, Bennington, NE and nearby communities. Call our pros today at (402) 397-5930 to get an estimate!