Professional Lawn Maintenance Company Serving Properties in Omaha, Elkhorn, & Nearby Cities in NE
Our experienced team will keep your property neat and clean with services like mowing, landscape trimming, seasonal cleanups, and more.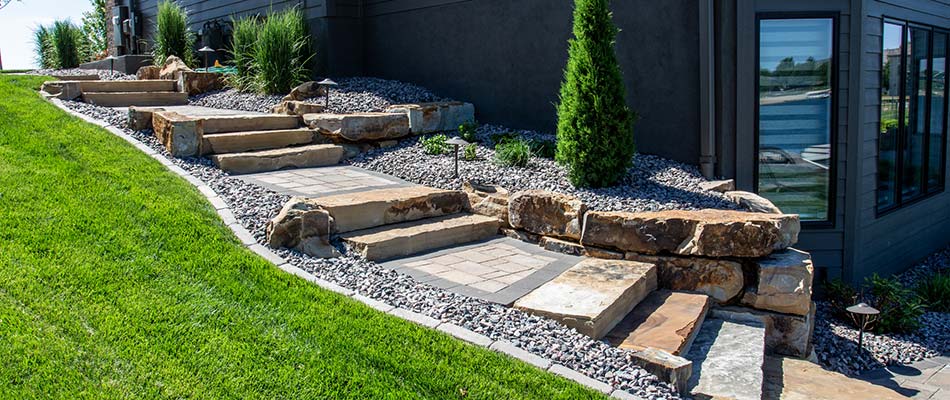 The curb appeal of your property will drastically change when you partner with a landscape company that offers routine lawn maintenance. Visitors will be impressed and clients will be more willing to patronize your business when you maintain a well-manicured lawn filled with green, healthy grass. Not only will we mow your grass, but we'll tend to your ground coverings, landscaped beds, and larger plants as well. We can install decorative rock or mulch into your plant beds to help protect them from the elements. Shrubs and hedges tend to grow uneven and wayward over time but we can perform landscape trimming to get them back to a neat shape. In the fall and spring, we offer seasonal cleanups to prepare your lawn for the upcoming season.
We've been the preferred lawn maintenance company in the Omaha area for nearly 20 years! Our reviews speak for themselves when it comes to customer service and quality care. If you have a residential or commercial property in Elkhorn, Bennington, or a nearby city in NE, reach out to your team to request a quote today.
---
Our Comprehensive Lawn Maintenance Services
All of our lawn maintenance services are designed to collectively improve the health and appearance of your entire landscape. We'll make sure your grass is properly mowed, plants are well-trimmed, and ground covers are applied properly.
Our full list of lawn maintenance services includes the following:
Lawn Mowing: We offer a weekly or bi-weekly lawn mowing program depending on the needs of your specific property. Our team always follows best practice protocols such as rotating mower patterns and mowing to the proper height. Each lawn mowing service will also include string trimming, edging, and blowing away grass clippings.
Landscape Trimming: Trimming targets the appearance of your shrubs and hedges by removing overgrown or unkempt branches. Plants that don't receive routine trimming can block low-lying branches of water and oxygen, causing the branches to weaken and leaves to wilt. This service also gives our landscapes the chance to check for possible diseases or harmful insects.
Mulch & Rock Installation: Groundcovers like mulch and decorative rock give your landscape a more refined look. They also help reduce the number of weeds in your plant beds, provide an extra layer of protection during extreme weather conditions, and simply add the finishing touches to your landscape. We recommend refreshing your mulch annually and rocks bi-annually.
Leaf Removal: Leaves are beautiful when they're falling in motion but not so pretty when they're piling up on your lawn. Sitting leaves are harmful to your turf because they block your grass and plants from receiving adequate sunlight and water. Piles of leaves can also harbor various unwanted insects and bugs as well make your lawn more susceptible to diseases.
Spring Cleanups: Winter leaves behind a trail of wind-blown natural debris, and an overall messy landscape as the season ends. Once the snow melts and the weather gets warmer, it's time to tidy up your lawn with leaf and debris removal, plant trimming, weed removal, and landscape bed edging. This is also the perfect time to install bright annual flowers for the spring!
Fall Cleanups: During fall cleanups our team will give your grass its final mow before winter dormancy. In addition to that, we'll remove any leaves and debris, trim your plants, and re-edge your landscape beds.
---
Enroll in our lawn maintenance program today!
Keep your property's curb appeal well manicured with routine lawn maintenance. Our team members will arrive with uniforms, logo-bearing vehicles, and clean equipment, ready to get to work on your lawn! We offer lawn maintenance services to residential, commercial, and HOA properties in Omaha, Elkhorn, Bennington, and neighboring cities in NE. Call us at (402) 397-5930 to enroll in our lawn maintenance program today!