Hardscape Installation in Omaha, Elkhorn, Bennington, NE & Nearby Areas
Upgrade your landscape with our custom outdoor hardscapes!
Choosing to upgrade your landscape opens the door for creativity and provides an opportunity to create an outdoor space that is totally unique! We design and install luxurious custom hardscapes in Omaha, NE and surrounding areas like Elkhorn and Bennington. If you're looking to install your dream pool or an outdoor kitchen to make outdoor dining incredible, then we're your team! We also install custom fire features, retaining walls, seating walls, patios, walkways, driveways, and water features.
---
Swimming Pools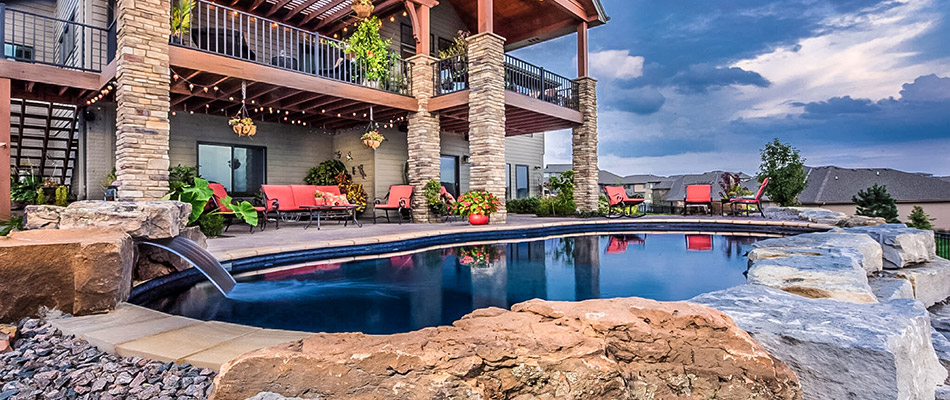 Your next getaway can be right in your backyard when you install a beautiful swimming pool in your outdoor space. Our build team and designers can customize the pool of your dreams and pair it with a variety of features like waterfalls, shelves, and more. We can build your pool in virtually any size, shape, and depth from our high-quality building materials.
Our designers will meet with you and create an extraordinary 2D or 3D design rendering so you can see what your completed pool will look like before we even start!
---
Outdoor Kitchens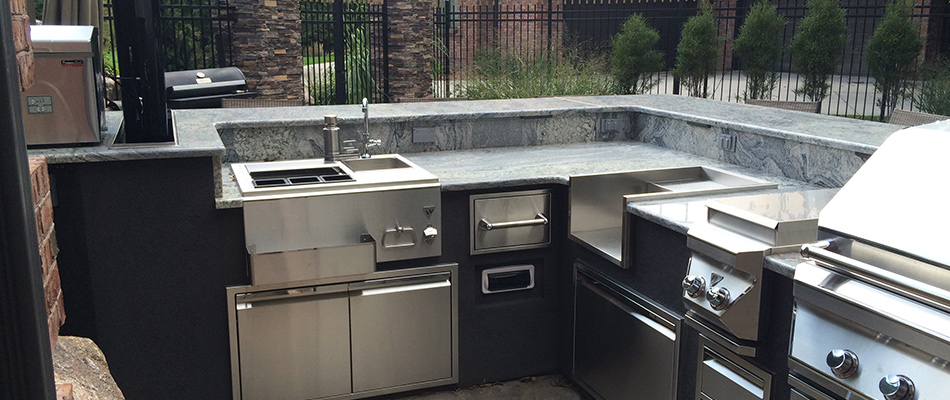 What better way to spend time with family and friends than enjoying a home-cooked meal in the great outdoors? Installing an outdoor kitchen makes dining outdoors even better and can easily become one of the best uses of your outdoor space. We can professionally install your outdoor kitchen with custom masonry or stone types and pack it with amenities such as a built-in bar, pizza oven, hidden TV cabinet, and more!
---
Fire Features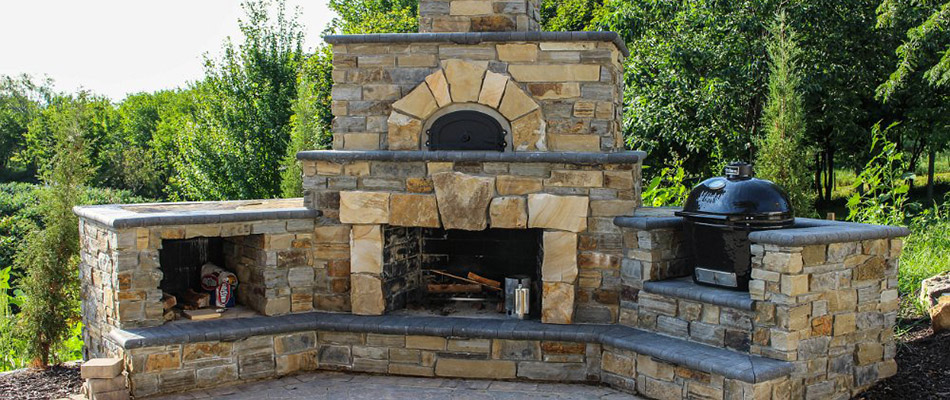 Fire features can make your outdoor space cozy on chilly evenings and can come in handy on warm bonfire nights. We can build your custom fire feature in more ways than one! Our team is skilled in creating fire pits, fire bowls, outdoor fireplaces, and more. Each of these will give you a visually stunning outdoor space.
---
Patios, Walkways, & Driveways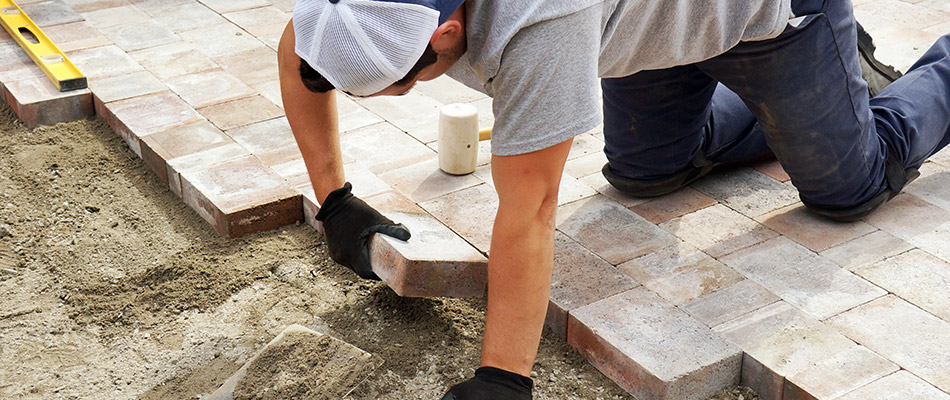 We can design and install your new patio, walkway, and driveway with features that complement the rest of your landscape and add character to your outdoor living areas. Our company offers the finest selection of building materials to match the aesthetic of your property. You can choose from natural stone, porcelain tile, concrete pavers, and more for any of these projects.
---
Retaining & Seating Walls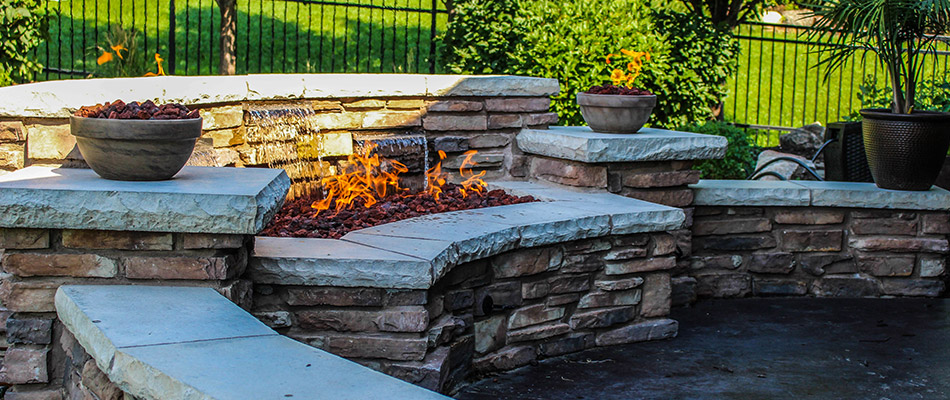 Your property can instantly become more functional with the help of both retaining and seating walls. These add to the decor of your outdoor space and help make entertaining large parties a breeze. A retaining wall is a fashionable way to slow the process of soil erosion on your property. By adding seating walls to your outdoor living area, you can increase the seating on your property without having to worry about setting up chairs. Each of these hardscapes can be made of various materials to harmonize with the existing features of your outdoor space.
---
Water Features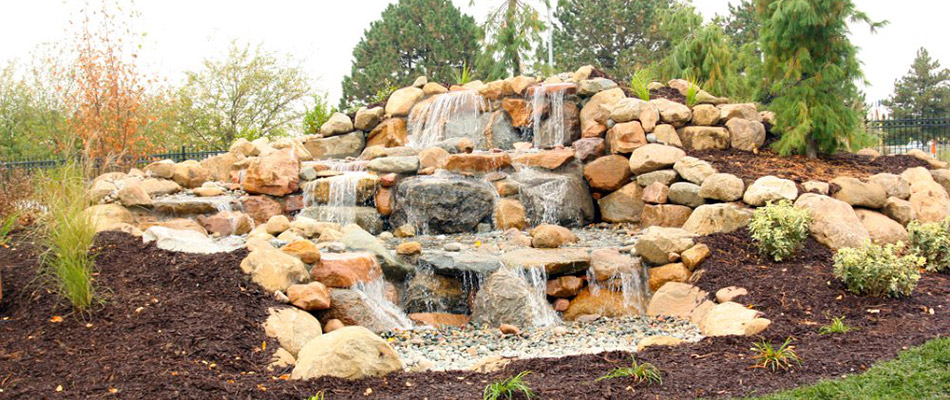 A beautiful water feature can add a calming effect to your outdoor space and will inevitably invite a second look from guests and passersby. We can custom-build your unique water feature with sound, LED lights, statues, and more. Our design team and builders are skilled in creating pondless waterfalls, water weirs, bubbling boulders, and several other water features to help make your outdoor space unforgettable.
---
Interested in any of these hardscape options for your landscape? Call us today to schedule a consultation!
At Groundscapes, Inc., we've been designing and installing hardscapes for our customers for years. We proudly serve clients in Omaha, Elkhorn, Bennington, NE, and nearby areas. If you're interested in any of our hardscape options for your landscape, call us today at (402) 397-5930 to schedule a consultation for your project!