Fire Feature Installations in Omaha, NE, & Neighboring Cities
Imagine the visual appeal and warmth a sleek fire bowl or natural stone fireplace will bring to your outdoor living area. We can turn that mental picture into a luxurious reality.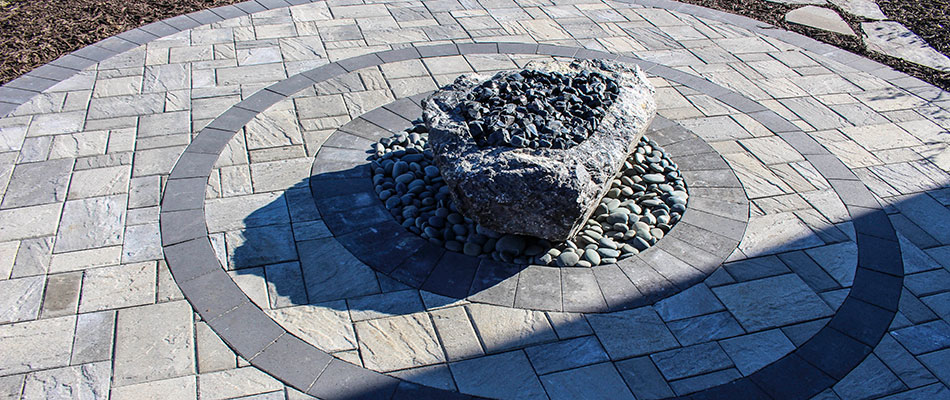 If you're a native to Nebraska, you know that our winters can sometimes last nearly half the year. But who wants to be couped up in the house for that long? You didn't buy a house with an outdoor living area just to end up using it for a measly 6 months, but you also don't want to be freezing in the cold. We get that, and we have a solution for you! Our company offers a diverse selection of sophisticated, warmth-giving fire features. From fireplaces to fire bowls and everything in between, our team of experts are able to design and install a functional and beautiful fire feature for your outdoor living area.
A custom fire feature will create a warm and entertaining atmosphere for you, your family, and your guests. Our team is passionate about delivering the utmost customer service and quality installations, always. We provide fire feature installations for homes and properties in Omaha, Elkhorn, & Bennington, NE.
---
Our Diverse Selection of Fire Features
We know one size doesn't fit all when it comes to permanent landscape installations. That's why we offer several different fire features to accommodate every client's current landscape style and desired color palette. We also give you the option to choose between a wood-burning or a gas-powered fire pit and fireplace.
Here is our fine selection of fire features:
---
Fire Pits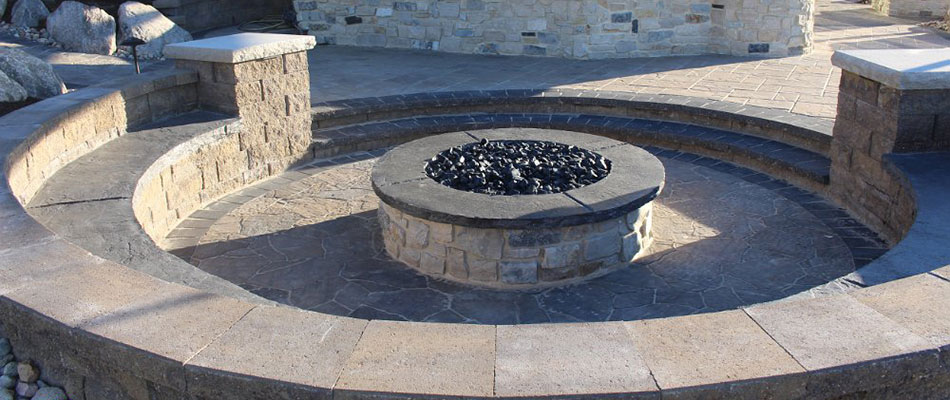 Fire pits are the perfect structure for camping out around the warm fire with friends and family. Its circular shape makes it easy for people to gather around, hold conversations, and roast marshmallows with ease. However, you can customize your fire pit to be any shape that you desire.
---
Fire Bowls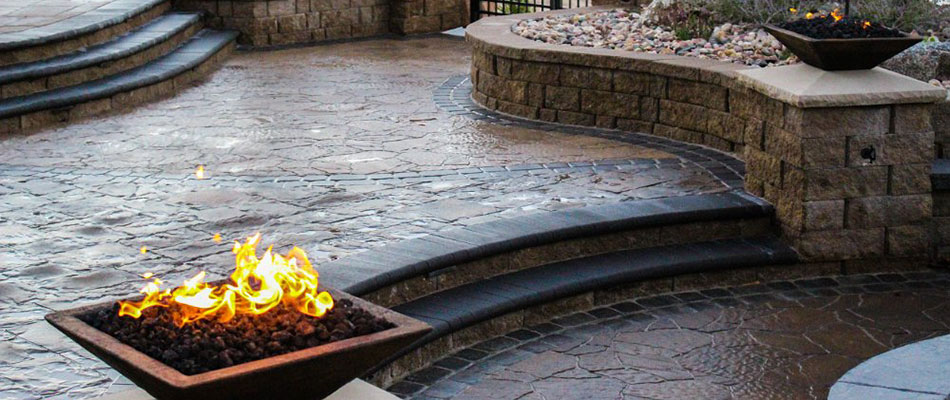 If you want to captivate your guests with a combination of fire and art, a fire bowl is right for you. They are smaller compared to fire pits and are portable so you can place them in different areas of your landscape as you please. We can also install a fire bowl into your outdoor kitchen countertop.
---
Outdoor Fireplaces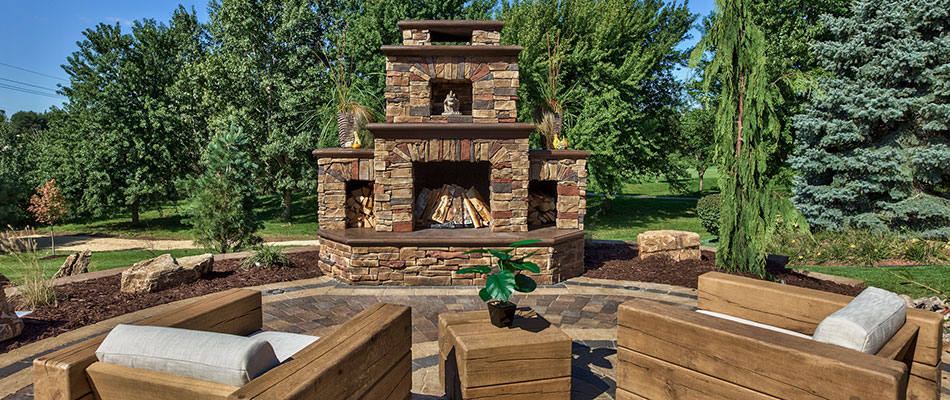 You probably have cherished memories of sitting around the fireplace with family while cozying up with a seasonal movie. Well, now you can do the same thing while also taking in the picturesque views of velvety white snow. Fireplaces bring that charming touch to outdoor living areas, that you simply can't resist.
---
Fire Troughs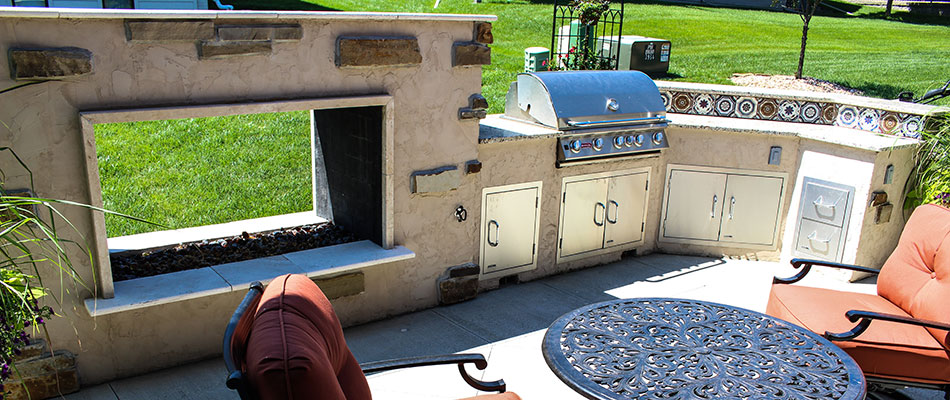 If you're not into large fire features but want to bring some warmth to your outdoor living area, a fire trough is just what you need. Our team can install small fire segments into your outdoor kitchen countertops or dining area to create a segmented trough of fire.
---
Fire & Water Feature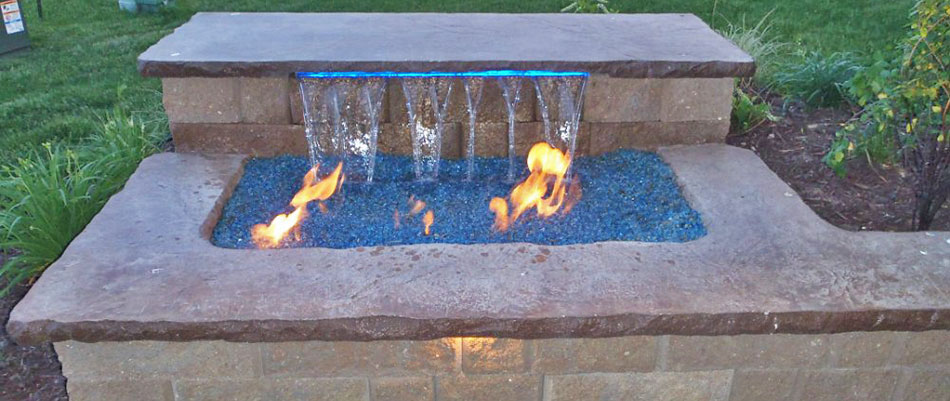 For those looking to create a distinct, artistic focal point in their landscape, a fire & water feature will do just that. A stunning combination of water and fire, this fire feature will have your guests curious and fascinated all night long. A fire & water feature can be installed anywhere on your landscape.
Our highly-skilled team is able to perform custom stonework and masonry on fire features so that they seamlessly blend with your outdoor living area's current architectural design.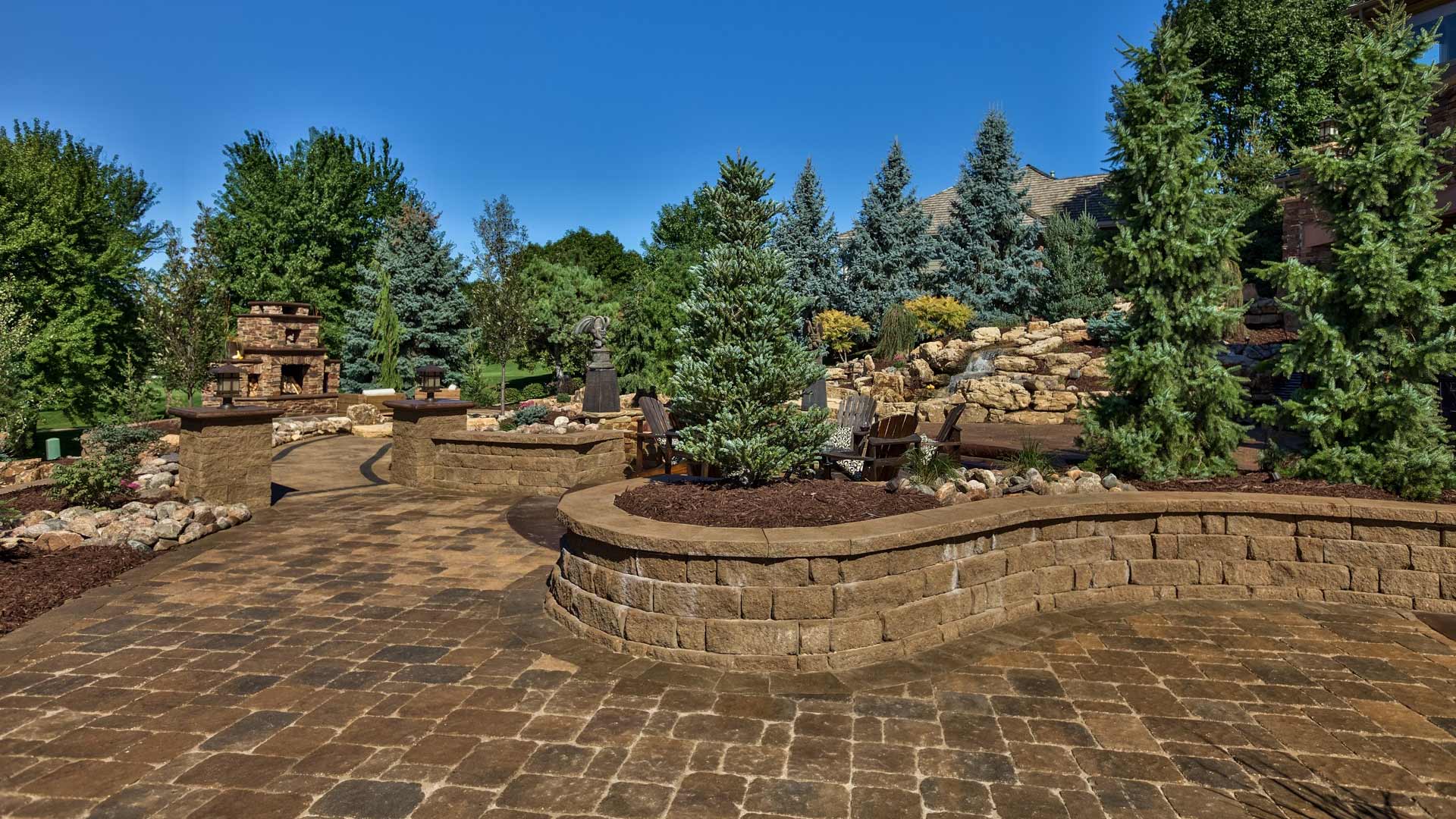 Landscaping
Design & Build
We're the experts in landscaping and hardscaping in the Omaha, Nebraska area. We build everything from outdoor fireplaces, outdoor kitchens, to high-end water features. Call or schedule a landscaping consultation.
Pools
Outdoor Kitchens
Fire Features
Walls
Patios
& More!
By submitting this form, I agree that my phone number and email address may receive communications regarding service notices, billing communications, promotions/deals, and other notifications from our company. These messages may be delivered via email, SMS, calls, or voicemails. You can opt-out of SMS communications at any time by replying "STOP". You can opt-out of email promotional communications at any time by clicking the unsubscribe link. Your information is only used internally to provide/offer services and never sold to any 3rd parties. For more information, please review our privacy policy.
Materials that Fire Features Can be Built From
Your custom fire feature can be constructed from a variety of building materials. Whether you're going for a more traditional look or modern flair, we have something to appeal to every client's personal taste.
Stacked Stone
Natural Stone
Stainless Steel
Stone Veneers
---
Fire Features Gallery
---
Now that you've explored your options, contact our team to schedule a design consultation today.
A fire feature is a beautiful way to heat up your backyard outdoor living area. Let us create a warm and engaging outdoor environment, for you and your family. Our company won the Ultimate Backyard Challenge competition in 2014, so you can trust that we know a little something about outdoor living.
Call our team at (402) 397-5930 to schedule a design consultation for your Omaha, Elkhorn, or Bennington, NE property today!