We offer sod installation for properties in and around Omaha, Elkhorn, and Bennington, NE.
Sod installation is the best way to get an "instant lawn."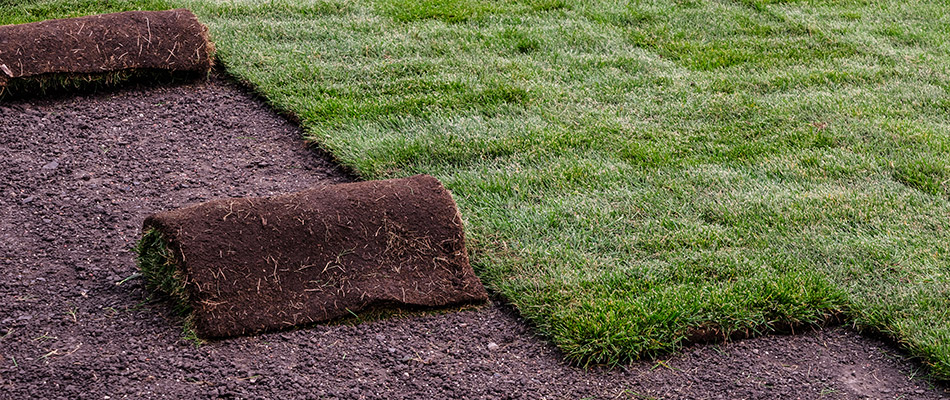 Sod is one of the easiest ways that you can establish a new lawn. In fact, it is commonly known as an "instant lawn" because you will see green grass immediately after installation. With just a simple watering schedule, you will quickly see your new grass begin to establish itself in your soil.
After an event such as a big landscape renovation, your lawn is probably full of soil instead of lush, thick grass. Sign up for our sod installation service today so that our team can help you get back to enjoying your lawn instead of staring at a bunch of soil! Our company proudly serves residential and commercial properties in the Omaha, Elkhorn, and Bennington, NE areas.
---
Our Sod Installation Process is done in 5 Steps
Sod is pre-grown grass that is rolled up like a carpet for transportation to the worksite. To install it, our crew will unroll each piece of sod until your soil is fully covered. Below is our entire process from start to finish:
Step 1: It is common for our clients to schedule our sod installation service after a big landscape renovation project. This means that their soil is already bare and we won't have to extract any grass. However, if you do have some grass on your lawn, extracting it would be our first step. This will start your lawn off on a clean slate of bare soil before we lay down any sod.
Step 2:Next, we will till your soil. This will loosen it up and create the best soil condition possible to receive new grass and establish strong roots. After we till, we will add a layer of topsoil to thicken it up and ensure that there is enough room for the new sod to establish itself.
Step 3:The last step before installation is grading. We level out your landscape as much as possible before we lay down your sod. Grading will not only create an even landscape, but it will help prevent soil erosion on sloped areas.
Step 4:The sod installation step is finally here! As mentioned above, our crew will roll out your sod like a carpet until every part of your soil is covered. We will fill in any spaces with smaller pieces of sod.
Step 5:After everything is placed, our team will then use a lawn roller to press your new sod down firmly into the soil. This will encourage your sod to start establishing itself in your soil.
---
So - your sod is finally installed. What now?
It won't take long for you to be able to enjoy your lawn like you normally would. However, there is a short time period where you have to keep on top of a frequent watering schedule to ensure that your roots have what they need to develop strong turf.
Tips to follow after your sod has been installed:
Water your sod multiple times a day for two weeks, keeping it constantly moist but never drowning your soil. New roots are fragile and won't be able to handle too much water at once.
Stay off your lawn for about 14 days to give your roots time to develop.
Mow your lawn after 14 days, however, don't cut more than 1/3 off the top of your grass blades. Cutting too low will hinder your grass's nutrient supply and put it at risk for disease and insect infestations.
---
Need a new lawn? Schedule our sod installation service today.
Our company has been establishing new lawns in the Omaha, Elkhorn, and Bennington, NE areas since 2002. Call our office at (402) 397-5930 to receive a quote for our sod installation service. Get on the road to transforming your bare soil into a lush lawn today!