We Install Retaining & Seating Walls for Properties in & Around Omaha, Elkhorn, & Bennington, Nebraska
Compliment your landscape amenities with a retaining or seating wall made from concrete, limestone, sandstone, and more.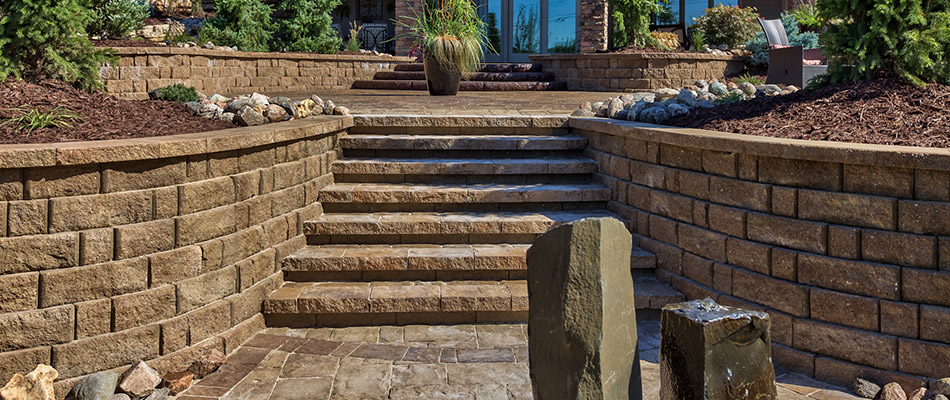 Whether your yard is full of slopes or you just simply need more space for your guests to sit, we can help. Our company installs retaining and seating walls for your outdoor oasis. Not only do these features look great on your lawn but they also add to the functionality of your yard. We are able to use just about any material for your wall including concrete, limestone, sandstone, and more. Our team of experts will help you decide which one will best compliment your other landscape amenities.
We offer custom retaining and seating wall installation services to residential, commercial, and HOA properties located in Omaha, Elkhorn, Bennington, Nebraska and neighboring areas.
---
Design Your Custom Seating & Retaining Wall With Concrete Blocks, Limestone, & More
We want your retaining and seating walls to match your landscape perfectly. That is why our experts will help you decide what material will best complement your property and give you the exact results you are looking for. Some popular materials we use for installation are listed below. If you do not see the material you are looking for, call us! We tailor our designs to meet your needs.
Concrete blocks
Limestone
Boulders
Weathered sandstone
---
Add a Seating Wall Around Your Fire Pit, Patio, Pool, & More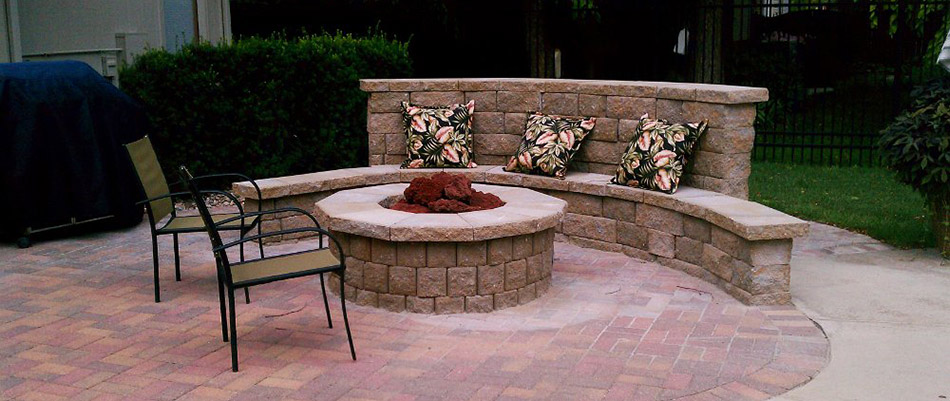 Seating walls are a great way to add a place for your guests to sit while also adding to the look and feel of your outdoor living space. At Groundscapes, Inc., we have installed hundreds of seating walls in the Omaha area. They are very popular among our clients because they are functional and they will increase your property value.
There are multiple places that you can add a seating wall to your yard. The choice is up to you and our team will help you decide what will look best to compliment your other hardscapes. Popular places to add a seating wall are around:
Patios
Outdoor kitchens
Fire pits
Fireplaces
Pools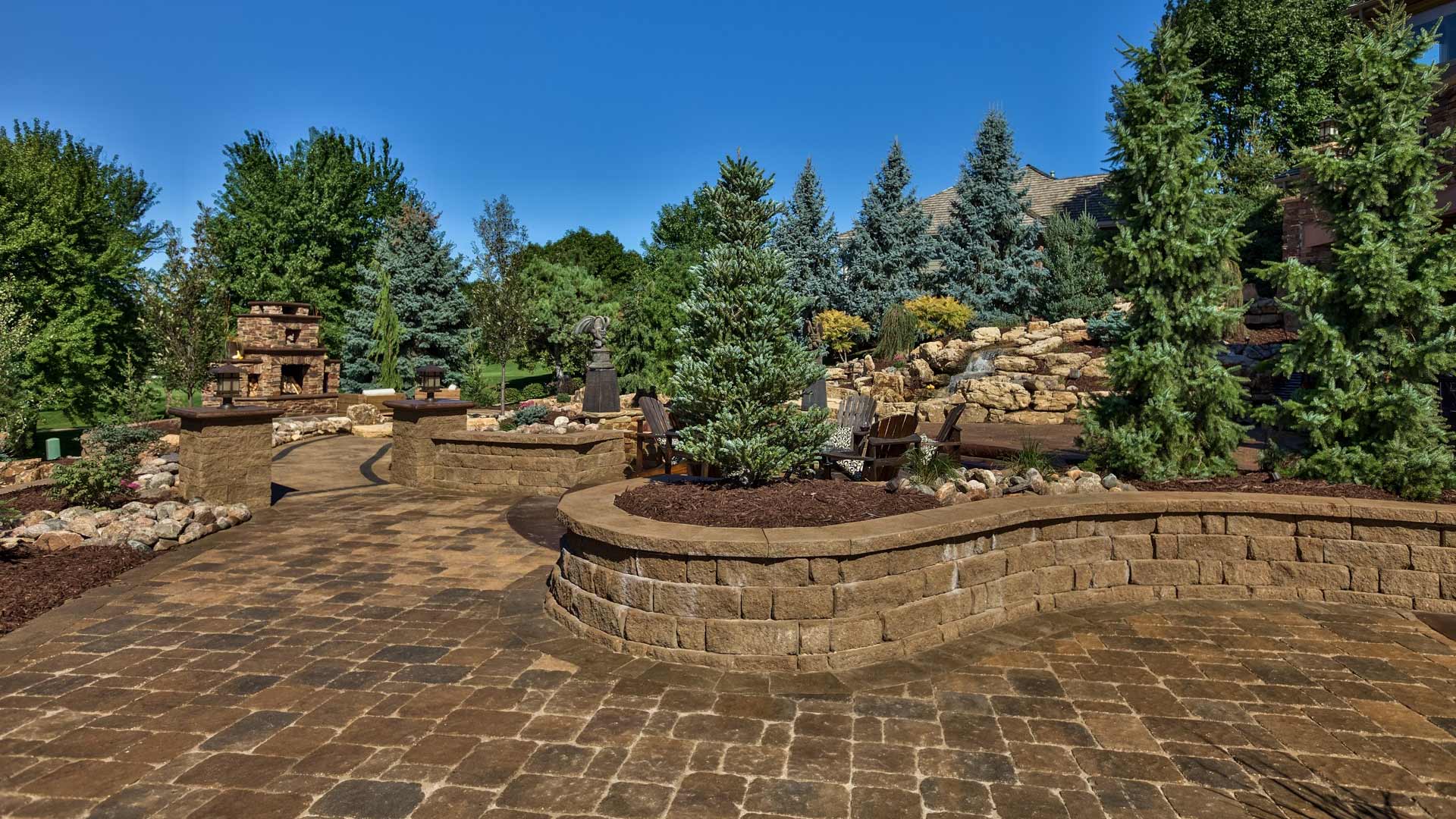 Landscaping
Design & Build
We're the experts in landscaping and hardscaping in the Omaha, Nebraska area. We build everything from outdoor fireplaces, outdoor kitchens, to high-end water features. Call or schedule a landscaping consultation.
Pools
Outdoor Kitchens
Fire Features
Walls
Patios
& More!
By submitting this form, I agree that my phone number and email address may receive communications regarding service notices, billing communications, promotions/deals, and other notifications from our company. These messages may be delivered via email, SMS, calls, or voicemails. You can opt-out of SMS communications at any time by replying "STOP". You can opt-out of email promotional communications at any time by clicking the unsubscribe link. Your information is only used internally to provide/offer services and never sold to any 3rd parties. For more information, please review our privacy policy.
Installing Retaining Walls for Decoration vs. Functionality
Retaining walls are made to hold soil behind them and level out the sloping in your yard. In turn, this will provide more usable space. These walls can be utilized in creative ways to increase the value of your home. We have worked with our clients to design and install retaining walls for decoration, functionality, or both, depending on where they are installed.
---
Retaining Walls for Decoration
Decorative retaining walls are installed as focal points on your property. They break up your landscape and create a beautiful, sculpted hardscape feature. A popular reason our clients install them simply for decoration is to add a raised planter bed. This will draw eyes to your garden and make it pop. You can also get creative with the materials you use to design the retaining wall for extra decoration and individuality.
---
Retaining Walls for Functionality
Functional retaining walls are installed to help level off a part of your property and for soil erosion prevention. By adding a sturdy wall up against a hill, it will drastically reduce the amount of soil runoff. They are also a popular flood prevention method because they can help redirect water - this is especially important in the summer months with all of our rainfall.
---
Retaining & Seating Walls Gallery
---
Are You in Need of a Seating or Retaining Wall for Your Property? Give Us a Call!
Trust the team that won the award for Best in Omaha for Outdoor Living 2020. We work with you every step of the way to design and install your dream outdoor landscape. Give our office a call at (402) 397-5930 to talk with a team member and find out how we can help you install your seating or retaining wall. We offer our services to residential, commercial, and HOA properties in Omaha, Elkhorn, Bennington, NE and nearby areas.