Lawn Mowing in Omaha, Elkhorn, Bennington, NE & Surrounding Cities
Our mowing service is a key element to your lawn's appearance.
It is important to keep your grass properly mowed to maintain curb appeal, however, we understand how time-consuming the task can be. That is why our company offers a mowing service to cross the task off of your to-do list for good! When you sign up for our mowing program, our team members will visit your property weekly throughout the growing season to keep your lawn at the proper height. At each visit, they will edge, string-trim, and blow away any grass clippings. Changing patterns during each visit and adjusting cutting height are two other ways we tailor our lawn mowing for the best health of your lawn.
Our company proudly serves commercial and residential properties in Omaha, Elkhorn, Bennington and surrounding areas of Nebraska. Call (402) 397-5930 today to enroll in our lawn mowing program.
---
What's included in the mowing program?
Cutting your grass is not the only task we perform weekly throughout our mowing program. During each visit, our lawn maintenance professionals will also:
Edge around your property
String-trim around trees and other landscape features
Blow any clippings off of your hardscapes such as your driveway and walkways
As a major component of our lawn mowing service, we'll make sure your property looks its best before we pack up and leave. We don't subscribe to the "mow, blow, & go!" process of maintaining your lawn. Our team members take their time during each visit to ensure that your property looks neat and tidy before we head out.
---
Our lawn mowing schedule keeps your grass at the perfect height.
When grass is actively growing in the Omaha area, we will schedule our lawn mowing visits every week to keep your grass at the perfect height. Toward the end of the growing season, as growth begins to slow, our visits will drop back to a bi-weekly schedule as needed. We'll pay attention to the growth of your grass so we don't cut off too much or cut it too often.
---
Our mowing professionals not only care about the appearance of your lawn, but the health of it as well.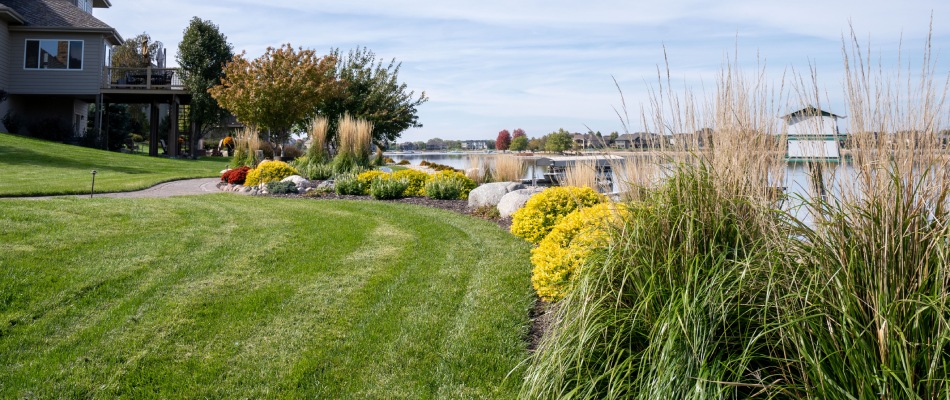 Each time we visit your property to mow your lawn, our professionals considers the health of your grass as well. We abide by mowing best practices to ensure that we never put your grass in jeopardy of dangers such as lawn disease. Each time we mow your lawn, we will change up our mowing pattern to avoid creating ruts and also we adjust the mower blade height depending on the season and type of grass in your lawn. Lastly, we leave the grass clippings on your lawn because they will break down over time and add nutrients back into the soil.
If preferred, our team can bag the grass clippings for customers if you'd rather us remove them from your lawn.
---
Give your lawn the attention it deserves with our lawn mowing service!
Our lawn mowing program will ensure that your grass stays perfectly maintained while you sit back and relax. Our team of lawn maintenance specialists has been serving commercial and residential properties in Omaha, Elkhorn, Bennington, and surrounding areas of Nebraska since 2002. We only offer our mowing program as an add-on to one of our other services such as our fertilization and weed control program, our plant care services, and more. Give us a call at (402) 397-5930 to enroll in our lawn mowing program today.