We offer professional lawn and landscaping services in Waterloo, NE.
Our services include lawn and landscape maintenance, landscape design and build, lawn care, and more.
Waterloo, NE is a suburban village west of Omaha along the Elkhorn River. It's a beautiful small town that covers about 0.65 square miles and is home to just under 1,000 people. There are a ton of fun things to do in Waterloo, including playing golf at the Indian Creek Golf Course, catching a show at the Funny Bone Comedy Club, or grabbing a bite to eat at Farmer Brown's Steak House.
At Groundscapes, Inc., we are proud to offer our lawn and landscaping services to residential, commercial, and HOA properties in Waterloo, NE. The services we offer include lawn and landscape maintenance, lawn care, landscape design and build, and much more. We've been serving the Waterloo community since 2002 and we look forward to helping you meet all of your lawn and landscape needs.
---
Top-Quality Lawn & Landscape Maintenance Services
Lawn Mowing: This maintenance service involves us mowing your grass either weekly or bi-weekly to keep your lawn from growing out of control.
Landscape Trimming: We will trim your shrubs and hedges to remove overgrown or unkempt branches.
Leaf Removal: We will collect and remove the leaves from your property, leaving you with a leaf-free yard.
Mulch & Rock Installation: We can add either mulch or rock cover to your landscape beds. This will not only give them a decorative look but also can aid in controlling weed growth.
Spring Cleanups: This service consists of leaf and debris removal, plant trimming, weed removal, and more so that your property looks great during the spring.
Fall Cleanups: We'll prepare your property for winter by giving it a final mow, removing leaves and debris, trimming your plants, and edging your landscape beds.
Landscape Bed Weed Control: We will rid your landscape beds of weeds so that they look great and your plants won't have to fight with weeds for nutrients, sunlight, and water.
---
Lawn Care Services Designed to Keep Your Lawn Healthy & Attractive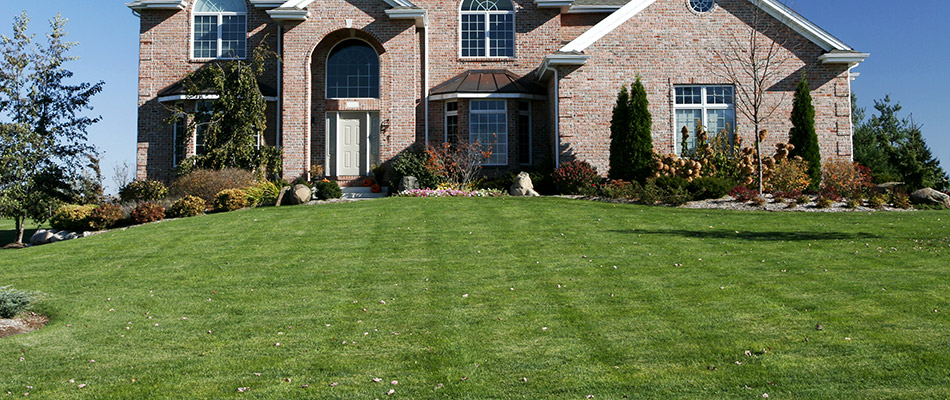 Fertilization: Our 6-step fertilization program will give your lawn all of the nutrients it needs to stay healthy.
Weed Control: This program includes both pre-emergent and post-emergent treatments to kill weeds that are already there and prevent new ones from growing.
Core Aeration: This lawn care service will allow your lawn's roots to have better access to nutrients, water, and sunlight.
Overseeding: We will spread grass seeds across your lawn to encourage new growth and fill in any bare areas on your lawn.
Sod Installation: This process involves us laying down rolls of pre-grown grass, giving you a new lawn almost instantly.
Shrub & Tree Fertilization: This service will ensure your trees and shrubs receive the nutrients they need to flourish.
Lawn Insects: We can protect your lawn from harmful insects including grubs and Japanese beetles.
Perimeter Pest Control: This service is designed to keep a variety of pests including ants, cockroaches, spiders, and more out of your home or business.
---
We Offer a Variety of Design & Build Services
Landscape Design: We will help you design an entirely new landscape, and we even offer 2D and 3D renderings to give you a preview of what your property will look like.
Swimming Pools: We can build you a custom swimming pool that you'll absolutely love.
Outdoor Kitchens: We can build you a custom outdoor kitchen area that will increase the beauty and functionality of your outdoor space.
Fire Features: Enhance your outdoor area with a gorgeous fire feature. We offer fire pits, fire bowls, outdoor fireplaces, fire troughs, and fire and water combinations.
Patios, Walkways, & Driveways: We can create stunning patios, walkways, and driveways, all of which are available in numerous material options.
Retaining & Seating Walls: We offer a large selection of retaining and seating wall options all of which can be constructed in your choice of concrete blocks, limestone, boulders, or weathered sandstone.
Water Features: Our water features include waterfalls, bubbling boulders, pondless waterfalls, water fountains, and water weirs.
Softscapes: Add to the curb appeal of your property with softscape features such as plants, flowers, landscape beds, shrubs, and more.
Annual flowers: Our annual flower installation services will add color and beauty to your property throughout the spring and summer seasons.
Outdoor Lighting: Our outdoor lighting system will bring out the beauty of your property after the sun has set.
Irrigation Services: We can design and build an irrigation system for you or perform maintenance on an existing one.
---
Our additional services include commercial snow removal, tree removal and trimming, drainage and grading, and bush hogging.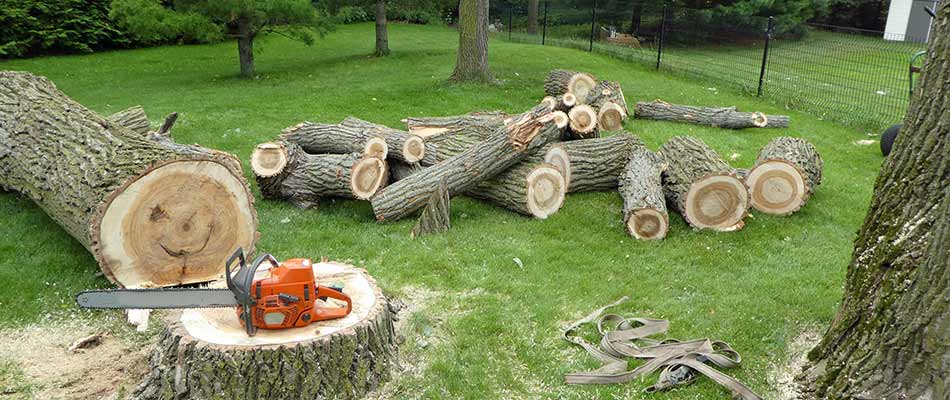 Commercial Snow Removal: We will remove snow from the parking lot, entryways, and steps of your property, so your business can operate as normal during the winter.
Tree Removal & Trimming: We can safely remove or trim trees on your property.
Drainage & Grading: Our grading and drainage services are designed to prevent water damage on your property.
Bush Hogging: This service involves us clearing your property of overgrown brush and other excessive plant growth.
Our commercial snow removal service also includes deicing, making your property safer for you, your employees, and your customers!
---
Contact us today to take advantage of our lawn and landscaping services.
At Groundscapes, Inc., we have been providing high-quality lawn and landscaping services to residential, commercial, and HOA properties in Waterloo, NE since 2002. We have the experience, tools, and know-how to get the job done right. Give us a call today at (402) 397-5930 to schedule our services.