Landscape Bed Weed Control Services for Properties in Omaha, Elkhorn, & Bennington, NE, & Nearby Cities
Prevent your plants, flowers, and gardens from being overtaken by invasive weeds with our effective landscape bed weed control services.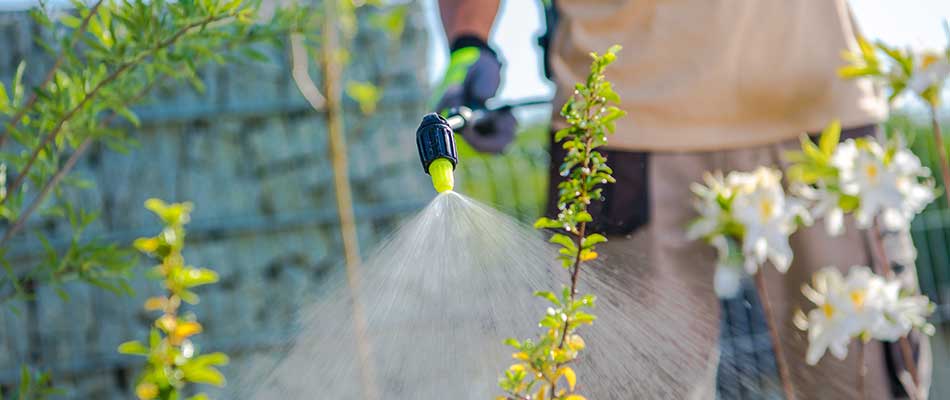 Invasive weeds don't just make their way into your lawn, they also creep into your landscape beds to steal nutrients away from your flowers and plants. Don't let them destroy the landscape and garden you've worked so hard to cultivate! Instead, let our experienced lawn care technicians treat your plant beds with weed control applications that are gentle on your plants but powerful on stubborn weeds. We'll get rid of large clusters of weeds in your beds with our spray treatment and hand-pull the smaller, individual ones. To prevent weeds from springing up in between sessions, we can also apply a pre-emergent treatment.
Our team members are highly trained and experienced when it comes to controlling weeds in your landscape beds. We know how to specifically target weeds without putting your flowers and garden plants in danger. If you live in the Omaha area, including Elkhorn, Bennington, reach out to our team about our landscape weed control services today!
---
Our Methods for Landscape Bed Weed Control
There are a few ways we can prevent invasive weeds from taking over your landscape plant beds and garden. We can take preventative measures by applying a pre-emergent as well as target existing weeds by spraying and hand-pulling.
Pre-Emergent Treatment
We strive to prevent weeds from getting the chance to pop up in your plant beds altogether. Our pre-emergent treatment creates an environment within your soil that makes it difficult for weed seeds to germinate. Because weeds are known to spread thousands of weeds in areas they've invaded, pre-emergent gives your landscape beds a head start against these invasive plants.
Targeted Spraying
Instead of blanket spraying landscape beds, our team takes a more targeted approach by only spraying clusters of weeds that are visible. This ensures that your plants, flowers, and garden aren't at risk of being exposed to herbicides. We are familiar with common weeds in this area and understand which species will effectively respond to spraying and which ones will not.
Hand-Pulling
Young weeds that are just starting to grow aren't as stubborn as mature weeds, making them easier to pull out of the ground. Their small size makes it difficult to target spray in plant beds without posing a risk to your ornamental plants, so we take the safer route of simply hand-pulling. Our team members are knowledgeable about the types of weeds you should not pull, and how to properly pull weeds to prevent the spread of seeds.
---
The Harmful Risks Weeds Pose in Your Landscape Beds
The biggest risk that weeds pose in your landscape beds is the potential to starve your plants of nutrients. The weeds sole purpose is to soak up all of the water, oxygen, sunlight, and nutrients before they get a chance to reach your plants.
Some species like Witchweed, Aeginetia, and Orobanche weeds are actually parasitic in the fact they have the ability to attach to the root systems of your plants and feed off of them causing them to eventually wither and die off.
Invasive weeds compete with your flowers and plants for space to grow. Weeds grow at a rapid rate which allows them to spread to other areas of your landscape beds which leaves little room for your other plants and hinders their growth.
---
For expert help with landscape bed weeds, call our team.
We are the experts when it comes to putting a stop to weed growth in your landscape beds. Our methods are effective at preventing weeds from springing up and eradicating the ones that happen to make it past our barrier. The Groundscapes, Inc. team offers services to properties in Omaha, Elkhorn, Bennington, Gretna, and other surrounding cities in NE. Simply give us a call at (402) 397-5930 to get started!