Our lawn care and landscaping services are available to properties in Papillion, NE.
We work to improve your curb appeal with our top-notch lawn care and landscaping services.
The small-town charm of Papillion, NE is what makes it a great place to live and work. The vibrant community of Papillion is brought together by attractions such as the Papio Bay Aquatic Center. The Walnut Creek Lake and Recreation Area is the perfect place for residents and tourists who love outdoor activities like hiking and biking.
At Groundscapes, Inc., we are glad to help homeowners and business owners improve the health and beauty of their properties with our top-notch lawn care and landscaping services. Our lawn care services include fertilization, weed control, overseeding, and more. We also offer landscaping services such as trimming, pruning, outdoor lighting, and more as well as hardscape installations.
---
Let Your Lawn Reach Its Full Potential With Our Lawn Care Services.
Ensuring your lawn receives the right amount of essential nutrients is critical if you want to maintain its lush and healthy appearance. Your turf also needs protection against weeds that compete with your lawn for nutrients. Our fertilization and weed control program involves properly spaced-out applications of fertilizer and weed control treatments throughout the year to allow your lawn to reach its full potential.
Vital nutrients, water, air, and sunlight will not be able to reach the roots of your turf if the soil is compacted. Aeration will help loosen up the soil and allow these essential resources to reach the roots of your grass. Thin patches or bare spots on your grass are bad for your curb appeal. Let our overseeding solve that for you. For best results, pair our aeration and overseeding lawn care services annually every fall!
Our team at Groundscapes, Inc. can help you start your lawn from scratch with our new lawn seeding service. If you want to get instant results, we also offer our 5-step sod installation service!
---
Our lawn and landscape maintenance services will take care of your yard's aesthetics.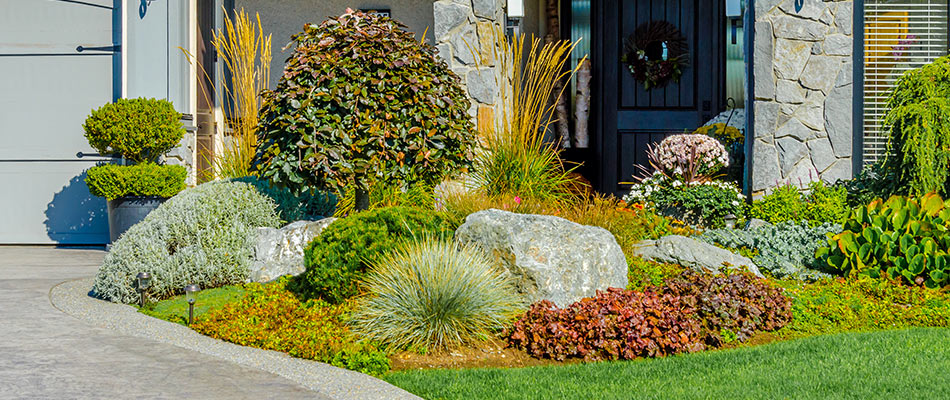 At Groundscapes, Inc., we offer a variety of lawn and landscape maintenance services that are designed to keep your property looking fantastic. Our team offers spring and fall yard cleanups, as well as a leaf removal service to keep your lawn and landscape free from debris, twigs, sticks, and leaves.
Other landscape services that will make your yard look great year-round include trimming, pruning, landscape weed control, and mulch and rock installation. Aside from maintaining the pristine condition of your property, these services also help keep your plants in tiptop shape!
We can also help refresh the look and feel of your property by creating a landscape design that will meet your style and preferences. A softscaping project is an excellent way to add vibrance to your yard. Adding the stunning colors of annual flowers to your property can also skyrocket your curb appeal.
Your landscape deserves to stand out even at night. Our outdoor lighting service is perfect if you want to highlight your plants and other landscape features after the sun has set.
Our tree and shrub services involve fertilization treatments and insect and disease control to keep your plants in optimum health year-round.
---
We transform properties with our high-end hardscape installations.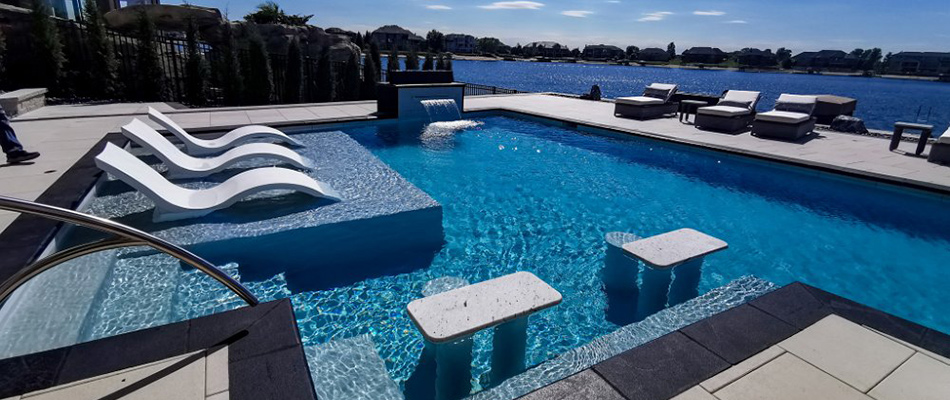 Our team at Groundscapes, Inc. works hard to create outdoor living spaces that are comfortable, convenient, and exude high-end luxury. We can transform your property by installing hardscapes like swimming pools, water features, fire features, and outdoor kitchens.
You can also count on our hardscape installation crew to construct functional and decorative patios, walkways, steps, driveways, retaining walls, and seating walls.
We can help you decide what material to use for your retaining and seating walls to get the results you want for your property.
---
Schedule our lawn care and landscaping services today!
Taking care of your lawn and landscape ensures your property stands out in your community. Whether you own a home or business in Papillion, NE, we can help enhance the health and beauty of your property with our lawn care and landscaping services. Call our professional team today at (402) 397-5930 to schedule our top-rated services!