Professional Patio, Walkway, & Driveway Installations in Omaha, NE, & Surrounding Cities
Add character to your outdoor living areas with a custom patio, walkway, or driveway installation, built from sturdy concrete pavers or classic natural stone.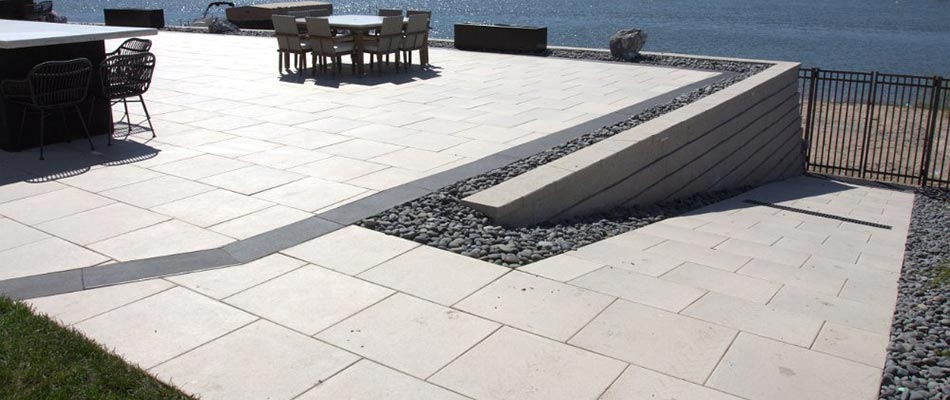 When guests visit your home, the first thing they notice is your landscape. They see the colorful flowers, a green lawn, and neatly-trimmed bushes met with a not-so-vibrant, dull driveway. You invite them around back to your outdoor living area but there's no clear walkway and the patio is cracked and outdated. If you want to make a great impression on visitors, let no stone go unturned. Complement your outdoor living areas with a custom patio, walkway, and driveway installation. A distinguished landscape design has to have a perfect balance of hardscapes and softscapes so that it's not lacking in versatility and proportion. Trust us to bring that desired balance to your home.
Our company offers a fine selection of building materials to choose from including concrete pavers, natural stone, and porcelain tile. We provide patio, walkway, and driveway installations for homes and properties in Omaha, Elkhorn, & Bennington, NE.
---
Selection of Building Materials
When deciding upon building materials, we considered the personal style of clients as well as the durability of materials. Therefore, we decided to offer a variety of long-lasting concrete pavers and a handful of quarried natural stone.
Travertine: Travertine brings elegance to outdoor living areas because of its natural color options and ability to harmoniously blend with current landscape designs. An extremely crack-resistant natural stone, travertine is sure to stand the test of time.
Limestone: Aesthetically pleasing, limestone is one of the most sought-out natural stones for patios, walkways, and driveways. It effectively deflects heat and can be laid in a pattern or cut irregularly to create a naturalistic finish.
Cobblestone: If you're looking to add old world charm to your landscape design, cobblestone is the perfect option for you. Just as durable as concrete, if not more, this classic natural stone ranks superior for those seeking a more traditional look.
Porcelain Tile: This premium building material adds a luxurious touch to outdoor living areas. Porcelain tile can come in a textured, matte, or glossy finish and is offered in a wide range of neutral colors and designs.
Granite: Granite brings a rustic yet sleek look to hardscapes because of its tendency to have zero-bevel, meaning there's no slope from stone to stone, creating a smooth finish. Granite color options range from a deep gray to a very light gray.
Pavers: As one of the most low-maintenance building materials, pavers are both versatile and crack-resistant. They're popular among homeowners because if one happens to crack under considerable pressure, that one paver can simply be replaced instead of having the entire hardscape rebuilt. We offer both concrete and stone pavers in a variety of styles, colors, and finishes.
We provide ICP ( Interlocking Concrete Paving Institution) training and ongoing education to all of our paver installers.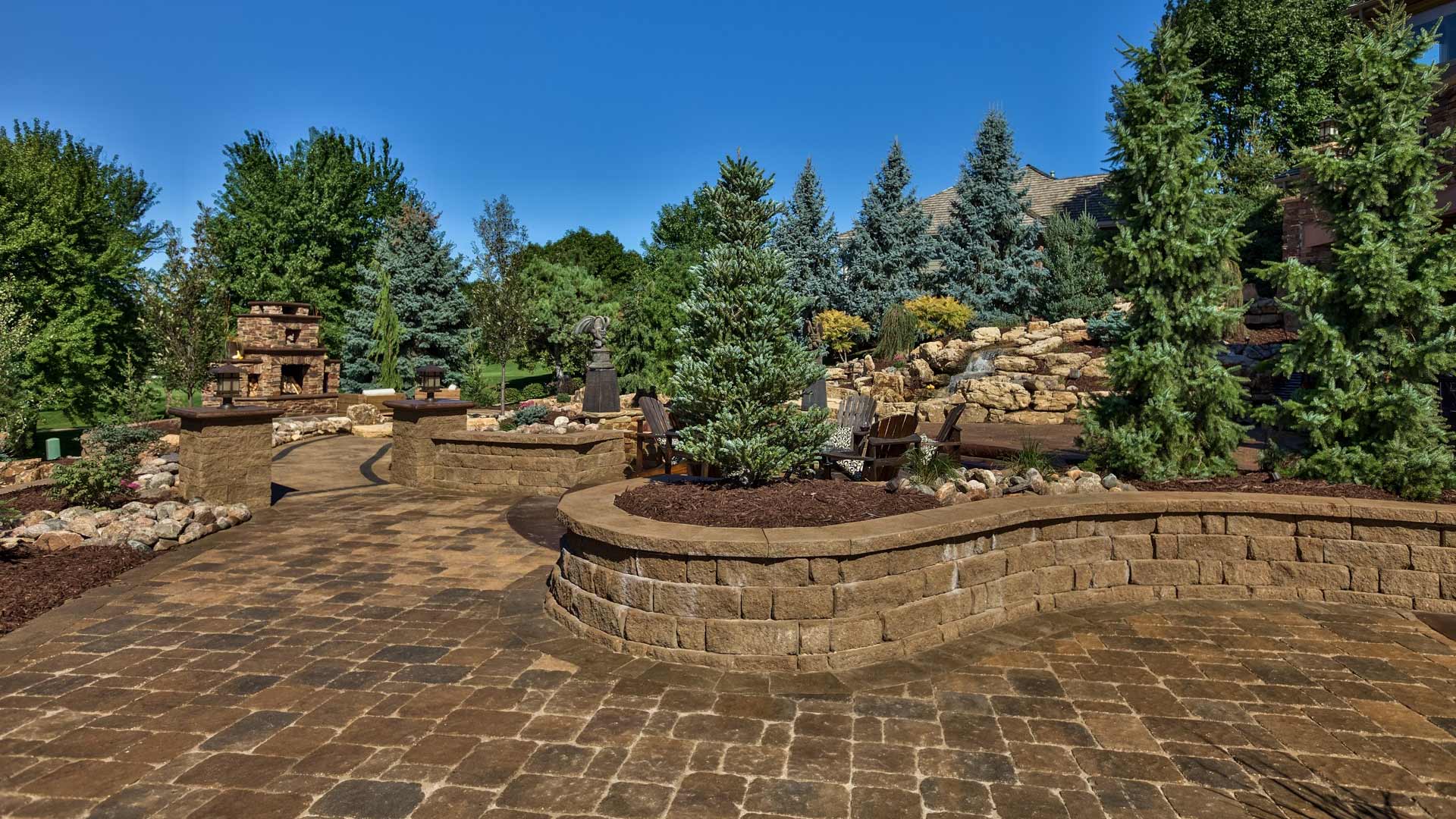 Landscaping
Design & Build
We're the experts in landscaping and hardscaping in the Omaha, Nebraska area. We build everything from outdoor fireplaces, outdoor kitchens, to high-end water features. Call or schedule a landscaping consultation.
Pools
Outdoor Kitchens
Fire Features
Walls
Patios
& More!
By submitting this form, I agree that my phone number and email address may receive communications regarding service notices, billing communications, promotions/deals, and other notifications from our company. These messages may be delivered via email, SMS, calls, or voicemails. You can opt-out of SMS communications at any time by replying "STOP". You can opt-out of email promotional communications at any time by clicking the unsubscribe link. Your information is only used internally to provide/offer services and never sold to any 3rd parties. For more information, please review our privacy policy.
Popular Laying Patterns
Circular Pattern - Mainly used for large driveway and patios, this pattern is achieved by laying materials in a circular formation starting with the interior and leading out to the exterior of the hardscape.
Herringbone Pattern - Building materials are laid in a V-shape at a 45 or 90-degree angle to create a strong visual effect. Mixing material colors and opting for a border adds even more character to outdoor living areas.
Basket Weave Pattern - A combination of rows and columns, this laying pattern is both eye-catching and simplistic. Inspired by the old English architectural era, this pattern brings a vintage and historic element to hardscapes.
Random Laying Pattern - Although repeating patterns bring loads of personality to outdoor living areas, a random laying pattern of various sized stones give hardscapes a homey yet rustic feel.
All of our paver installations come with a lifetime guarantee to ensure your patio, walkway, or driveway always maintains a polished look.
---
Patios, Walkways, & Driveways Gallery
---
Get started with your patio, walkway, and driveway installation today.
It's always a good idea to accent your outdoor living areas with naturally-beautiful stone or versatile concrete pavers. Give your landscape a more refined look with a custom patio, walkway, and driveway installation. If you own a home or property in Omaha, Elkhorn, or Bennington, NE, call our team at (402) 397-5930 to begin the installation process today!