We offer tree and shrub fertilizer treatments for properties in and around Omaha, Elkhorn, and Bennington, NE.
Our granular fertilizer treatments feed your trees and shrubs the essential nutrients they need to thrive.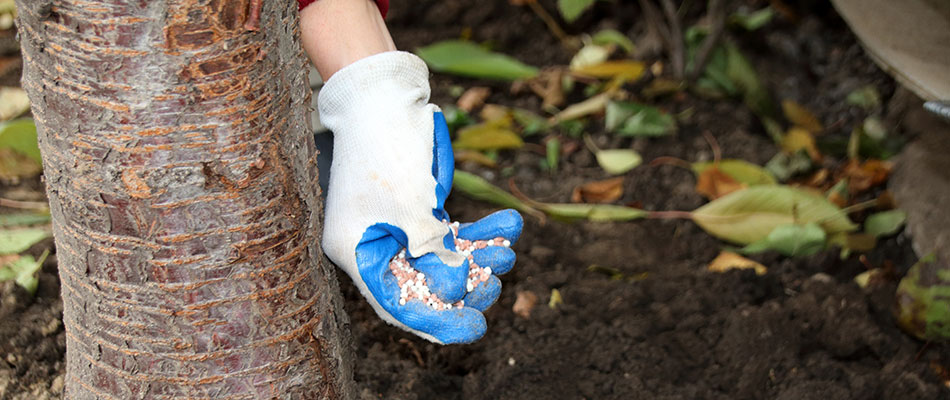 When you think of fertilizer treatments, it's likely that you immediately think of your grass. However, your trees and shrubs need a little TLC, too! Give your property the extra boost and sign up for our tree and shrub fertilizer program as an addition to your regular fertilizer program.
At Groundscapes, Inc., we use granular tree and shrub fertilizer treatments to give your bigger vegetation the essential nutrients that it needs to thrive. Our experts are trained and certified to handle your tree and shrub needs. Throughout the fertilization process, we will keep our eye on their health to make sure that they are not battling an insect infestation or a disease.
We offer our tree and shrub fertilization treatments to the Omaha, NE area, including Elkhorn and Bennington.
---
What is granular tree and shrub fertilizer and how does it work?
Granular tree and shrub fertilizer is the same concept as granular fertilizer for your lawn. It is made up of solid pellets that our crew will spread around your trees. These dry pellets then slowly break down and release essential nutrients like nitrogen, phosphorus, and potassium into your soil. From there, your tree and shrub roots will feed on these nutrients and spread them throughout the rest of your plant. Voila! Your trees and shrubs now have what they need to grow stronger, thicker, and greener!
---
We apply granular fertilizer around the dripline of your tree or shrub.
Our tree and shrub fertilizer program is not a one-and-done service. Our crew will apply 2-3 treatments every year to ensure that your bigger plants are getting what they need to survive the changing seasons. To apply your granular fertilizer, we will need to determine what's called your "dripline" on every tree or shrub. This line marks the outer circumference of your tree canopy, marking where the longest branch of your tree reaches. The next step is determined by where your tree or shrub is located on your property:
If it is in a mulched area like a landscape bed, our crew will simply spread the granular fertilizer around your dripline and let nature run its course.
If your shrub or tree is located in the middle of growing turf without any mulch, we will create small holes around your dripline that reach about 10 inches down into your soil. The granular fertilizer will then be placed in these holes and then covered up. This will give your roots direct access to the fertilizer and avoid burning or overstimulating your grass.
---
Our experts will keep an eye out for any insect or disease issues during the fertilization process.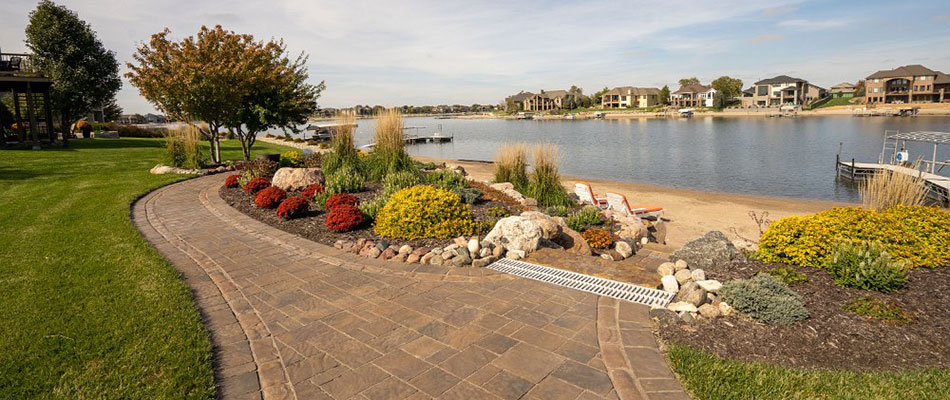 By signing up for our tree and shrub fertilizer program, you will get trained professionals taking a close look at your bigger plants multiple times a year. Our team will always keep an eye out for the health of your plants and notify you immediately if we notice that anything looks wrong. The Emerald Ash Borer insect and Powdery Mildew disease are extremely common tree issues in the Omaha area. We know the beginning warning signs and can create a customized treatment plan for you right away.
---
Feed your trees and shrubs essential nutrients with our fertilization program.
Give your trees and shrubs the TLC and essential nutrients they need to thrive during the changing seasons. Our company has been servicing the Omaha, Elkhorn, and Bennington, NE areas since 2002. We can help fertilize your trees and shrubs while keeping a keen eye on their health. Call our office today at (402) 397-5930 to schedule.