Overseeding Services For Residential & Commercial Properties in Omaha, Elkhorn, Bennington, NE, & Surrounding Cities
We'll help you grow your dream lawn with our premium Fescue grass seed and best practice overseeding methods.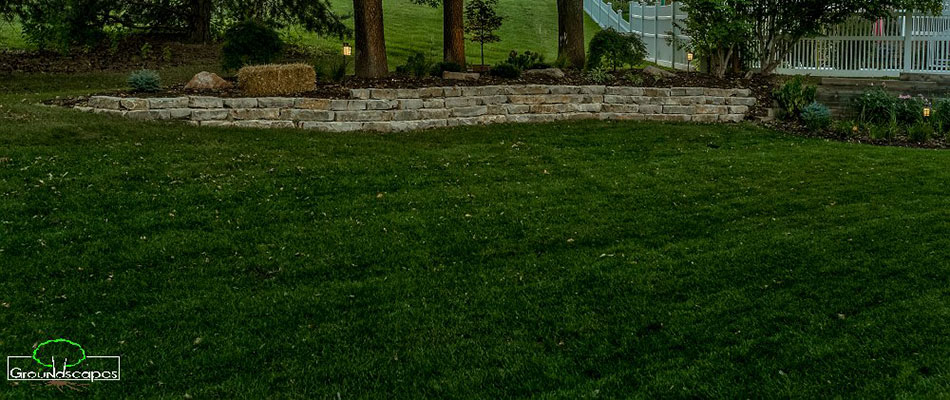 Growing a lawn may seem like an easy enough task but if your lawn doesn't have optimum conditions needed for seeds to effectively germinate, your efforts may be in vain. Professional landscapers like ours know how to properly prep your lawn for grass growth. We always recommend having your lawn aerated before overseeding. Core aeration opens your root system which gives the grass seeds better contact with the soil, thus allowing them to establish deeper roots. Homeowners whose lawns are suffering from disease, drought, or stress can greatly benefit from an overseeding service. Say goodbye to those bothersome brown or bare patches in your lawn and prepare yourself for a thick, green lawn!
Our company uses a premium fescue seed blend that will spring up emerald green grass blades that will give you the best lawn on the block! We offer our overseeding service to homes and businesses in Omaha, Elkhorn, Bennington, and neighboring communities in the Greater Omaha area.
---
The overseeding process involves prepping, seeding, and maintenance.
---
Step1: Prepping
Before we start the overseeding process, we'll first prepare your lawn by establishing the proper environment for seeds to effectively germinate. We'll perform a core aeration service that involves removing small cores of soil to expose your root system and allow better seed to soil contact. Overseeding paired with core aeration results in maximum grass growth.
Step 2: Seeding
Once we're satisfied with the conditions of your soil, we'll begin the seeding process. We use a tall fescue seed blend that's known to produce a thick and strong turf. Fescue is a cool-season grass that grows best in colder climates like ours making it more heat and drought-resistant. Our team members will use a seed spreader to evenly distribute grass seeds across your existing turf or manually spread seed for smaller properties.
Step 3: Maintenance
After the overseeding process is complete, we'll give you all the information you need to properly care for your growing grass. The most important part of maintenance when establishing a new lawn is sticking to a strict watering schedule. Too much water can drown your growing seeds while too little water can halt the growing process. Our team will let you know what times are best to water, how many times a day your grass needs to be watered, and when your watering schedule needs to be adjusted.
---
What are the characteristics of tall fescue grass?
Tall fescue is highly requested by residents in our area because of its adaptability to various different climates. It grows best in areas with colder climates but it can still thrive in warmer climates because of its strong tolerance to heat and drought. The grass blades are best described as thick and dark green in color. Another great characteristic of fescue seeds is that they germinate very quickly and require very little maintenance to thrive compared to other grass seeds. Overseeding with tall fescue grass will give you rich green grass, creating a fuller and lusher lawn than you had before.
---
Schedule an overseeding service with our team today.
Those embarrassing bare spots in your lawn don't have to be permanent. If your lawn is suffering from brown patches caused by disease, thinning areas due to stress, or simply won't seem to grow, we have the solution to your problem with our professional overseeding services! Our team members will ensure your lawn is properly prepared beforehand and carefully maintained after the service. Call us at (402) 397-5930 to schedule a service for your property in Omaha, Elkhorn, Bennington, or a neighboring city in NE.