We provide professional lawn and landscaping services in Omaha, NE.
Our services include hardscaping, landscaping, lawn care, and lawn and landscape maintenance.
Omaha is the largest city in the state of Nebraska with approximately 475,000 residents. Located along the Missouri River, it covers nearly 145 square miles in Douglas County. Omaha features the Henry Doorly Zoo and Aquarium, Offutt Air Base, Creighton University, and several Fortune 500 corporations, including Berkshire Hathaway. The city also plays host annually to the NCAA Division I College World Series and is a wonderful place to visit or call home.
At Groundscapes, Inc., we have provided professional lawn and landscaping services to residential, commercial, and HOA clients in Omaha, NE since 2002. Our services include hardscaping, landscaping, lawn care, and lawn and landscape maintenance. Whether you are in the market for a custom swimming pool or perimeter pest control provider, you can count on us to perform quality work that meets your expectations.
---
We install swimming pools, outdoor kitchens, and other hardscapes.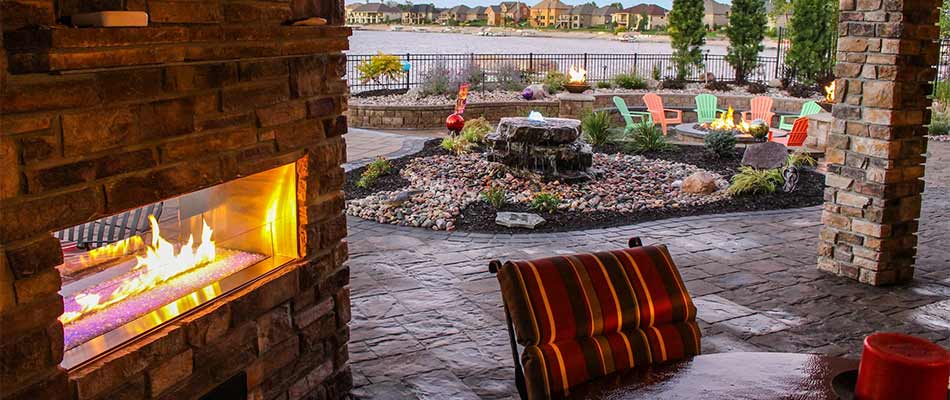 Swimming Pools: We can design and build the pool of your dreams with premium materials and custom features, such as sun shelves and waterfalls.
Outdoor Kitchens: Prepare your meals poolside with a new outdoor kitchen made from your choice of stone. Add to its versatility by including a bar, pizza oven, or grill!
Fire Features: Our team can install custom fire features such as fire pits, fire bowls, fireplaces, and fire troughs to make your outdoor space enjoyable throughout the year.
Patios, Walkways, & Driveways: Build your new patio, walkway, or driveway with beautiful hardscape materials like concrete pavers, natural stone, or porcelain tile.
Retaining & Seating Walls: Whether decorative or functional, we can design retaining and seating walls for a variety of purposes.
Water Features: Install a waterfall, bubbling boulder, pondless waterfall, water weir, or water fountain to bring tranquility to your property.
---
Our Transformative Landscaping Services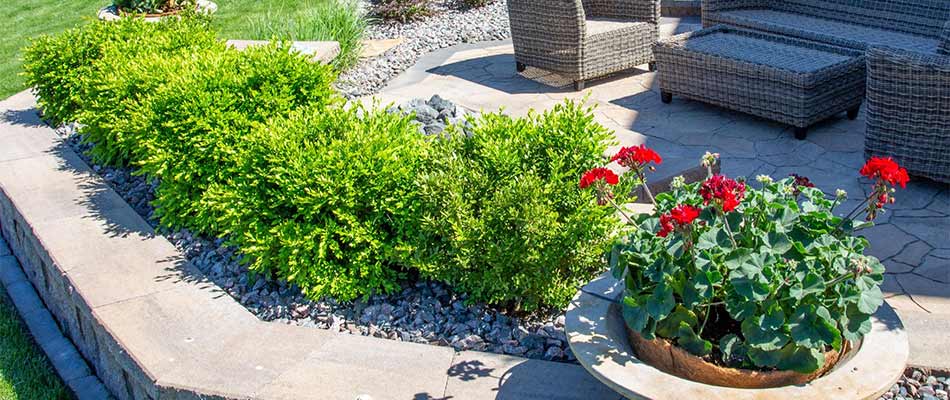 Landscape Design: We create 2D and 3D renderings to give you a realistic preview of what your new landscape will look like after installation.
Mulch & Rock Installation: Enhance your landscape beds by installing chocolate mulch, crushed granite, river rocks, or boulders.
Softscapes: Add natural, eye-catching features to your property, such as flowers, trees, shrubs, and landscape beds.
Sod Installation: We install strips of pre-grown green grass to give you an "instant lawn."
Outdoor Lighting: Let our team illuminate your property by using lighting techniques such as uplighting, downlighting, grazing, and path lighting.
Annual Flowers: Installing annual flowers like begonias, marigolds, and petunias in the spring and summer adds a splash of seasonal color to your landscape beds.
Bush Hogging: Take advantage of our bush hogging services and let our team clear your land of brush and weeds.
Tree Removal: If you have decaying or precariously placed trees on your property, our team can remove them safely and efficiently.
Drainage & Grading: We offer drainage and grading solutions to prevent water from damaging your property.
---
Our lawn care services include fertilization, weed control, and more.
Fertilization: We offer a 6-step fertilization program that runs from spring to fall and relies on granular fertilizer to power steady grass growth.
Weed Control: Our preventative and curative weed control treatments are paired with our fertilization program and target common weeds like bluegrass and ryegrass.
Core Aeration: Improve the flow of water, nutrients, oxygen, and sunlight to your lawn's roots by aerating your lawn annually in the fall or spring.
Overseeding: We spread a blend of fescue grass seeds throughout your lawn to promote new growth and eliminate patchy areas. This is most effective when done after core aeration.
Shrub & Tree Fertilization: Ensure your shrubs and trees get the nourishment to stay healthy and strong with our shrub and tree fertilization treatments.
Top Dressing: After aerating and overseeding, we add a thin layer of organic material over your lawn to further enrich your soil and encourage seed germination.
Lawn Insects: Our lawn insect treatments protect your grass from damage caused by grubs, bagworms, and Japanese beetles.
Perimeter Pest: Our perimeter control services run from April to October and eliminate ants, spiders, roaches, and other unwanted pests.
Our top-rated lawn care services focus on making your grass healthier, stronger, and more resistant to the threats it faces in Omaha, NE.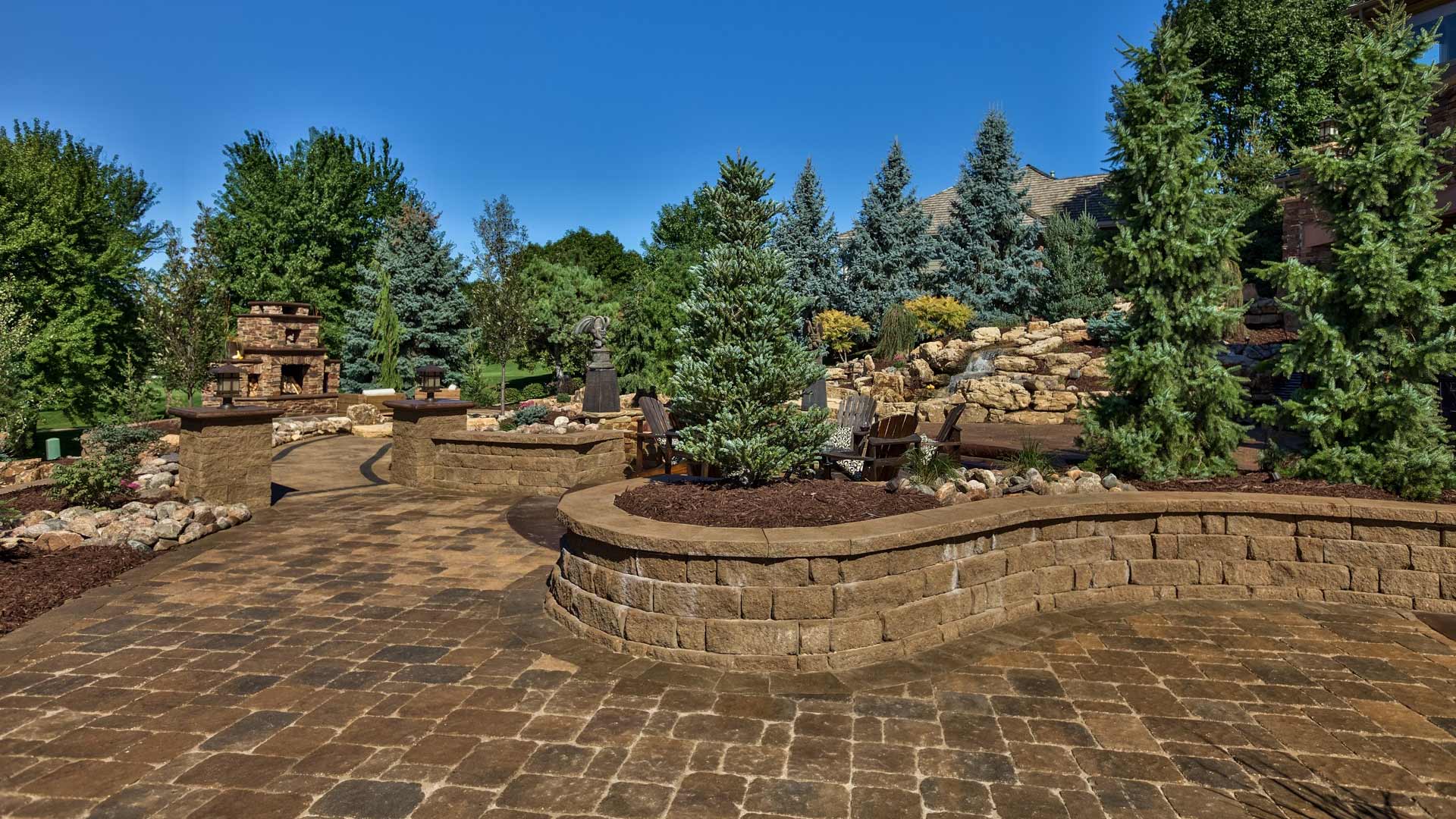 Landscaping
Design & Build
We're the experts in landscaping and hardscaping in the Omaha, Nebraska area. We build everything from outdoor fireplaces, outdoor kitchens, to high-end water features. Call or schedule a landscaping consultation.
Pools
Outdoor Kitchens
Fire Features
Walls
Patios
& More!
By submitting this form, I agree that my phone number and email address may receive communications regarding service notices, billing communications, promotions/deals, and other notifications from our company. These messages may be delivered via email, SMS, calls, or voicemails. You can opt-out of SMS communications at any time by replying "STOP". You can opt-out of email promotional communications at any time by clicking the unsubscribe link. Your information is only used internally to provide/offer services and never sold to any 3rd parties. For more information, please review our privacy policy.
Lawn & Landscape Maintenance Services
Leaf Removal: We collect the leaves littering your property and haul them away to give you a clear yard at the end of the fall.
Commercial Snow Removal: Our snow removal services include both plowing and deicing and are available to commercial clients.
Irrigation Services: We can design and install a new irrigation system for your property or perform routine maintenance on an existing one.
Landscape Bed Weed Control: Eliminate weeds from your landscape beds with our preventative and curative treatments. We spray weeds with herbicides and pull them by hand.
Lawn Mowing: We offer weekly and bi-weekly mowing services that include string-trimming, edging, and debris blowing.
Landscape Trimming: We cut back overgrown shrubs and hedges to keep them well-manicured and inspect thoroughly for signs of diseases or insects.
Fall Cleanups: Our fall cleanups include weeding, plant trimming, landscape bed edging, debris removal, and leaf removal to prepare your property for the winter.
Spring Cleanups: Our spring cleanups feature landscape bed edging, plant trimming, debris removal, and weeding to help your property transition from the winter.
---
Call today to schedule our lawn and landscaping services!
Since 2002, we have provided professional lawn and landscaping services to residential, commercial, and HOA clients in Omaha, NE. Our team is committed to delivering outstanding results and takes great pride in all of our work. Experienced the Groundscapes, Inc. difference for yourself. If you live in Omaha or a nearby area such as Elkhorn or Bennington, call us today at (402) 397-5930 to schedule our services!