Commercial snow removal for businesses in Omaha, Elkhorn, Bennington, NE and nearby areas.
We clear snow and ice from your commercial property so you, your employees, and your customers stay safe.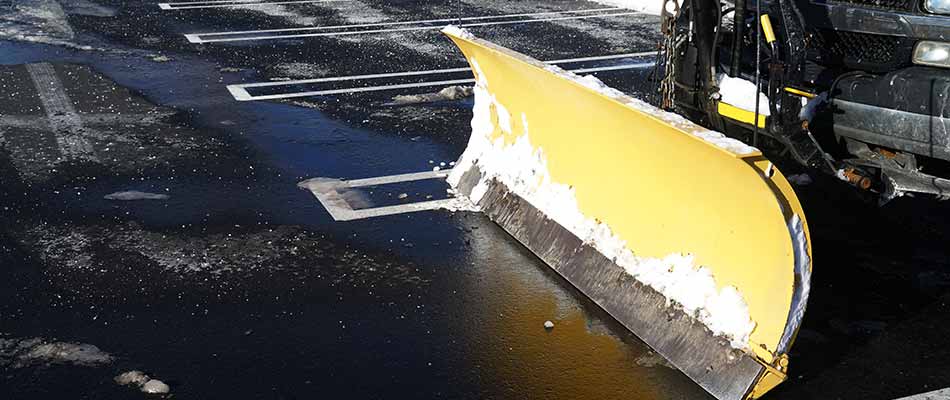 Nebraska receives an average of 28.3 inches of snow annually, most of it falling from December to February. When snow piles up in parking lots and on sidewalks, especially during the busy holiday months, your property becomes unsafe to drive and walk on for you, your employees, and your customers. Stay ahead of the game this winter season by enrolling in our commercial snow removal service.
Our team can professionally remove snow and ice with the appropriate tools and equipment. We use a combination of trucks, skid loaders, salter trucks, and deicing products to do our job safely and efficiently. We can service your business in Omaha, Elkhorn, Bennington, NE, and nearby areas.
---
When do we remove snow from your property?
When it comes to piles of snow, we have a zero-tolerance policy. This means we will arrive at your property at the first dusting of snow. We do this because removing snow as early as possible is the best way to avoid hazards and slip-and-fall accidents.
Removing snow at the first dusting is critical for medical facilities, which is why we often deal with these kinds of establishments. The surroundings of medical facilities must stay free from snow to prevent it from impeding emergency care and the arrival of ambulances. After we remove the first dusting of snow, we will plow as needed throughout the storm/snowfall.
---
We have the equipment needed for safe and efficient snow removal.
Removing snow, especially if it is too thick already, can take so much of your energy and time. As business owners ourselves, we understand how precious time is. Scheduling our commercial snow removal service will save you time and keep you warm indoors! Commercial snow removal requires heavy equipment like trucks and loaders that are designed to remove snow safely without causing any damage to your hardscapes. Our company uses the following equipment to clear your commercial property of snow and ice:
Trucks/plows
Skid loaders with buckets and brooms
Salter trucks
Kubota with front loaders
Depending on your preference, we can either pile up the snow in a designated spot or remove it entirely from your property.
---
We deice your commercial property using rock salt and Ice Slicer salt.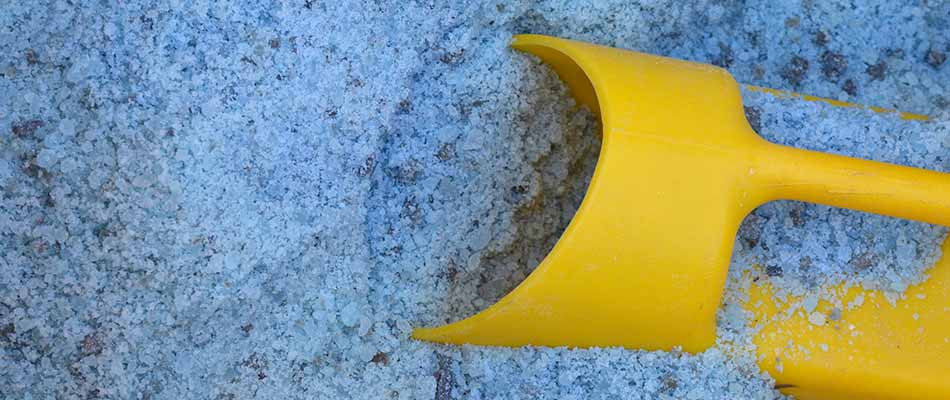 The primary aim of snow removal is to keep your property safe for you, your employees, and your customers. To do so, we will deice areas like your parking lot, sidewalks, steps, and entryways to melt current ice and prevent future ice from forming.
Deicing lowers the melting point of water to prevent ice formation. We use standard rock salt and Ice Slicer red fine salt to deice parking lots. Ice Slicer salt is an environmentally friendly solution that limits our chloride and alkaline impacts. For sidewalks, entryways, and steps, we will use a bagged product. Our team can also do pre-treatments on your commercial property before an expected snowstorm to prevent ice from forming on the pavement.
---
Schedule our commercial snow removal and deicing services before winter!
Get professional help for your snow removal and deicing needs before the winter season starts! We offer our commercial snow removal services to properties in the Omaha, Nebraska area including Elkhorn and Bennington. Save yourself time and the hassle it takes to keep up with the snowstorms this season. Call us today at (402) 397-5930 to schedule.