Outdoor Steps in Omaha, Elkhorn, Bennington, NE & Neighboring Communities
We install outdoor steps to add beauty and functionality to your property!
Outdoor steps are a great addition to any property as they not only provide a functional benefit but also will add to the curb appeal of your property. At Groundscapes, Inc., we want to make sure your project always turns out how you expect it to, which is why we utilize either a 2D or 3D design rendering during the design phase before we start the installation. We can create your outdoor steps using a variety of durable materials including limestone and stone pavers.
If you would like to further enhance your outdoor steps then opting for our quality outdoor lighting service is the way to go. Outdoor lighting will keep your steps illuminated at night which is ideal not only for safety reasons but also to showcase their beauty after the sun has set. We offer these services in Omaha, Elkhorn, Bennington, NE and nearby areas.
---
Our Outdoor Step Design & Installation Process
Our team can design and professionally install your steps in a way that will completely revamp the overall look of your property! In our design process, we will collect your ideas and can create either a 2D or 3D design rendering to showcase how your future steps will look upon installation.
After you've signed off on the design, our professionals will install your new steps with careful attention to detail. Once we measure the space and prepare the building site, we can begin laying the slab foundation and the materials that you've chosen to build your outdoor steps. When we are finished, you'll end up with beautiful new outdoor steps that you'll absolutely love.
---
We build outdoor steps using limestone and stone pavers.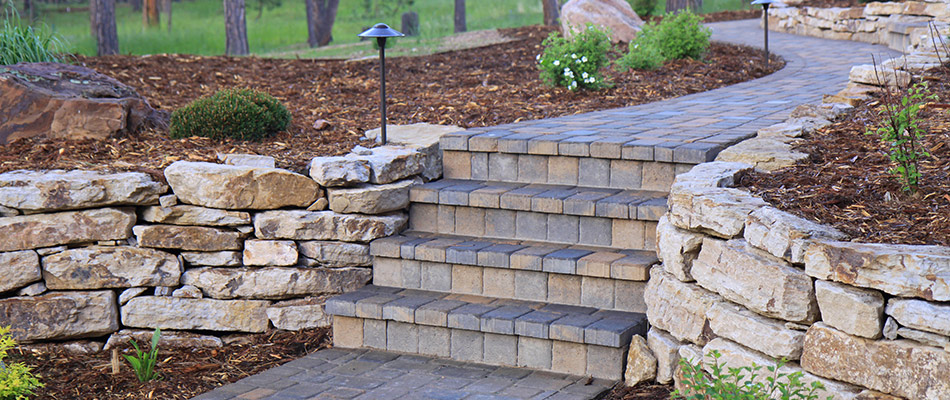 Creating outdoor steps out of materials that can stand the test of time is important to us. For this reason, we use some of the most durable materials available to complete outdoor step installation projects. Determining which materials are best for your project is easiest when you consider the overall aesthetic of your property. Our team will help you select the material that best pairs with the style and features of your home. Here are some of the most popular building materials we use:
Stone pavers: Outdoor steps that are made of stone are incredibly versatile. They allow you to achieve a rustic, natural look on your property, and they are perfect if you are looking to install steps that come in textural earth tone colors.
Limestone: We use limestone as the foundation for most of our outdoor step installations because of its durability. Our limestone outdoor steps are sleek, modern, and durable.
---
Add outdoor lights to your steps to enhance their safety and bring out their beauty at night!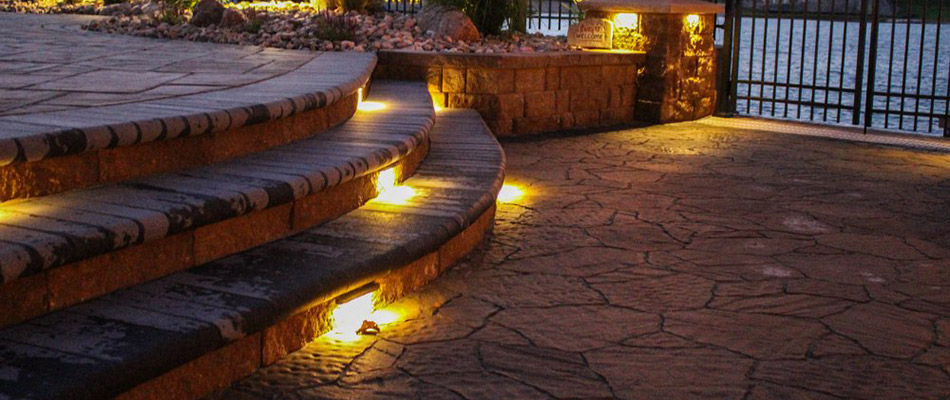 Adding outdoor lighting to your steps will enhance their appearance with an inviting glimmer and will highlight their features at night. But beyond just aesthetic appeal, outdoor lights can improve the safety and security of your new hardscape as well. Well-lit steps will create safer travel for you, your guests, and your loved ones.
Our outdoor lighting is comprised of high-quality LED lights!
---
Call us today to schedule our professional outdoor step installation service.
At Groundscapes, Inc., we offer professional outdoor step installation in Omaha, Elkhorn, Bennington, and nearby areas in Nebraska. We've been installing professional hardscapes like these with care and attention to detail for years. Call us today at (402) 397-5930 to schedule our outdoor step installation service.