Expert Pool Design & Construction Services for Properties in Omaha, NE, & Nearby Cities
Whatever you desire in a pool, we can make it happen. From features like sun shelves and waterfalls to a surrounding patio or water slide, we will bring your swimming pool vision to life!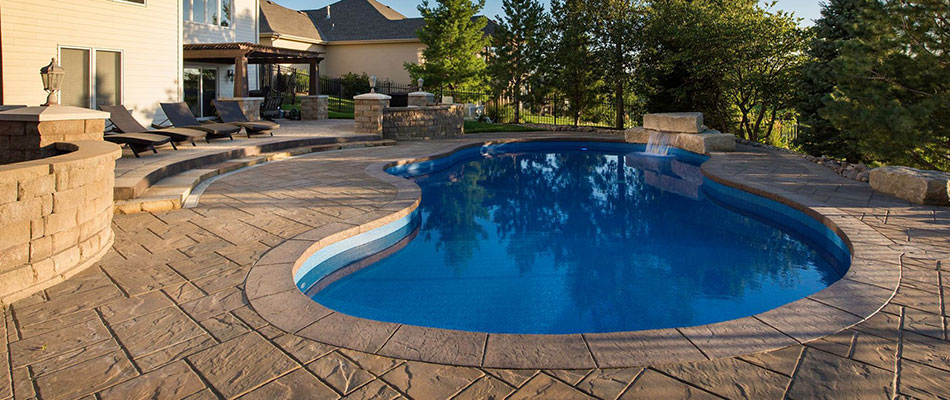 An outdoor oasis just isn't complete without a glistening pool to relax and sunbathe in. We've designed and constructed some of the most stunning and envied swimming pools in the Omaha area. Our secret is to let our clients have complete control over all aspects of the design process from the size, shape, building material, and features of their desired pool. We just focus on the construction aspects such as proper measurements and engineering. Some clients want a sun shelf to comfortably tan on while others simply want a waterfall and patio to take in the soothing sounds of running water. At Groundscapes, Inc., it's all up to you.
If you're ready to fully enjoy your outdoor living area with a backyard swimming pool, you've come to the right place. With a licensed architect and multiple CPO's (Certified Pool Operator) crew members, you can be sure that your pool is being designed and constructed with the utmost quality. We offer our pool services to properties in Omaha, Elkhorn, & Bennington, NE.
---
Customizing Your Pool
We offer two types of construction materials for the shell of the pool: shotcrete or steel-wall liner. Now that we got the boring stuff out of the way, let's talk about all the different customizations you can create your pool with!
---
Shapes
These are just a few popular pool shapes, but if you have something else in mind, let us know!
Oval
Free Form
Rectangular
L-Shaped
Roman
Grecian
Infinity
---
Size
Depending on what your pool will be used for will help determine the size that will best fit your lifestyle. For example, if you want to use your pool for swimming laps then a larger, vertical pool will work better for you. But if you're wanting to add some outdoor entertainment for your kids to enjoy, a smaller to medium-sized pool will best fit your needs. Either way, the choice is completely up to you.
---
Depth
The depth of your pool can be adjusted to accurately fit your needs. Most families with children don't like to go past a certain depth while some people are deep divers at heart!
Common depth levels can be categorized into multi-depth, diving, kiddie play, and lounging, ranging from 18 inches to 12ft.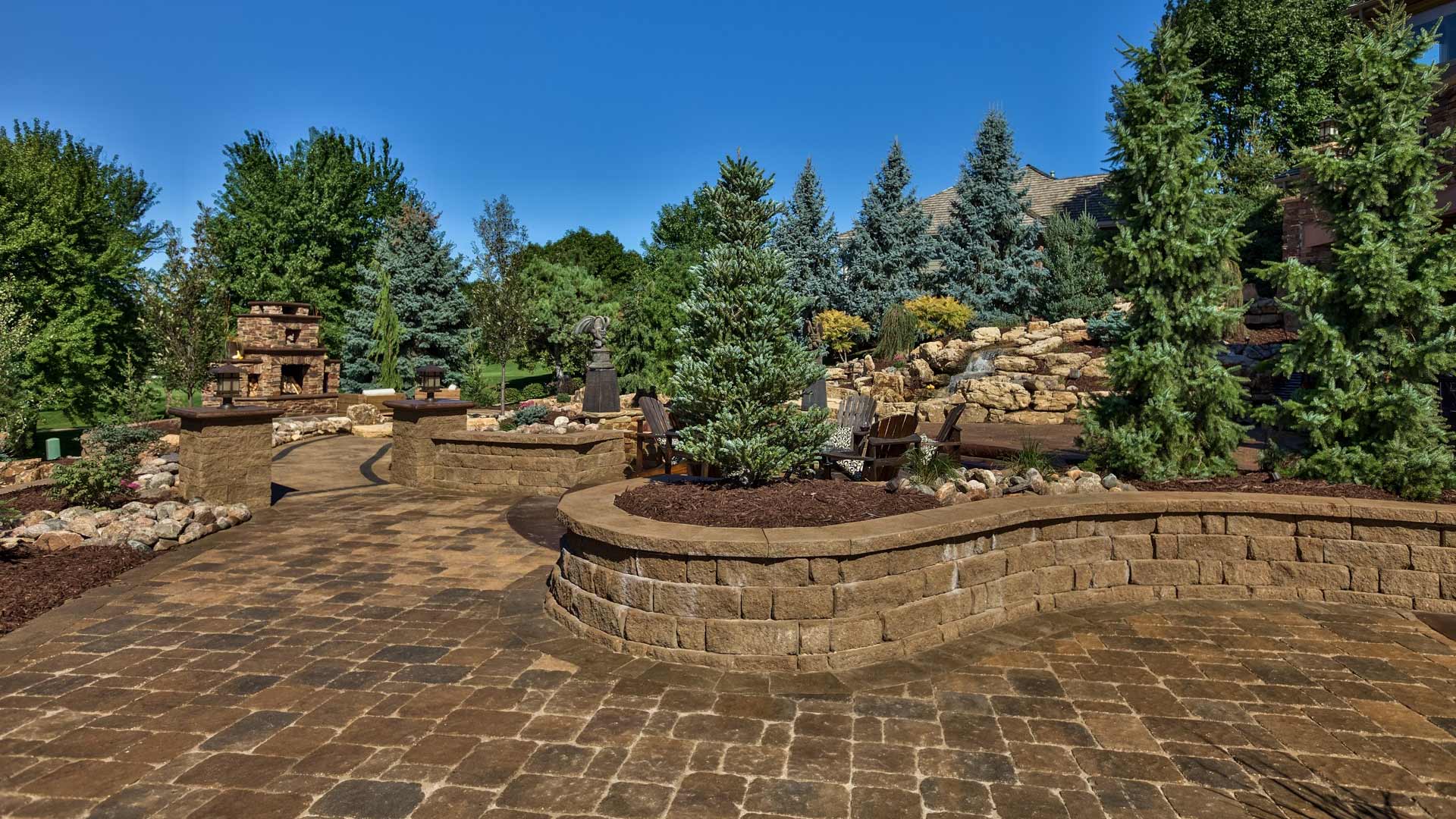 Landscaping
Design & Build
We're the experts in landscaping and hardscaping in the Omaha, Nebraska area. We build everything from outdoor fireplaces, outdoor kitchens, to high-end water features. Call or schedule a landscaping consultation.
Pools
Outdoor Kitchens
Fire Features
Walls
Patios
& More!
By submitting this form, I agree that my phone number and email address may receive communications regarding service notices, billing communications, promotions/deals, and other notifications from our company. These messages may be delivered via email, SMS, calls, or voicemails. You can opt-out of SMS communications at any time by replying "STOP". You can opt-out of email promotional communications at any time by clicking the unsubscribe link. Your information is only used internally to provide/offer services and never sold to any 3rd parties. For more information, please review our privacy policy.
Popular Pool Features
A pool is no fun without fun water features to enhance the experience. We offer an impressive variety of features that can be included in your swimming pool design, including:
Sun Shelf
Built-in Spa
Water Bubbler
Bar Stools
Fire Wall
Overspill
Deck Jets
LED Lights
And more!
To further enhance your pool area, you can have a surrounding patio built from stone pavers, flagstone, granite, limestone, porcelain tile, or another one of our premier building materials.
---
Swimming Pool Design Gallery
---
Trust us to complete your outdoor oasis. Contact our team to begin designing your swimming pool today!
Pool design and construction is a known specialty of ours, we pride ourselves in building clients their dream pool! Our company aims to create outdoor environments that will bring you and your family long-lasting memories. Whether you're taking a dip in the pool to splash around with your kids or relaxing with your significant other, a pool will add a lifetime of fun to your outdoor living areas!
To schedule a design consultation, call (402) 397-5930 to start the journey of designing and constructing a pool for your Omaha, Elkhorn, or Bennington, NE property.