Water Features Installations in Omaha, Elkhorn, & Bennington, NE
Retreat to a serene outdoor living area with the addition of a glistening waterfall, calming bubbling boulder, or another one of our relaxing water features.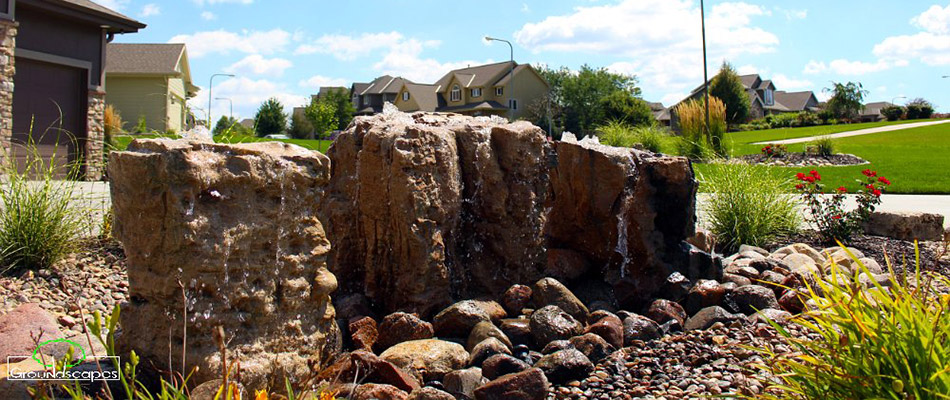 Running water has long been known to have positive psychological and healing effects on people. You may not be able to get to a hot spring or flowing river but you can include that peaceful element of water in your own backyard. Outdoors is the place we like to escape to when we want to get away from the common humdrum of everyday life. So, you want to make sure your outdoor living area has elements that really promote tranquility and peace.
Our company offers an extensive selection of water features that can be installed in your front or backyard. Our water features range from small to large so that we can accommodate every landscape. We can install a waterfall, bubbling boulder, and pondless waterfall to name a few. Get ready to have the ultimate relaxation cove right on your property! If you own a home or property in Omaha, Elkhorn, or Bennington, NE, reach out to our team to learn more.
---
Our Collection of Available Water Features
Different water features vary in style, water flow, sound, and size. The one factor they have in common is the peaceful effect that they offer. Take a look at our collection of water features to see which one suits your landscape and personal style the best.
---
Waterfall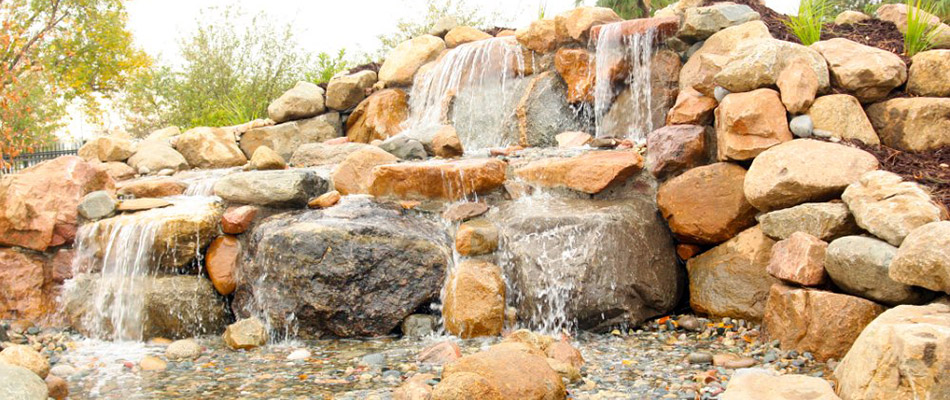 When you think of typical waterfalls, you probably think of huge beautiful natural stones with water overspilling onto the river below. How about a miniature version of that? We can construct a mini waterfall in your backyard complete with natural stones and flowing water. Waterfall heights are adjustable.
---
Bubbling Boulder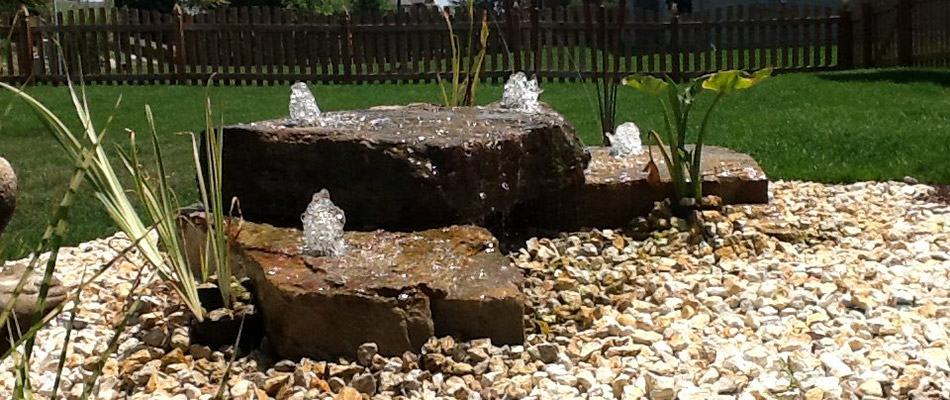 These unique water features produce a soothing, trickling water sound. We're known for creating custom bubbling boulders from sought-after natural stones like limestone and granite. They're very popular in our area because they can be installed in groups to add to the landscape design or set up in various areas of your landscape to add a bit of character.
---
Water Weir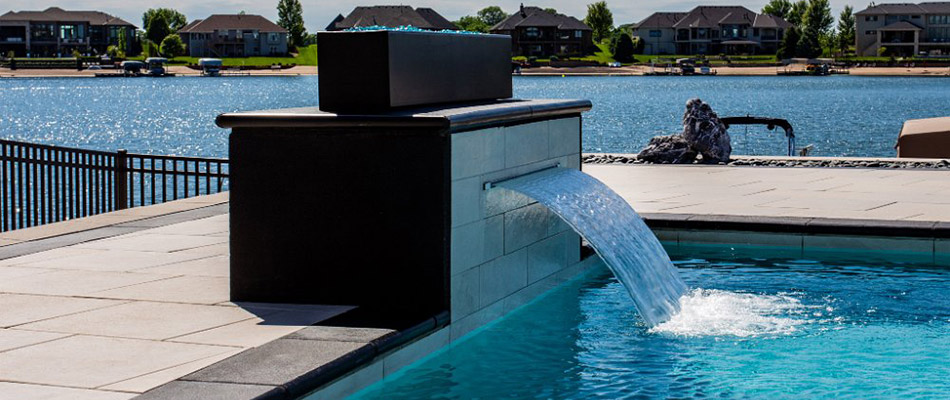 These fun water features are similar to sconces, but release more water because of their wider shape. They are commonly attached to pool structures so that water can flow smoothly into the pool. The sound of the water varies from trickling to roaring depending on the volume of water. LED lights can also be added to enhance the visual experience.
---
Pondless Waterfall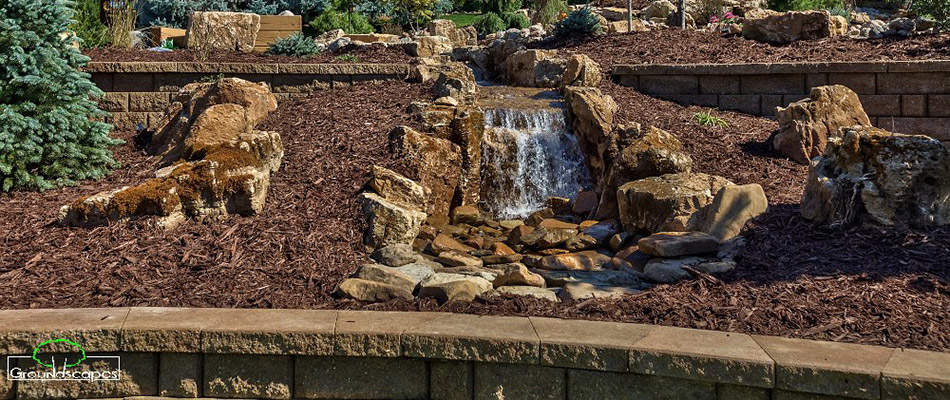 This is the best option for homeowners with smaller landscapes because it gives the same effect as a traditional waterfall without the extra space needed for a pond to catch the water. Get my drift? Pondless waterfalls work by having water continually recycle from the top to a hidden water pump. It's also safer for homes with families because there is no standing body of water.
---
Water Fountain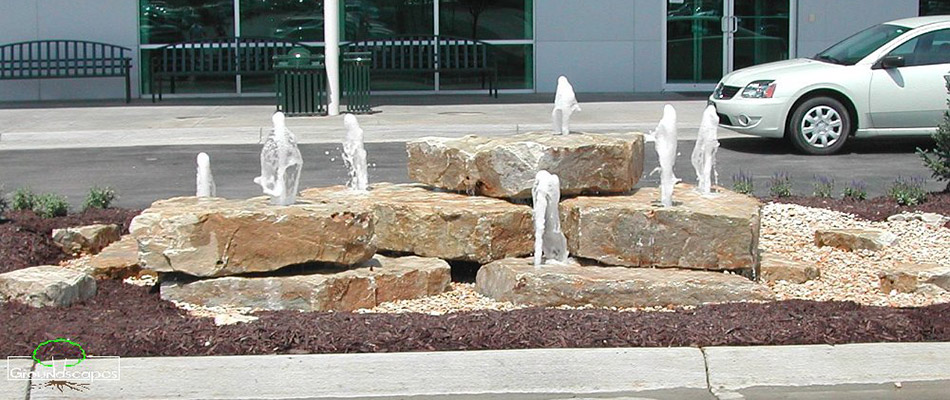 This is the most traditional water feature of them all. People love water fountains because they range from grandiose to modest. They can include statues, sconces, LED lights, and even sound! The water flow can be as slight as a lazy dribble or as dramatic as crashing water.
Water features can be made from large boulders, limestone, granite, porcelain tile, and other high-quality materials.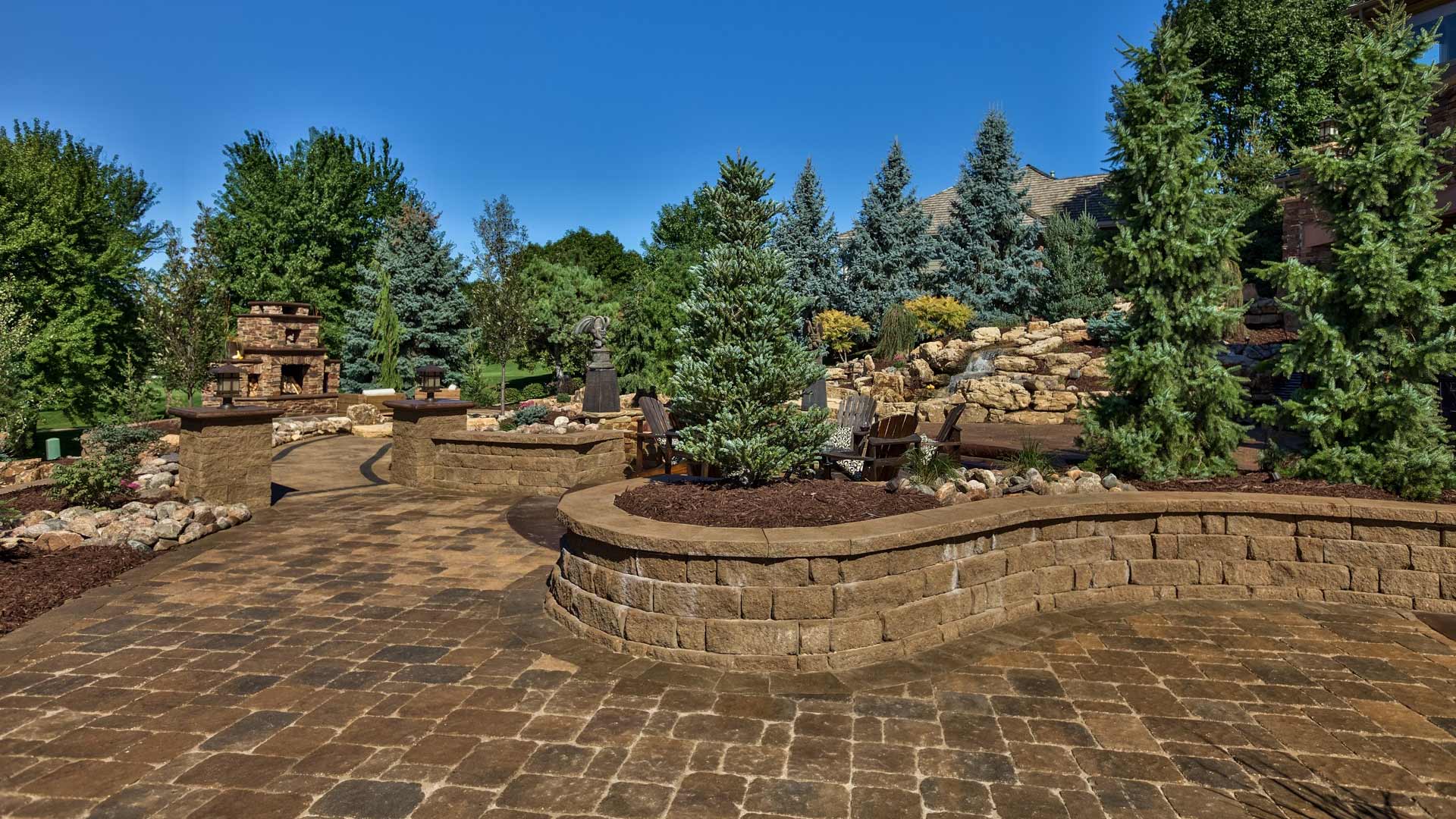 Landscaping
Design & Build
We're the experts in landscaping and hardscaping in the Omaha, Nebraska area. We build everything from outdoor fireplaces, outdoor kitchens, to high-end water features. Call or schedule a landscaping consultation.
Pools
Outdoor Kitchens
Fire Features
Walls
Patios
& More!
By submitting this form, I agree that my phone number and email address may receive communications regarding service notices, billing communications, promotions/deals, and other notifications from our company. These messages may be delivered via email, SMS, calls, or voicemails. You can opt-out of SMS communications at any time by replying "STOP". You can opt-out of email promotional communications at any time by clicking the unsubscribe link. Your information is only used internally to provide/offer services and never sold to any 3rd parties. For more information, please review our privacy policy.
Water Features Gallery
---
Schedule a consultation with us to begin designing your water feature today.
Improving your home with eye-pleasing landscape features and elements not only beautifies your property but is also a great way to entertain visitors and guests. Start designing your custom water feature today by calling (402) 397-5930 to schedule a consultation. We service properties in Omaha, Elkhorn, & Bennington, NE.