Mulch & Rock Installation for Properties in the Omaha, Elkhorn & Bennington, NE Areas
Installing mulch or rock distinguishes your property and provides numerous benefits to your landscape beds.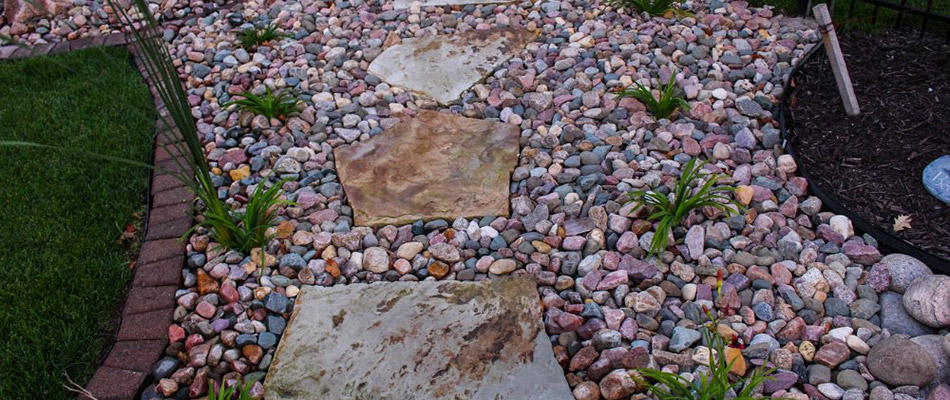 There is no better way to spruce up your landscape beds than installing mulch or rock. Both materials distinguish your property and provide numerous benefits, such as weed prevention, moisture retention, soil insulation, and erosion control, among others.
At Groundscapes, Inc., we offer multiple mulch and rock options to match your landscape's unique style and needs. Since 2012, we have provided top-tier mulch and rock installation services for properties in Omaha, Elkhorn, Bennington, NE, and nearby areas. Call us at (402) 397-5930 to get a quote today!
---
What Types of Mulch & Rock We Install
At Groundscapes, Inc., we install different types of mulch and rock for commercial, residential, and HOA properties. Mulch is the most popular option in the Omaha, NE area, but rocks are an excellent choice as well to enhance your landscape beds. Our top mulch varieties include chocolate mulch and brown mulch, which are both very attractive, while our top rock varieties include crushed granite, river rock, and boulders. Our team of experts can help you choose the option that is best for your property and complements your existing landscape.
---
How We Install Mulch & Rock
We install ground coverings with careful attention to detail. Before we apply mulch or rock to your landscape beds, we prepare the soil so that it is in optimal condition. First, our crew clears out any weeds or debris. Then, we will turn over and smooth out your soil. Finally, we spread the correct amount of mulch or rock to thoroughly cover your landscape bed so that it can reap the maximum benefits.
Applying a ground covering too thin will limit its effectiveness, while applying it too thick can adversely impact your shrubs, plants, and trees.
---
Refresh Your Mulch & Rock Coverings to Enjoy Long-Term Benefits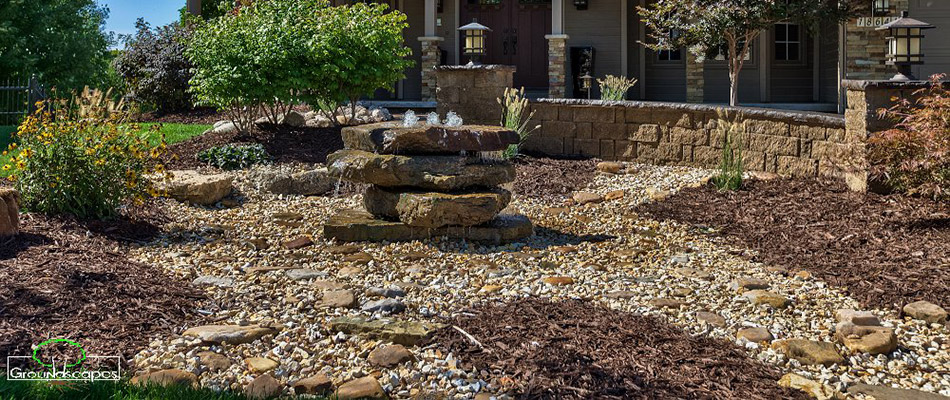 You need to refresh the mulch and rocks in your landscape beds in order to enjoy their long-term benefits. We recommend applying a new layer of mulch annually to keep it fresh and functional. Since rock is more durable and lasts longer than mulch, you won't have to replenish it as frequently, however, we do recommend replacing it as needed on a semi-annual basis.
---
Mulch & Rock Ground Coverings Help Your Landscape Beds Thrive
It's no wonder why so many people in Omaha, NE and nearby areas decide to add mulch and rock to their landscape beds. They dramatically improve the appearance of your property, creating a classy, manicured look. Ground coverings also provide numerous benefits that extend far below the surface and help your plants thrive. These include:
Preventing weed growth. Not only are weeds eyesores, but they also steal oxygen, water, and nutrients from the surrounding foliage.
Retaining moisture. Water evaporates from your soil at a much slower rate when covered, giving your vegetation more water to absorb.
Insulating your soil. A layer of mulch or rock protection insulates your soil, mitigating the impact on cold- and heat-sensitive plants.
Stopping erosion. Soil doesn't wash away when blanketed with mulch or rock thanks to enhanced drainage.
Since mulch is made of organic matter, it also benefits your soil as it decomposes. Mulch contains important nutrients that absorb into your soil and nourish surrounding plants.
---
Want to install mulch or rock in your landscape beds? Call us today!
If you want to give your landscape beds a lift, then adding mulch or rock is one of the best decisions you can make. Let our team take care of this project for you. At Groundscapes, Inc., we have been providing professional landscape services since 2002 to property owners in Omaha, Elkhorn, Bennington, NE, and nearby areas. Call us today at (402) 397-5930 to get a quote and schedule your mulch and rock installation!