No matter what time of year it is, it's never too late or early to start planning your own backyard swimming pool. As one of the most popular features built by Groundscapes luxury craftsmen, it's not hard to imagine why swimming pools have become so popular in recent years: Swimming pools are fun in the sun on any warm day in the summer; they are perfect for inviting people to your home, and even better for kids.
With your own pristine outdoor swimming habitat, the memories and experiences of a lifetime are yours to create. Below are the five most popular reasons for getting your own backyard swimming pool this summer - more information on the exact process is also discussed below!
Reason 1: A Majestic Swimming Pool Is a Statement About Who You Are
Not everyone can afford a swimming pool. By putting one in your backyard, your making a statement about your success and your priorities. A backyard swimming pool speaks for itself, insofar as it's a beautiful home improvement that invites company and entertainment into your home while also signifying luxury, status, and good choices.
Our most luxurious customers even go so far to add water weirs, hand-laid pavers along the side, and a custom designed infinity structure and fountain addition. There is no limit to self-expression with swimming pools - and if you can dream it, our luxury craftsmen can bring your idea into reality in no time.
Reason 2: The Summer Splash is Perfect For Kids Entertainment and Family Time
Summer time means school is out and the kids need something to do. Summer also means the weather is exceptional for spending time together outside. What is the perfect solution? A backyard swimming pool.
Whether you are looking for the best summer activity to satisfy the kids and their friends (that is guaranteed to get their energy out!), or just a serene and relaxing environment to spend time with your significant other, a swimming pool is the ideal fit. From an infinity pool to one built with custom pergolas, lighting, and sun-sails, you are guaranteed a celestial experience.
Reason 3: Add a Fire Pit, and You Can Host Anyone and Anything
Combinations of hardscapes make for perfect outdoor environments. By combining a swimming pool with a fire pit, or outdoor kitchen you are revamping your exterior to host anyone and everyone. According to the 2018 Remodelling Impact Report, a fire pit is rated as a 10/10 landscaping improvement, that makes 83% of customers want to spend more time at home.
For your neighborhood friends, work colleagues, or children's classmates, a swimming pool - fire pit combination is perfect for allowing the parents to reconnect, while the kids can play happily with one another. It's also a perfect set up for hosting any event, celebration or holiday as the diversity of activities guarantees that everyone will find something to do!
Reason 4: Easy Exercise with Minimal Effort
Swimming well and staying healthy is an important concern for many conscious parents and professionals nowadays. It's hard to think of a better way to exercise on summer mornings or evenings than swimming laps in your own pool.
Groundscapes pool designs are such that they can be customarily built to accommodate your exact physical interests. From water polo and water basketball to lap swimming - a backyard swimming pool makes you and your family not only happier, but also healthier and in better shape!
Reason 5: You'll Spend More Time in the Sun, Water, and the Great Outdoors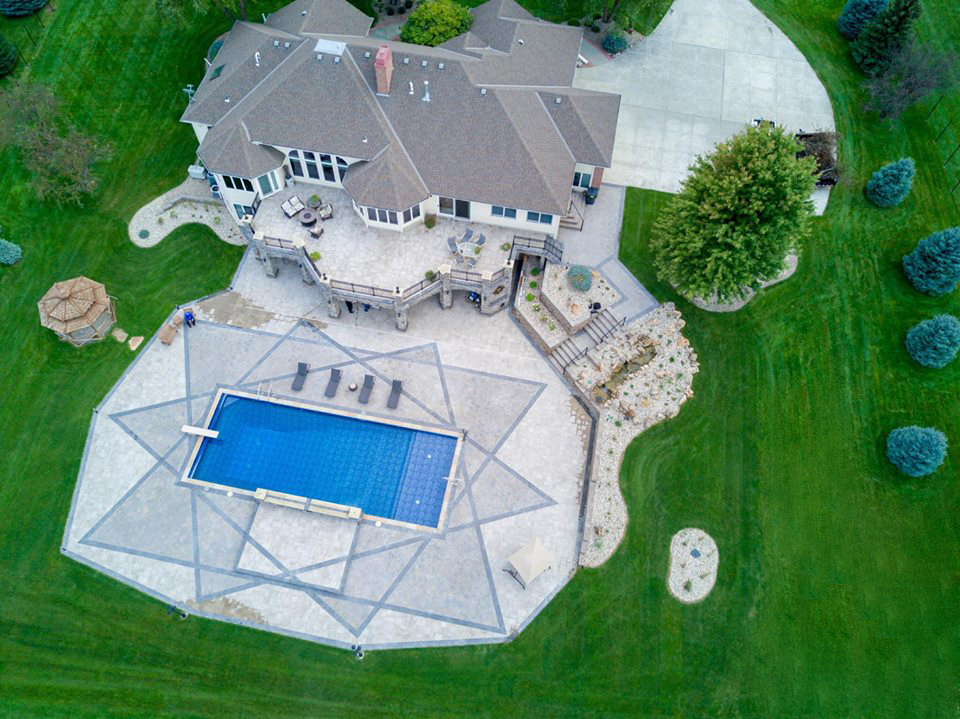 Last but not least, an outdoor swimming pool does something very important that is often overlooked: it allows you to reconnect with the great outdoors in the middle of summer. Whether you spend your time reading a book next to the pool, swimming in the glistening water, or just sitting on a float under the sun, you are most definitely going to be spending time outside.
As such, getting a swimming pool is equal parts entertainment and health: not only will you have a better home atmosphere for family and friends, but you will also be more inclined to spend more time outside - in the pool - and in nature.
Don't Wait: Get Your Swimming Pool Today!
At Groundscapes, we bring over 20 years of experience to the design and build process of luxurious and jaw-dropping swimming pools. We understand what makes the process easier, and the value of time and planning. Because of that, Groundscapes always recommends that you try to start your swimming pool project over the winter season as it gives the team designers more time to create a beautiful 3D model of your future pool.
In tandem, our customers who start in the winter report that the process is easier, their expectations are perfectly met, and they are very happy with the underlying result.
To get started today, feel free to contact us or fill out our unique design consultation form detailing the swimming pools and additional features you would like to start building!