Luxury landscaping is on the rise. And while there has been an increase in focus on private swimming pools, fire pits, and water features, outdoor kitchens are one feature that is garnering special attention. Why might that be? For starters, a new generation of homeowners is slowly evolving into place, and with them come new preferences: According to a recent Zillow Report, your home is 25% more likely to sell to a millennial home buyer if it has an outdoor kitchen already built into it.
What exactly is an outdoor kitchen? What does it include? What features are best to include with it, and what are the real benefits they provide? Below the Groundscapes Team explains the real benefits and value of building an outdoor kitchen alongside a list of the different perks and additions to add onto it!
Why Invest in an Outdoor Kitchen?
Building an outdoor kitchen is an investment in your home, the time you spend outside, and your capacity to entertain and host family and friends throughout the year. While every outdoor kitchen is different, they all provide a similar number of core benefits to homeowners:
Additional Cooking Options: Because the kitchen is situated outside, open-flame cooking options including open-wood flame fires or smoking certain meats, is much easier to do with much better results.
Convenience and Entertainment: Millennial homeowners love outdoor kitchens, because they are convenient: less trips inside, easier to get to the fridge, and less distractions from the conversation when socializing with friends. Your outdoor kitchen is perfect for entertaining, hosting, cooking, and eating all in one outdoor area.
Lighter Energy Usage: Surprisingly, using your outdoor kitchen in the summer (depending on where you live) can have an impact on your energy bill. Cooking outside instead of inside keeps your house temperature lower, and your home better smelling as well.
Year Round Accessibility/Durability In All Weather: Any outdoor kitchen can be made to be accessible year round, at any time of day: Natural gas patio heaters are on way to keep things comfortable, especially when combined with an overhanging pergola. Heating under counter-tops is also useful for cooking in the fall and even winter. Meanwhile, when it comes to accessibility, smart lighting placed carefully around the kitchen environment is a perfect way to ensure that late night entertainment and engagements can go on into the early hours of the morning without any trouble at all.
What Does An Outdoor Kitchen Entail?
At this point you may be wondering about the full scope of an outdoor kitchen. What exactly does it entail? Our response: It's up to you! While a standard outdoor kitchen will include counter-tops, a grill, a stove, and an oven on a fine paver patio there are a number of highly customizable features that can be added on:
Smokers

Prep surfaces

Flat Screen TVs

Sideburners

Kamado Grills

Sinks

Faucets

Ice Bins

Storage space for food

A Pizza oven

Bar and Seating

Lighting

Ceiling fan

Table

Plants

Fire Pit/Fire Bowl

Pergola or Outdoor Structure
The real appeal behind a luxury designed outdoor kitchen is the flexibility they bring to their design and usage: if your kitchen is on a waterfront property you could choose from a large variety of additional features (i.e. sun sails) tailored to that setting. However if you are planning on building your outdoor kitchen onto a mountain home, your considerations will likely be much different.
Regardless of what you decide to add to your outdoor kitchen a couple of standard rules apply to all intelligent designers:
Rule 1: Make sure your outdoor kitchen is designed according to the different types of appliances and features you add to it. As explained by an HGTV Special on Outdoor Kitchens:
"Cold areas (refrigeration), hot areas (grills and cooktops), wet areas (sinks) and dry areas (prep counters and storage) must all work together effectively in proper proximity, each with enough allocated space." (HGTV)
Rule 2: The kitchen needs to be designed in unison with other landscaping features to make sure that the cooks or hosts are not excluded from the evening activities.
Rule 3: The materials you choose for your kitchen need to be weather-proof and stain-proof. HGTV recommends the following:
"High-quality stainless steel provides a sanitary surface that's easily cleaned and corrosion-resistant. Counters and patio or decking material should be highly resistant to grease stains and able to withstand high temperatures." (HGTV)
At Groundscapes, we are proud of the fact that our outdoor kitchens are able to last a lifetime, and have been proven to perfectly withstand significant weather events such as flooding and strong storms.
Where To Start?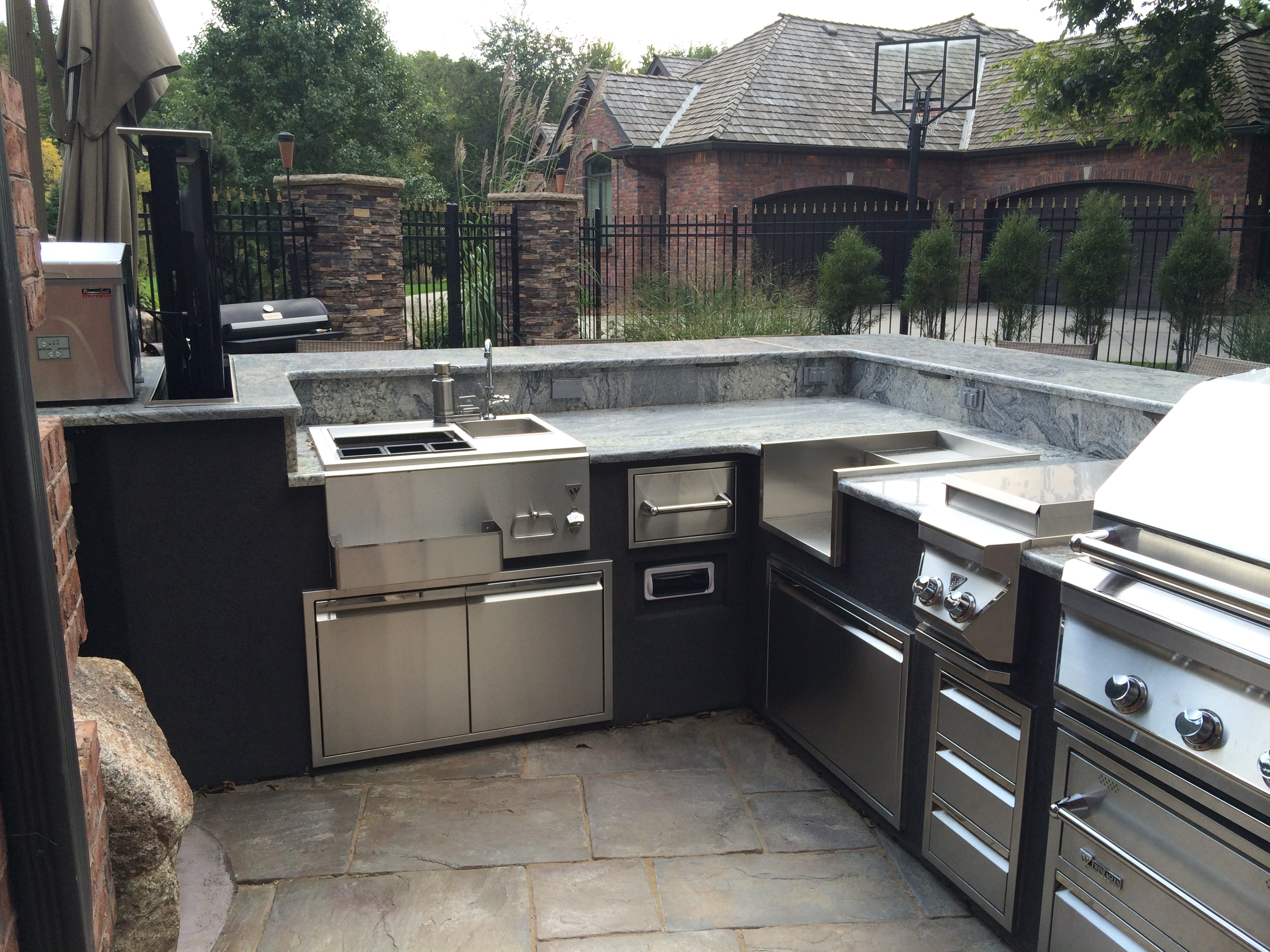 As a rising trend in luxury landscaping, it is likely you will be considering your own outdoor kitchen in the coming years. The best place to start is with your goals and objectives: Are you going to use your outdoor kitchen only for barbecues? What about dinner parties? Do you need TV's built in to watch the game, or would you prefer a fire pit? To get started on your own customized outdoor kitchen design get in touch with a Groundscapes designer or craftsmen. Our unique landscaping design form is the perfect first step to get started.