Centuries of people before us cooked their food outside over an open fire. It was often a communal event that brought people together to relax and enjoy the rewards of their hard work. They would hang out around the fire while cooking, eating, and resting. The outdoor kitchen may have looked different then, but the concept has remained unchanged!
Cooking outside today ignites that primal memory of reward and relaxation since many of us love to do it. The smell of the grill, the openness of the outdoors, and often that same communal gathering makes preparing a meal fun. Having an updated and modern outdoor kitchen can make that experience even better. Here are some things to consider when planning and designing yours.

Light Your Fire
Whether you are cooking over it or enjoying the warmth it gives, fire is an essential element to consider when designing your space. Consider these things when deciding which aspects of fire you want to add to your outdoor kitchen.
Which resource for creating fire is available for you? – Do you have natural gas access at home, or is propane a better choice? You may love burning real wood for the smell and taste it can add to your food, but can you readily access this? These will be crucial considerations when selecting the appliances for your outdoor kitchen.

Which types of food do you love? – If you love pizza, adding an outdoor pizza oven would be perfect. Cooking lots of burgers? Design a cooking space that contains a flat iron griddle or large grill.

Do you spend time outdoors during cooler weather? – Having meals outdoors is excellent in the summer, but eating outdoors can become chilly as the weather cools. Adding a lovely fire table or heaters around the dining space will allow you to stretch out the time you can enjoy the great outdoors.

Are bugs a problem around your home? – It is amazing how these tiny little creatures can quickly ruin a lovely event. Mosquitos, gnats, and flies can be kept away by burning certain types of candles or torches to help deter them.

Keep Your Cool
Fire and ice are typically opposites, but they must play well together in your outdoor kitchen. Your food (and drinks) must be kept cold. The summer heat can be as challenging as the cooler temperatures for relaxing and enjoying a meal. Asking these types of questions can help you design a space that is the balance of both fire and ice.
Is your outdoor kitchen space close to your house? – Outdoor spaces are often right off the home's back door. If this is your design plan, you may find that a small refrigerator will be all you need, as going back and forth to the house for ingredients isn't too much of an inconvenience. When you think about something further from your home, having a larger refrigerator will make outdoor cooking much more convenient (of course, you can always have the kids run and get you things!)

What types of drinks do you prefer? – Water, juices, sodas, wine, beer, and other drinks add to the fun of the outdoor kitchen. Wine lovers may want to add a nice wine cooler outside to keep their Chardonnay or Sauvignon Blanc at the best temperature for white wine, which is around 45 – 50 degrees. This temperature may not be cold enough for other drinks. Design your space to accommodate one or both appliances to keep your drinks at their ideal temperature.

How much sun does the space get? – Keeping people cool is as important as keeping the food and drinks cool. The sun can quickly heat an area, making dining outdoors uncomfortable. Adding a few fans above the dining space can help to keep things cool (it can also help to deter bugs.)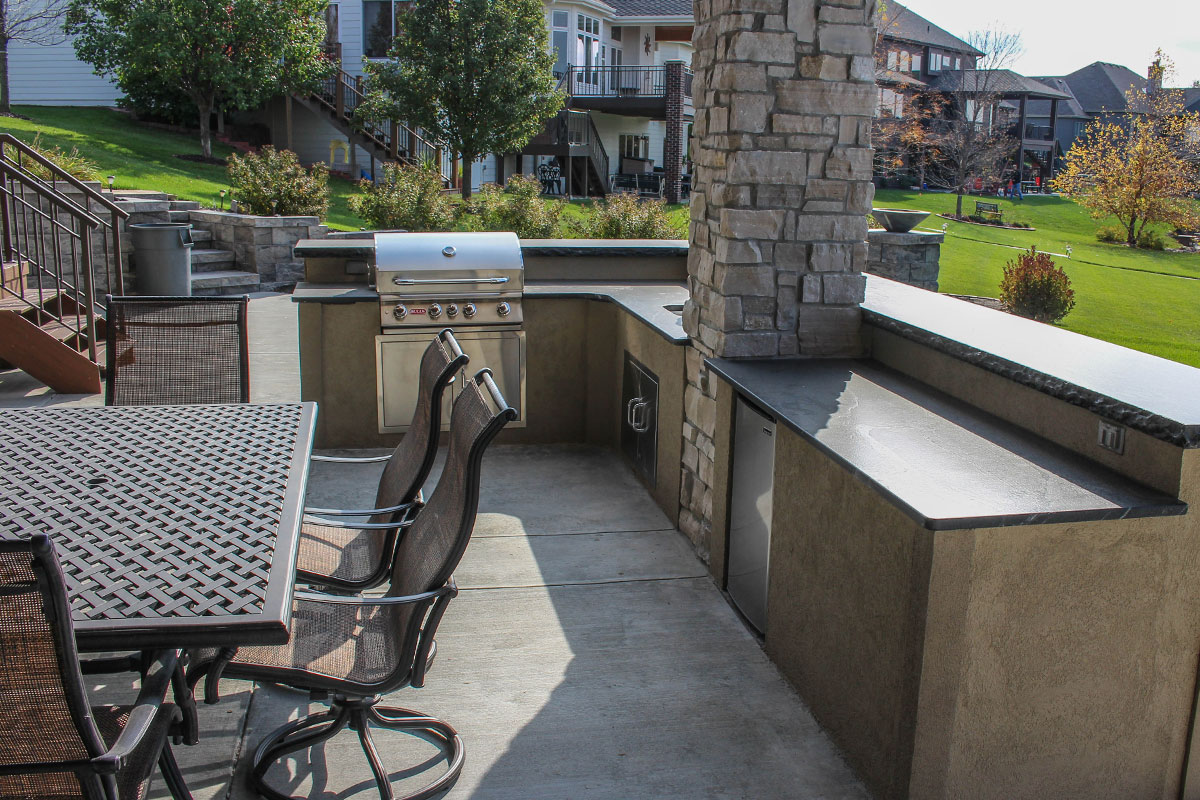 Get Comfortable
Your outdoor kitchen space should be as comfortable as your home. Having a space that allows everyone to relax and enjoy hanging out with one another will make people want to use the area. Adding these things to your design will let everyone settle in and get cozy.
Bar or Counter Space – Having counter or bar space around the grill is perfect for entertaining. It allows your guests to sit and relax while you are preparing food, and everyone can share in conversation. They can also give you those unrequested tips about your cooking, so if you are not into cooking critiques, a separate table far away from the grill would be better!

Round or Rectangle Table? – Selecting a gathering table is a fun part of the design process. A round table allows all of your guests to participate freely in conversation. Everyone can see one another, and sharing food is simple since there is a middle space. A longer rectangle table may fill your space better and add the farmhouse look you strive for.

Overflow Seating Area – Your outdoor kitchen space may be about preparing meals and entertaining your friends and family. There may be times when you want to enjoy the space more casually. Placing a few comfortable chairs around the area with small side tables will allow you to do just that.
Having an outdoor kitchen will give you a space to enjoy the outdoors with your friends and family—a place where everyone can hang out, relax, and enjoy good food and company. Planning the perfect space is much more fun but also challenging. Choosing a company like Groundscapes to help you do the work will ensure you have all the right elements for the best outdoor kitchen for you. Contact us to get started.