Spending time outdoors is a favorite pastime for many people. The fresh air, sunshine, breeze, and overall feeling of space are very calming. Having an area where you can visit with your friends, read a book, or chill is something many homeowners look for when selecting a home. These outdoor spaces not only add value to your life but also to your home. Here are a few things to consider when creating your outdoor oasis.

Plants Add Color
Natural elements like plants can add tremendous value to your outdoor spaces. Selecting plants that vary in size, color, and structure will create great interest in your space. Choosing perennial plants can also help you decrease the time spent on maintenance. Here are a few ways you could incorporate plants into the design of your outdoor oasis.
Container planting – Choose several pots of various sizes that meet your style. They could be bright and colorful or something more muted. Scatter these pots throughout your space and fill them with plants and flowers. Selecting taller pots and adding even taller plants will add some height to your area, while smaller pots with bushier flowers can add tons of color.

Wall planters and vases – Living walls are stunning and can also be practical. Create a living wall full of green ivy or your favorite culinary herbs in your outdoor space. This will add so much color and softness to your area. It will immediately feel like the oasis you are striving for. Planting herbs can also be helpful if you have an outdoor kitchen, as you can select the best herb for your dish right off the wall.

Start from the ground up – The lowest maintenance for an outdoor space is to plant things directly into the ground, especially perennial plants. They may not be as flashy as annual plants that go into your pots, but they will need much less watering and maintenance. Selecting plants that bloom at alternating times of the season will allow you to keep that outdoor oasis feel through multiple seasons.

Water Features Add Sound
Sound can have a dramatic impact on your perception of things. Loud road noises, neighborhood children or dogs, and even squeaky birds can pollute your space with less-than-ideal sounds. Adding a water feature can minimize that disruption and provide your space with a tranquil environment. Which water features are best for your area?
Small water fountains - are perfect for smaller spaces and come in many shapes, sizes, and styles. You could select a fountain resembling a planter pot, stone, or other unique creations. The nice thing about these is that they are typically very moveable and allow you to change up your space occasionally.

Wall of Water – Like a living wall of plants, a wall of water is a terrific feature for your outdoor space. Large columns of flowing water would give you both privacy and add to the tranquil feel of the area. Smaller walls with flowing fountains will help to reduce any outside noise.

Streams and ponds – Larger yards may allow for a grander approach to water features. The addition of a winding stream flowing into a small pond would be a spectacular addition to your outdoor oasis. There is nothing like a meandering stream to make you feel relaxed!
Textiles Create Softness
Textiles have been creating designs for centuries. We use fabrics in all sorts of styles and designs to bring rooms together, and our outdoor spaces should be no different. Adding the right combination of fabrics into the space will instantly bring softness. Bring these into the area to be transported somewhere else.
Curtains – You can use curtains to create privacy and add color to an otherwise dull space. It is much simpler to add a curtain than to paint your house. Hang a few soft and billowy outdoor curtains for that feeling of luxury.

Pillows – Style and function are brought into any space by placing a few pillows. You can easily change them out to adjust to your style changes. They also allow you to take that much-needed nap or to put it behind your back when you can't reach the floor (short people problems.)

Rugs – Whether you have a deck, cement patio, or just the ground, adding a rug will look and feel great. There are many outdoor rugs to choose from to bring in color or pull everything together.

Blankets – Mornings and evenings can be a bit chilly but are also wonderful times to spend outdoors. Incorporating a blanket into your design plan will make it easy to get that extra layer should you start to get chilled.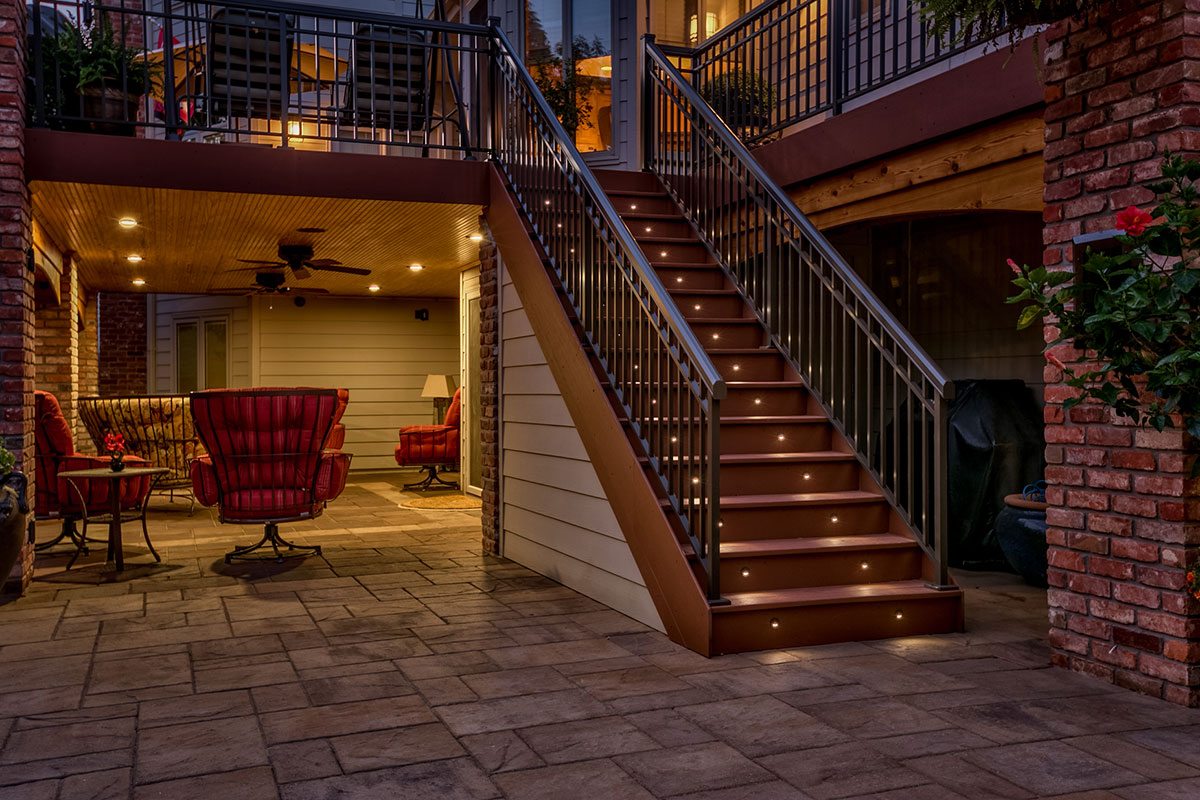 Lighting Sets Mood
You may dream of a dimly lit space or something popping with energy. The right lighting can make either one of these happen. There are thousands of choices when it comes to lighting. You can decide which works best for your space.
Accent Lights – These are great if you want to keep the lighting down for star gazing. You can use accent lights to highlight key features or allow safe travel between spaces.

Tivoli Lights – Add a single set or outline your outdoor area. There are many types of bulbs ranging from soft light to changing colors. You can hang these high into the air connecting trees or keep them lower to bring your space down.

Chandeliers – Add grace and elegance to your outdoor space with a large, ornate chandelier. Choose something modern or go to the flea market shopping for a unique vintage one. Hang it above your area or from a tree with solar light bulbs to create a whimsical feel.
When you are ready to get your outdoor oasis underway, the professionals at Groundscapes can help you get it going. Contact us to get started.