Our company provides top dressing services to the Omaha, Elkhorn, and Bennington, NE areas.
Top dressing is an organic way to give your lawn a much-needed boost.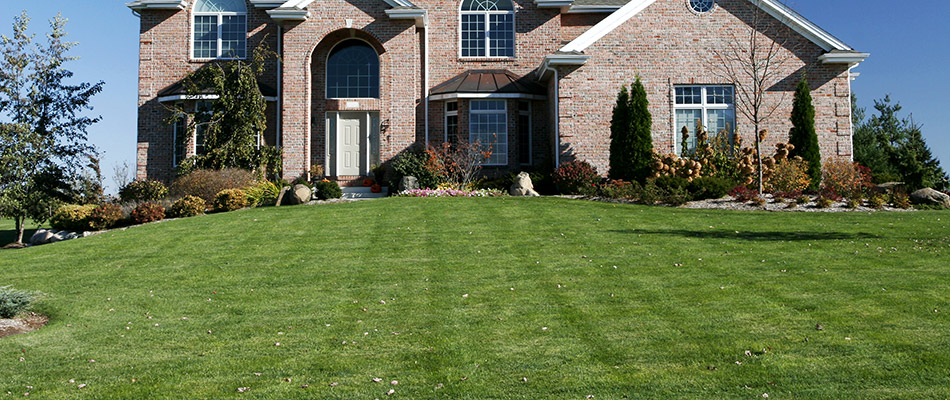 Everybody wants to see their lawn thriving with thick, green grass. When considering options to help your lawn get to this point, many property owners immediately think of fertilization. Fertilization is a great way to feed your grass the exact nutrients it needs to grow strong, durable roots. On top of your fertilization treatments, though, you should also be scheduling a top dressing service. Top dressing (also searched as topdressing) is an organic solution that will reduce thatch, reduce lawn stress, encourage seed germination, and more. It is best accompanied by aeration and overseeding services to get the greatest results.
We offer our top dressing service to commercial and residential properties in the Omaha, Elkhorn, and Bennington, NE areas. We can perform top dressing in both the spring and the fall, depending on the type of grass you have. Call our office today at (402) 397-5930 to schedule!
---
Top dressing will improve soil conditions and encourage strong grass growth.
Top dressing is one of the lesser-known lawn services, yet it offers great benefits that all property owners should know about. When you sign up for our top dressing service, our crew will spread organic material that includes organic compost, soil, and sand throughout your existing lawn. The key is to add a very thin layer to avoid suffocating your roots. This organic material will do wonders for your soil and the health of your grass.
Some benefits of top dressing include:
Soil improvement. The compost material will add essential nutrients to your lawn.
Thatch decomposition. The organic material will aid your lawn in breaking down thick layers of thatch, allowing for more nutrients, water, and sunlight to reach the roots of your grass.
Seed germination. Top dressing will give your new seeds direct access to soil, encouraging them to germinate.
Reduced stress. Bare spots on your lawn can be corrected with top dressing.
---
Schedule Your Top Dressing Service Based on Your Grass Type
In the Omaha area, our lawns have a variety of warm and cool-season grasses. This means that the best time to topdress a lawn depends on what type of grass you have. Top dressing will lead to the best results if you add it to your lawn when your grass is actively growing.
Cool-Season Grass - If your lawn has cool-season grass, that means that it is at its strongest point when the soil temperature is between 50 and 65 degrees Fahrenheit. Late summer or early fall is the best time for top dressing because your lawn will be gearing up for its best growing season of the year, and the organic materials will give it the boost it needs.
Warm-Season Grass - Your warm-season grass thrives, well, when the weather is warm! Ideal soil temperatures hover between 65 and 70 degrees Fahrenheit. We will schedule your top dressing service in the early summer months so that your lawn reaps the most benefits.
For the best results possible, include overseeding with your top dressing service.
---
Call (402) 397-5930 today to schedule your top dressing service.
At Groundscapes, Inc., we offer award-winning lawn and landscaping services to the Omaha, Elkhorn, and Bennington, NE areas. We are proud of our exceptional customer service and our highly trained and certified experts are here to make your life easier with our variety of services.
Top dressing is an organic way to give your lawn an even greater boost after your fertilization treatments. Get your lawn on track this spring or fall by calling (402) 397-5930 to schedule!