When it comes to outdoor kitchens, we often think that we can only take advantage of them during summer. In this article I will show you 5 ways how to improve your outdoor kitchen and show you that it is actually possible to enjoy it all season long! Here at Groundscapes, we bring over 20 years of experience working with some of the finest commercial enterprises in the Omaha Metro and La Vista area.
Under-Awning Dining Space:
First things first let's start with the most convenient and straight forward way to want to enjoy your outdoor kitchen all season long. The under-awning dining space allows you to blend the indoors with the outdoors. A little bit too much sun? No problem! You are protected by it by staying under an awning. Little nice tip: use special materials on your seats so that they are water proof and yet still retain their luxury appeal. Contact us for more details!
The Patio Kitchen:
When it comes to outdoor kitchens we can immediately think about a patio. Blending those two together will easily make you feel at home outside and often forget how amazing it is to feel that breeze of fresh air. In this picture we combine the stone outdoor kitchen with the wooden construction. Contrasting wood pergolas provide a change in material as well as added privacy.
Outdoor fireplace:
What better place to end the a hot summer day with friends and family around the outdoor fireplace. We all remember those moments where the best memories were made during summer, moments we will always cherish and never forget. You can have a late night drink or gather around and roast s'mores. It doesn't matter what you do as long as you can enjoy the warmth of the fire and the love of family and friends.
Stainless Steel Drawers:
One of the most important elements in your outdoor kitchen is to have stainless steel drawers. Adding these to the collection not only makes sure your kitchen lasts throughout the summer, but it also adds up to the style and functionality of your kitchen. Stacked stainless steel doors keeps an high-end aesthetic appeal while providing durability for your outside hangout spot. of drinks at the ready. Friends can pass by any moment. These doors speak for themself.
Stone Outdoor kitchen: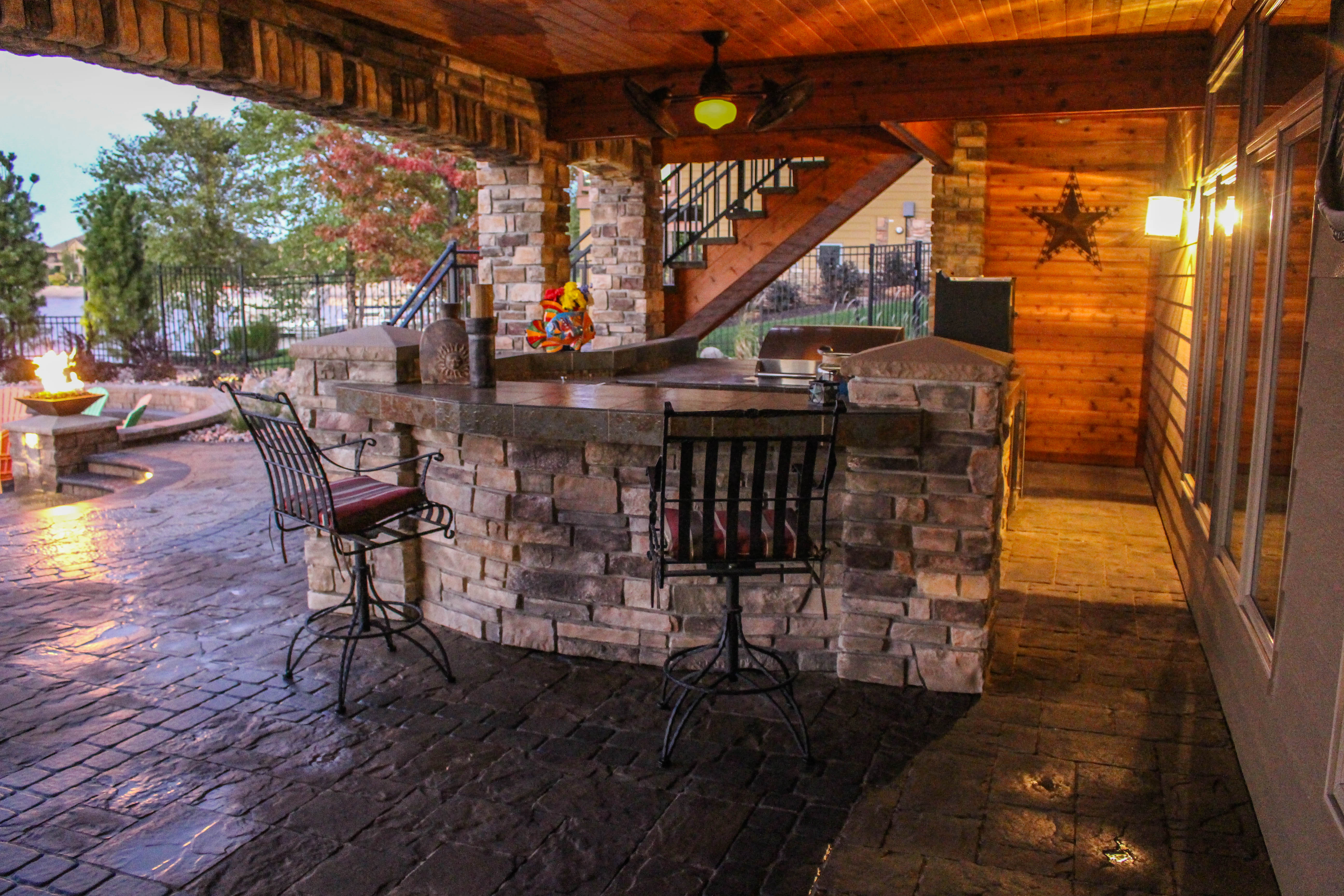 This kitchen is part of an outdoor environment. The timeless appeal of brick makes it a classical material for an outdoor kitchen. The bricks offer a simple and affordable solution. Brick makes it also easy to clean and you aren't scared of an accidental drink or sauce that falls on it. Here again you can decide yourself the way you want to dress it up.
With all this being said I invite you to discover more of what we at groundscapes we can offer you to give you the outdoor kitchen of your dreams. Especially if you are based in you are based in the Omaha Metro, La Vista, Valley or Bennington area, and are interested in improving your commercial landscape, don't hesitate to contact Groundscapes. As Omaha's premier landscaping company, Groundscapes Luxury Landscapes are some of the finest designs in the entire midwest! Get started today by consulting our unique design consultation form.