Spring and summer are the perfect times to light up your outdoor space. Whether it is a garden, a pool, or just a patio area, you can use outdoor lighting to create a beautiful and inviting atmosphere. One of the best ways to add a touch of elegance and sophistication to your landscape design is by adding outdoor lighting. Not only is outdoor lighting a great way to make your property stand out, but it also provides safety and security for you and your family.
Whether you're planning a party or just looking to spruce up your landscape, the right outdoor lighting can make all the difference. Professional landscapers provide a wide range of services that involve selecting, installing, and maintaining outdoor lighting to create an inviting atmosphere. Let's look at some of the options available for landscapes this spring and summer.
Landscape Lighting Design Options
When it comes to outdoor lighting design, there are plenty of options to consider. When strategically zoned and illuminated, outdoor lighting can have multiple benefits. It can be used to highlight specific landscape features and further drive home a sense of ambiance when used in combination with paths and statues. Safety and security can also be improved with appropriately placed lighting. Certain lights may even be dimmable for times when lower illumination is preferred. The type of design you select will depend on what you want to achieve with your landscape design.
RGB Technology
RGB technology has revolutionized landscape design, giving professionals and homeowners alike the option to customize their lighting in remarkable ways. Instead of relying on traditional lighting options, RGB technology allows users to set their landscape up with an array of colors, ranging from calming blues and purples to bright, energizing shades of yellow and orange. In addition to changing the look of the landscape at night, RGB technology also increases visibility and safety after dark. With infinite color combos and ample illumination available, landscape design has a whole new look with RGB.
Accent Lighting
Accent lighting is typically ideal for highlighting specific features such as waterfalls, statues, and gardens. It is usually installed more permanently than other types of lights since it requires wiring into existing electrical systems which require professional installation by an Omaha landscaper.
Boundary Lighting
Boundary lighting provides landscape designers and homeowners with a creative way to extend the landscape's nighttime presence. These light fixtures can create a wall of light that highlights the natural boundaries of an outdoor space. Strategically overlapping multiple fixtures helps create an even more continuous line, bringing out the best in any landscape design. Photometrics and accuracy are key in achieving an optimal lighting effect, but the results are worth it, as it can provide an extended area for evening activities while enhancing overall landscape visibility.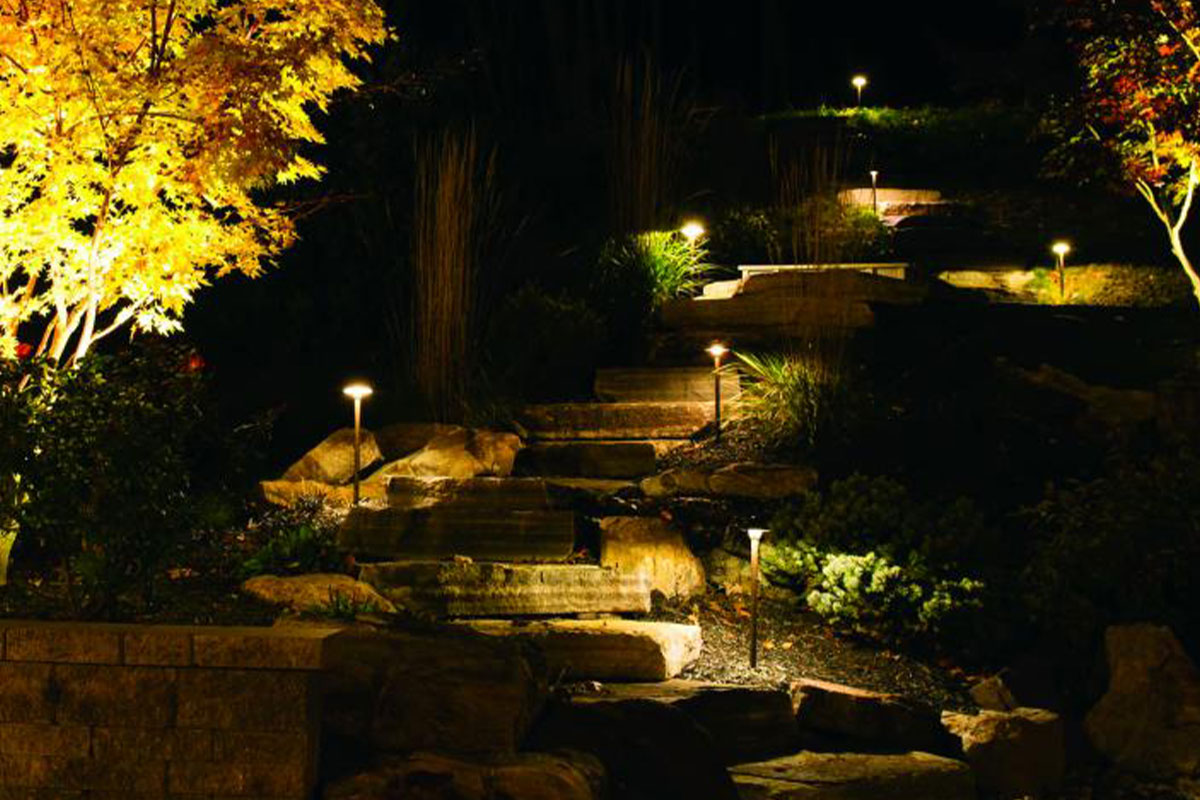 Select the Best Lighting Solution
Choosing the right outdoor lighting solution for your home can be difficult if you don't have experience with landscaping or interior design. One possibility is to spend time doing extensive research and watching DIY videos. You will need to figure out which type of lights will work best for your home based on your budget and overall style preferences. You will also need to be very careful to make sure that your lights are installed properly so they last longer and give off the desired effect without straining the electrical systems of your home or business. Alternatively, you could hire an experienced professional who knows all about landscape lighting in your area.
Hire Professionals to Handle Your Lighting
Outdoor lighting is an effective way to transform your yard into a beautiful oasis this spring and summer. With so many different types of lighting solutions available, it is important to do research before making any decisions—especially if you plan on choosing a landscaper. An experienced professional will be able to help you figure out what type of lights would best suit your needs and budget, while also making sure everything is installed properly for maximum efficiency and longevity.
Hiring a professional Omaha landscaper to add outdoor light fixtures can be a great way to improve the aesthetic appeal of your home or business while adding value at the same time. There are plenty of options available if you're looking for something special. With the right professional outdoor lighting setup, you can create an inviting atmosphere that will make spending time outdoors even more enjoyable.

It's not always easy to select quality outdoor light fixtures for spring and summer. Choosing a landscaper can sometimes seem overwhelming. Don't settle for less than the best. At Groundscapes, Inc. we believe in transparency. We tackle every project with innovative technology and ingenious construction techniques. We take pride in the magnificent quality of our projects - down to the millimeter of measurement. At Groundscapes we don't believe in shortcuts or cutting corners. You can depend on our teams to make sure that our designs have been built with precision, care, and immense focus. A reliable and experienced landscaping company like ours can provide you with the best quality outdoor light fixtures at an affordable price. Contact us today to get started on your next landscaping project.