When reviewing the maintenance schedule of your lawn, it may be tempting to try and find something to skip and wonder if a winterizer fertilization treatment is actually necessary. The answer to that question is a resounding yes! Winterizer is not only necessary but often dubbed the most important fertilization treatment of the year! Winterizer treatments have a high concentration of nitrogen to help your grass store carbohydrates before the ground freezes, and increased potassium to boost the grass's tolerance to freezing temperatures. Because of these benefits, it'll help protect your grass against lawn diseases and keep your lawn fed and thriving throughout the winter, so that come spring it can emerge healthy and strong! For those of us in Nebraska, it's recommended to apply a winterizer treatment sometime between October through November.
---
The increased nitrogen in winterizer will encourage root growth in your lawn.
Winterizer has a higher concentration of nitrogen and potassium in its blend than a standard fertilizer. This blend is specifically formulated to address the challenges lawns face over winter so that come spring, your grass is primed and ready to grow! The high amount of nitrogen will encourage root growth so that your lawn is fully prepared for the upcoming growing season. And with more potassium than normal fertilizers, your grass will be more tolerant to the freezing winter temperatures. Its root systems will also be bolstered, increasing its overall resilience and strength. This is a great benefit to give your grass in a time like winter where it could very easily become stressed and unhealthy, which will then translate into the spring season as well.
As an added benefit, you may even notice that your grass stays a truer green over winter because of the extra nitrogen!
---
Winterizer will help protect your lawn from disease and nourish it over winter.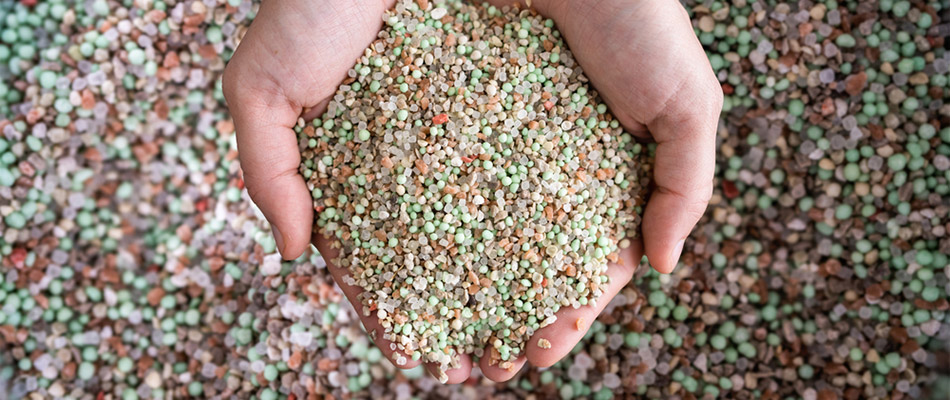 Beyond just preparing your lawn to bounce back in spring, winterizer fertilization protects your lawn from diseases over winter. This is accomplished by nourishing your lawn with the nutrients needed to become stronger and more resilient. Without this boost of nutrients, your lawn may run out of stored nutrients before spring arrives and be left vulnerable to health threats during a time you may not be paying close enough attention to notice immediately. By applying a winterizer fertilizer, you'll ensure your grass has the best possible support to stay healthy all winter!
---
When should winterizer be applied to my lawn?
With a treatment like winterizer that's so full of nutrients that your lawn needs, you want to be sure it's being applied at the right time to secure maximum effectiveness. Although from the name you may think this is a winter treatment, it's recommended that winterizer is applied before winter is in full swing, generally sometime in either October or November. Depending on your location, grass type, grass health, and other factors, where your lawn falls in that window can vary – but a professional company can help determine the optimal time for your lawn to receive this boost!
---
Nourish your lawn. Call us today to schedule your winterization service!
When you choose Groundscapes, Inc., you're not choosing just another lawn and landscape company. You're choosing a company that values transparency, innovation, quality, and attention to detail – and a team that brings those qualities to the table every day. Our passion is in providing top-tier service to commercial, residential, and HOA properties in Omaha, Elkhorn, Bennington, and nearby cities in Nebraska. We have developed a comprehensive fertilization program that includes a winterizer treatment when your lawn is most in need of a boost! Call (402) 397-5930 today to schedule your winterization service and give your lawn the nourishment it needs to thrive!