At Groudscapes we can provide you with over 20 years of experience working with the best and finest commercial enterprises in the Omaha Metro and La Vista area. With all that knowledge we were able to acquire major skills and insights about the importance of (luxury) landscaping - especially in Nebraska.
Today we will present you with 5 different design ideas that you can implement and that will improve your pool game. Not only that but you can also find an increasing value in your property after doing so (however that is a topic for another day)!
Let's start with the first example where you can fence it in:
You can do this in different ways. One example is to build a minimalist fence where you have something that is not that visual but still adds a fine touch around the swimming pool. Another example could be that you use a stone wall around it to have something a little more classic. No matter how you do it, adding a fence brings you that much more extra privacy and safety.
Matching Your Home Style:
For the second design you can go for something that mirrors itself off of the style of your own house. Whether you start a project from the ground up or if you renovate your existing swimming pool, you need to make sure that the design has similar attributes as your house's architecture. In that way you can ensure that everything matches and blends in together very well.
Invest in a Pool Island:
Another option is something out of the box that brings to your swimming pool a feature that we rarely see in the Midwest: An Island. We all know the original rectangular pool that has a clean and sleek design. Take that idea and add to that an in-built island. Not only does this break up the simple shape and brings something extra to the pool, but it can then be used to put drinks on it or lay in the sun.
The Size of Your Yard Doesn't Matter:
Sometimes you might not always have the space to build a big pool. No worries we have got you covered. Groundscapes swimming pools can be custom designed so that they can fit into whatever living space you inhabit! Interested in design? Consider packing your pool with colorful tiles. You can use green hues in an in-ground swimming pool to mimic the greenery around the pool and have something unique and suiting. Add to that floor cushions for example to have a perfect spot to lounge.
Consider Landscaping.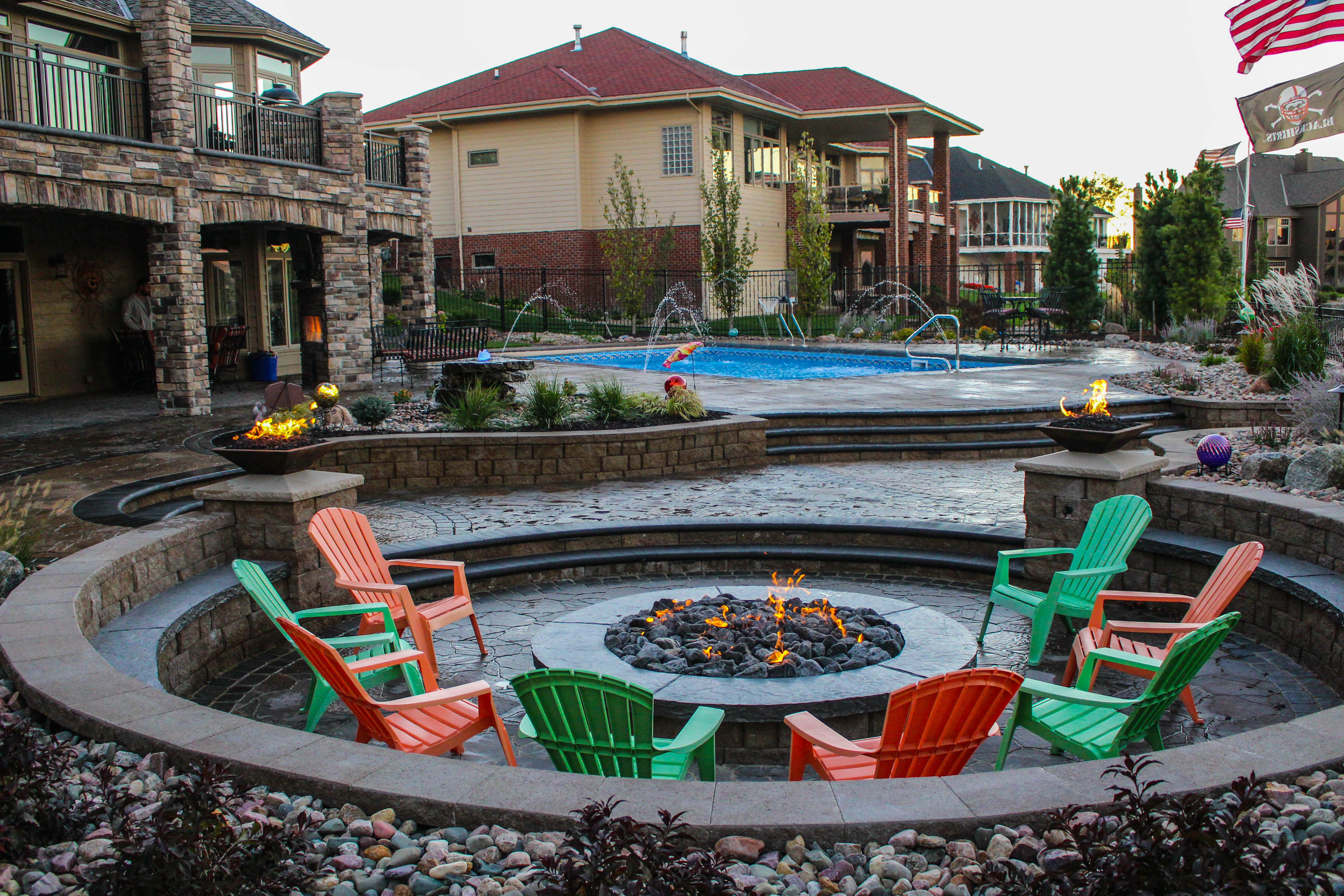 A swimming pool is a great addition for your home. But what about thinking outside of the box and shifting away from the traditional rectangular shape? Thinking about palm trees and other lush plants? Or even an impressive fire pit near the pool? You can take all that into consideration when brainstorming on a design. Bottom line is that the options are endless when consulting one of Nebraska's best landscaping companies.
If you are based in the Omaha Metro, La Vista, Valley or Bennington area, and are interested in improving your commercial landscape, don't hesitate to contact Groundscapes. As Omaha's premier landscaping and design company, Groundscapes Luxury Landscapes are some of the finest outdoor creations in the entire midwest! Get started today by consulting our unique design consultation form.