As spring approaches, it's the perfect time to start thinking about the various landscaping projects that you can undertake to give your outdoor space a fresh new look. Whether you want to spruce up your backyard, enhance your front yard's curb appeal or create an outdoor living area for family and friends, there are plenty of spring landscaping projects to consider for spring 2023.
Here are some ideas to get you started:
Add Colorful Flowers and Shrubs
One of the simplest ways to refresh your landscaping is to add colorful flowers and shrubs. Spring is the perfect time to plant flowers like Begonias, Impatiens, Alyssum, Petunia which can add pops of color to your yard. When choosing plants, be sure to select varieties that are well-suited to your region's climate and soil conditions.
Install a Patio
If you want to create an outdoor living area that you can enjoy throughout the spring and summer months, consider installing a patio. This can be a great spot for entertaining, grilling, or just relaxing with family and friends. There are a variety of materials to choose from, including Pavers, Travertine, and Flagstone so you can select an option that suits your personal style and budget.
Create a Water Feature
If you want to add a calming element to your outdoor space, consider adding a water feature. This could be a small pond, a fountain, or even a waterfall. The sound of running water can create a soothing atmosphere, and a water feature can also attract birds and other wildlife to your yard. Having a Omaha landscaper assist you in planning this type of project can help you save time and money by making sure it is done properly.
Install Outdoor Lighting
Outdoor lighting can add both beauty and functionality to your landscaping. It can illuminate walkways, highlight architectural features of your home, and create a warm and welcoming ambiance. There are many different types of outdoor lighting available, including Path Lights, Accent Lights, and Well Lights, so you can choose an option that suits your needs and preferences.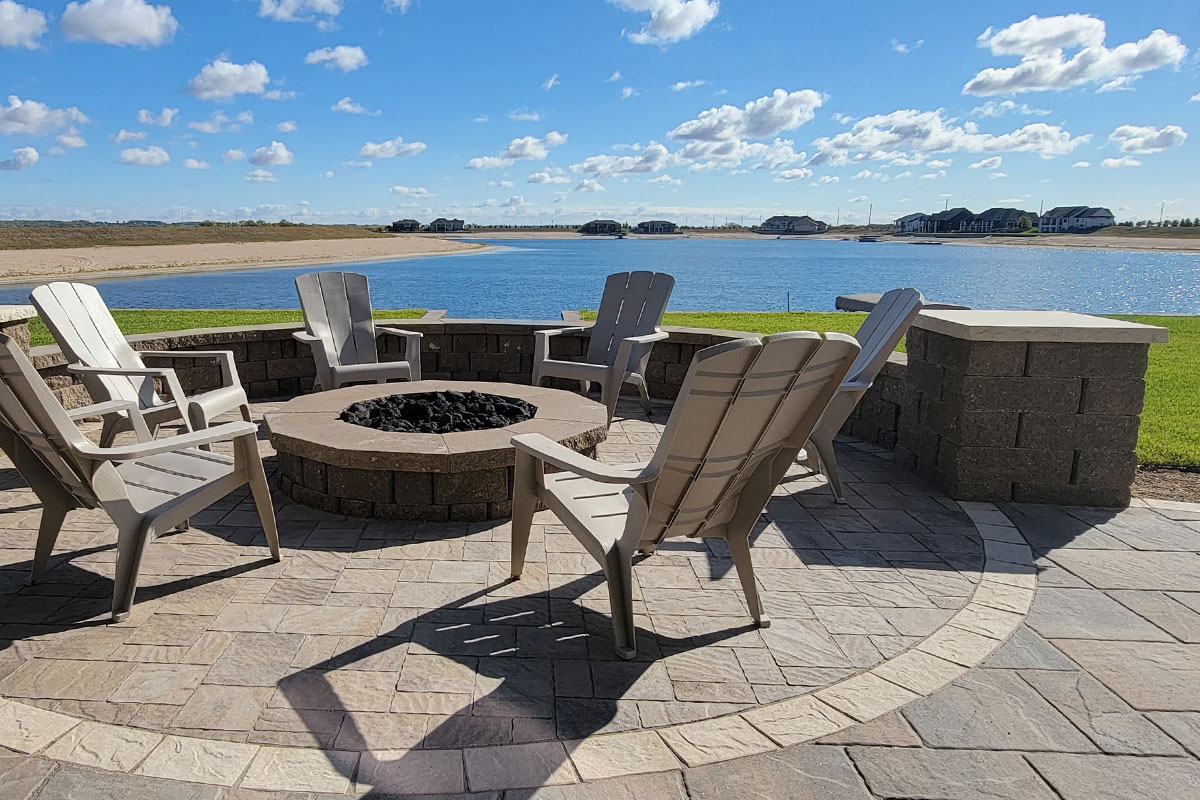 Build a Fireplace
A fireplace can be a great addition to your backyard, providing a cozy spot for family and friends to gather on cool spring evenings. You can choose to build a simple fire bowl or a full size fireplace that will make your space both comfortable and charming.
Add Hardscaping Elements
Hardscaping elements like retaining walls, pathways, and edging can add structure and definition to your landscaping.
Seating walls are an excellent way to help define and organize your outdoor space. By creating a designated seating area with a seating wall, you can create a clear boundary between different areas of your yard, such as a patio or garden.
One of the primary benefits of a seating wall is that it can provide additional seating options for your family and guests. This can be especially beneficial if you like to entertain in your outdoor space, as it can create a designated area for socializing and relaxing.
An outdoor kitchen can provide the perfect setting for entertaining guests during the warmer months. (You can even add a pergola or a solid roof for added protection from the elements). With an outdoor kitchen, you can not only cook and serve meals while socializing with friends and family, you can also make your moments together the kind of experiences everyone will remember.
Hardscaping projects can be a bit more complex and you may want to consult with a qualified Omaha landscaper to determine how best to approach it.
Upgrade Your Lawn
If your lawn is looking a bit lackluster, spring is the perfect time to give it a boost. This will require the proper preparation and removal of all weeds and debris. Once this process is completed, the lawn can be seeded to fill in bare patches and improve its overall appearance. Additionally, your lawn should be fertilized to promote healthy growth and aerated to improve its ability to absorb water and nutrients.
Plant Trees
Planting trees in your yard is an excellent way to contribute to the environment and make a positive impact on the planet. Trees provide shade, reduce air pollution, prevent soil erosion and create habitats for birds, insects, and other wildlife, promoting biodiversity in your local area. Not to mention, having trees in your yard can also increase property value and enhance the overall aesthetics of your home. By planting trees in your yard, you're not only improving the environment but also creating a beautiful and healthy outdoor space for yourself and future generations to enjoy.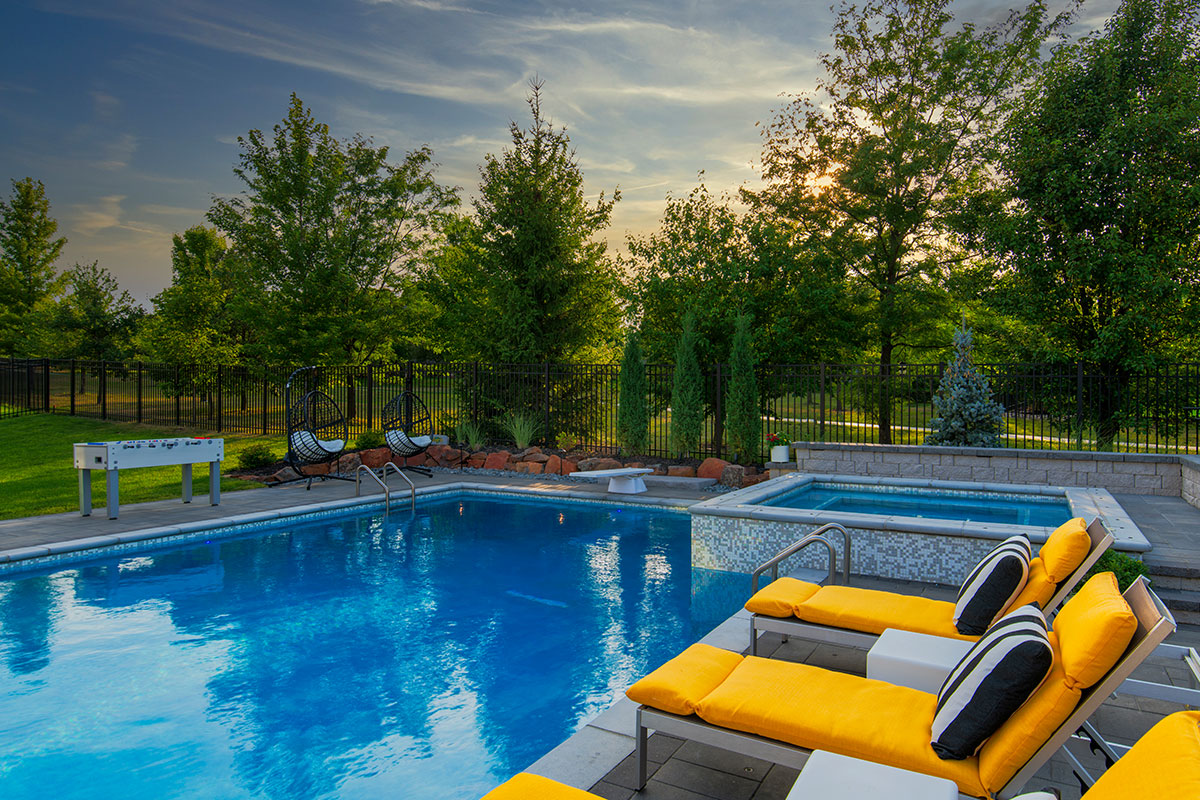 Install a Pool
Installing a pool in your yard can provide numerous benefits for you and your family. It offers a fun and enjoyable way to stay active and healthy while staying close to home. A pool can also be a great source of entertainment and relaxation for family and friends, especially during hot summer months. Additionally, it can increase the value of your home, enhance its overall appeal, provide years of enjoyment and create lasting memories for you and your loved ones.
Since spring is the perfect time to tackle some projects, and give your outdoor space a fresh new look, it's not too early to consider your options. Whether you're hiring a professional Omaha landscaper, or planning to do the work yourself, you will want to get expert insights on how to create a project plan in place in advance. This will help ensure you create a beautiful and functional outdoor space that you can enjoy for years to come.
Whether your lawn needs some attention or you want to upgrade your outdoor space, you can get a jump start on your planning by setting up a consultation with our team of landscaping experts at Groundscapes. We can help you design and create the ideal spring landscaping project for your home and your budget.