Retaining walls are hardscape features that provide both aesthetic and functional benefits. Because of this, many property owners are looking to add one to their property. But is it the right choice for your property? If your property in Nebraska is on a slope, then you could definitely benefit from one. That's because these structures help with drainage issues, prevent soil erosion, and can add usable flat space to your property.
If you're looking to add a stunning focal point to your home or business, these walls can do that too! In addition to the wall itself being beautiful, you can also add a raised planter bed to it or create a unique multiple-tier wall to really take its aesthetics to the next level. Keep reading to learn more about the functional and aesthetic benefits of retaining walls so you can decide if installing one on your property will be the right choice.
---
Retaining Walls Are Perfect for Properties Built on a Slope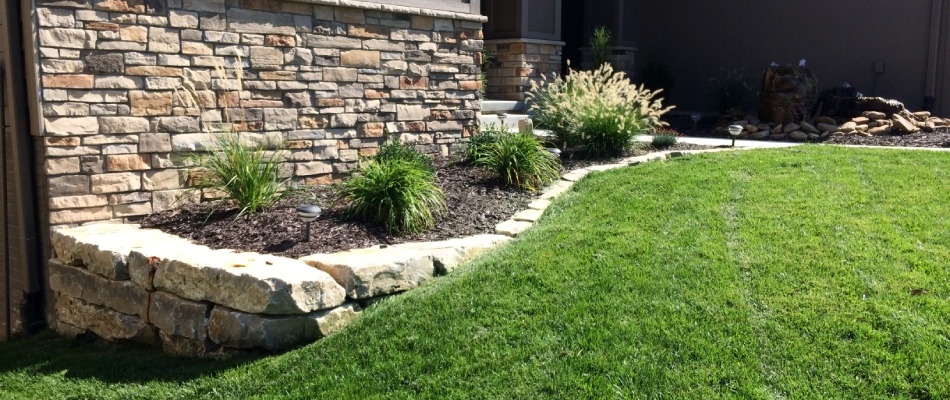 Retaining walls are a great addition to any property that is built on a slope. That's because these walls:
Help prevent soil erosion: Sloped properties deal with soil erosion issues because rain can wash the soil away as it runs down the slope. Retaining walls can help solve this problem as they are designed to hold soil in place against the wall.
Help with drainage issues: Retaining walls can help with drainage issues as they can redirect water away from your property. This is especially important for sloped properties because without a retaining wall, the water can rush down the slope and collect against the foundation of your home or business.
Can create usable space: When you add a retaining wall to your property, you can turn a once sloped area into a usable flat space. You can use this new space in any way that you would like including adding a landscape bed to that area, or even installing a swimming pool!
Retaining walls should always be installed by professionals to ensure that they are built correctly and meet any legal requirements.
---
Retaining walls will enhance the aesthetics of your property.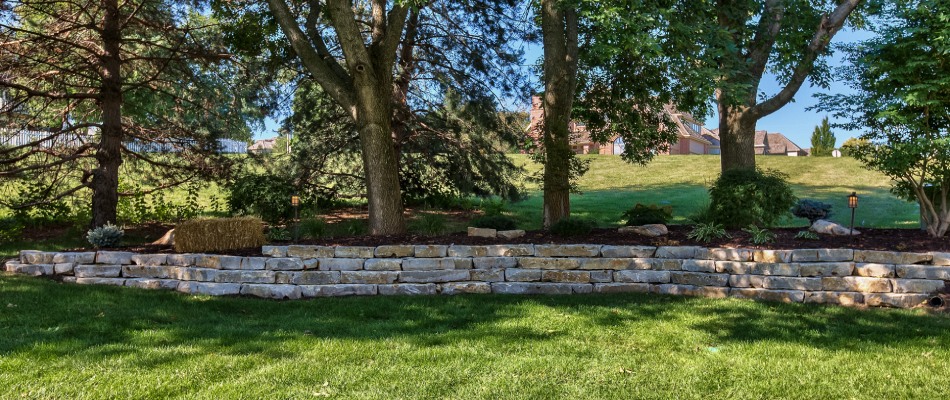 Retaining walls go beyond functionality, as they can also be decorative features. These features themselves look stunning and will instantly become the focal point on any property they are installed on. What's more, you can add a raised planter bed to them and fill them with the plantings of your choice. This will add a pop of color to them and make them stand out even more.
You can also create multi-tiered retaining walls, which involve staggered walls instead of just one wall to hold all of the soil behind. This design breaks up the appearance of your property and allows you to create different landscaping designs for each tier. This will allow you to let your creativity flow as you can create a unique wall that will let you add your own personal touch to the wall.
---
Give us a call today to have a retaining wall installed on your property!
Are you ready to enhance the beauty of your property while also helping to reduce soil erosion and drainage issues? If so, it's time to have a retaining wall installed. At Groundscapes, Inc., we offer high-quality retaining walls that are gorgeous and provide a variety of functional benefits. We have been installing retaining walls since 2002, so you can be sure that we have the skills and experience to get the job done right. We offer this service to residential, commercial, and HOA property owners in Omaha, Elkhorn, Bennington, NE and nearby areas. Call us today at (402) 397-5930 to schedule!