Welcome to the Groundscapes guide to lighting. Choosing the right light systems for your newest luxury landscaping enhancements is an important step in creating a welcoming, safe, and beautiful outdoor space. Lighting brings aesthetic value that highlights the best parts of your newest addition, increases the utility of your space, and provides safety and comfort to you and your loved ones. The beauty of the design is already built in, and the lights make sure you can show it off!
The Value of Your Lighting
The style of lighting you choose for your luxury landscape can transform it from a beautiful outdoor space to a natural aesthetic masterpiece. Choose from a variety of different light fixtures and collaborate with our experienced Landscape Design Experts to strategically place your chosen lights in a way that enhances your space after the sun goes down. Spotlights are a popular choice because they are simple and effective. They shine light in one direction and highlight the special features of your luxury landscape that you can't wait to show off!
Patio lighting is essential for creating a welcoming environment that also highlights the intrinsic beauty of your design. Accent lights, up lights, and wall lights for your paver patio establish spatial awareness at nighttime and promote relaxation and security, ensuring your outdoor fun can go on into the night!
Fire features provide communal spaces that give heat, comfort, and natural light. Fire pits are a popular choice and are great for warming up after an evening swim or for gathering around on cool autumn evenings. Groundscapes offers complete customization of fire features which allows us to create one uniquely crafted for your desires.
Who Says Safety Can't Be Cool?
With current technology, lighting possibilities are endless. Our designers at Groundscapes work closely with customers to create a lighting plan that works well, is easy to manage, and gives your desired look without having to sacrifice utility. We work with numerous vendors that provide a wide range of lighting styles in order to fit the aesthetic and needs of your home.
Path lighting ensures safe passage to all parts of your outdoor space. Lamps, lanterns, and other low-level lights are just the start of the possibilities. Use your creativity and we can build your vision!
Stair lighting combines functionality with safety. Low voltage lighting systems used for stair lighting are easy to install and maintain, and also are an easy way to create a safe and welcoming outdoor space. No more worrying about tripping on stairs in the dark!
Pool lighting is essential for enjoying nighttime swims and hangouts. A lighting plan is an important part in the design process for our client's custom-built pools. Feel comfortable and secure with your pool at all hours of the day with underwater lighting!
Upgrade Your Luxury Landscape Lighting Today!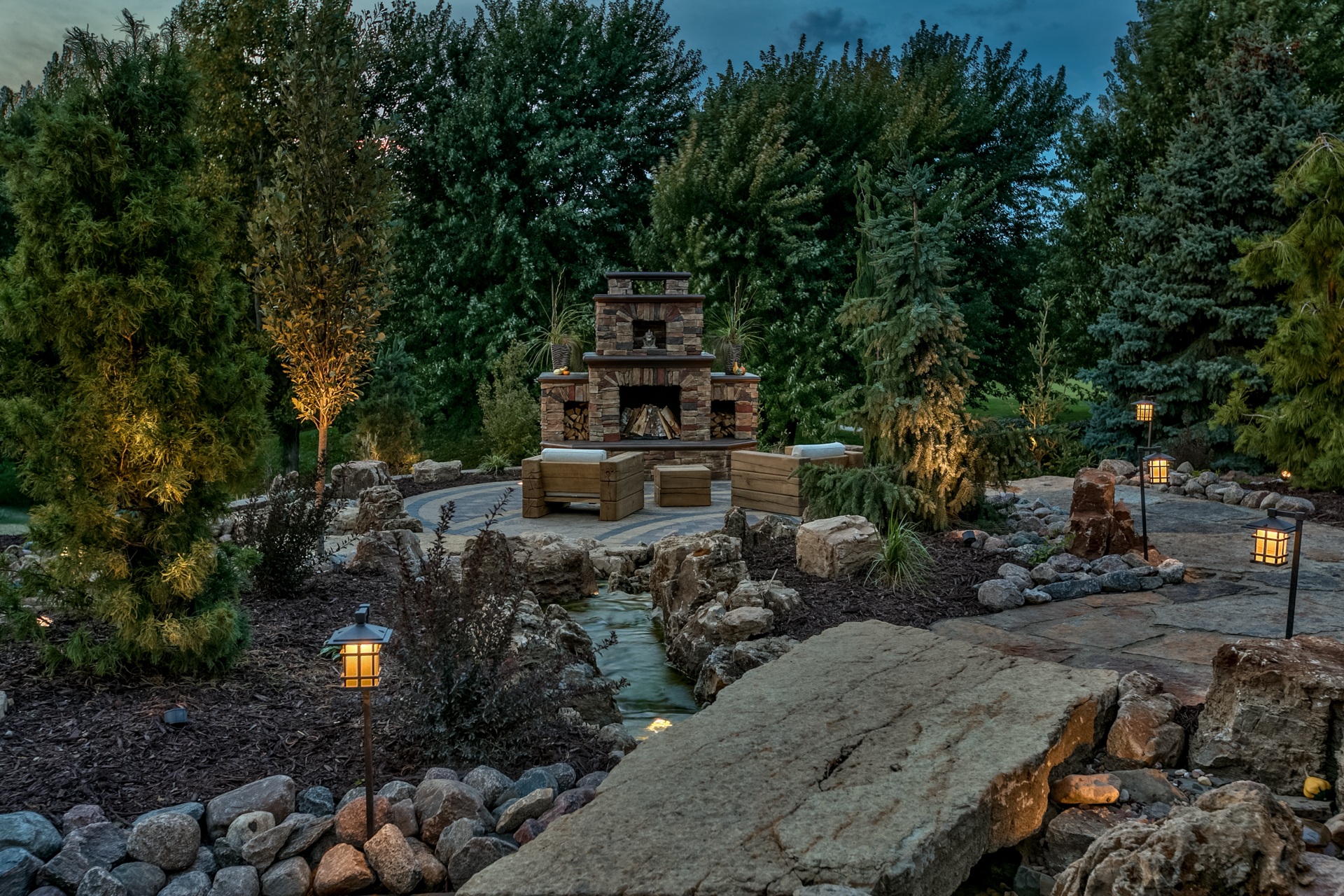 Lighting is a crucial part of your luxury landscape, and our top Landscape Design Experts can be there every step of the way to ensure your lighting maximizes functionality, aesthetic, and safety. Groundscapes provides top-quality luxury landscaping to anyone looking to transform their outdoor space in the Omaha Metro, La Vista, Valley, or Bennington area. Contact us today and fill out our unique design consultation form so we can start to make your vision a reality.